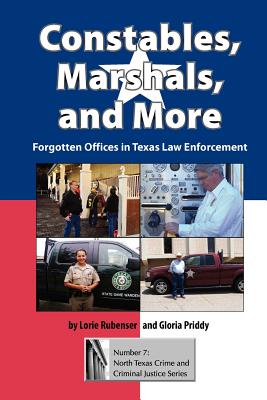 Constables, Marshals, and More (Paperback)
Forgotten Offices in Texas Law Enforcement (North Texas Crime and Criminal Justice Series #7)
University of North Texas Press, 9781574413274, 208pp.
Publication Date: August 25, 2011
Other Editions of This Title:
Hardcover (8/25/2011)
* Individual store prices may vary.
Description
Most students of criminal justice, and the general public as well, think of policing along the three basic types of municipal, sheriff, and state police. Little is known about other avenues of police work, such as the constable. In policing textbooks, when a position such as constable is mentioned, only a line or two is presented, hardly enough to indicate it is of any importance. And yet constables and numerous other alternative policing positions are of vital importance to law enforcement in Texas and in other states.
Constables, Marshals, and More seeks to remedy that imbalance in the literature on policing by starting with the state of Texas, home of more than 68,000 registered peace officers. Lorie Rubenser and Gloria Priddy first lay the groundwork for how to become a peace officer. A guest chapter by Raymond Kessler discusses legal issues in alternative police work. Rubenser and Priddy then examine the oft-overlooked offices of constable, railroad police, racing commission, cattle brand inspector, university police, fire marshal, city marshal, Texas Alcoholic Beverage Commission, bailiff, game warden, and district/county attorney investigators.
This book will be useful for any general policing courses at both the undergraduate and the graduate levels. It will provide more in-depth analysis of these lesser known law enforcement positions and will spur student interest in employment in these areas.
About the Author
LORIE RUBENSER is associate professor of criminal justice at Sul Ross State University and the author of several articles and chapters on policing and special units. GLORIA PRIDDY has taught criminal justice courses at Angelo State University and currently teaches online at Sul Ross State University. She has published on Texas Rangers and constables.