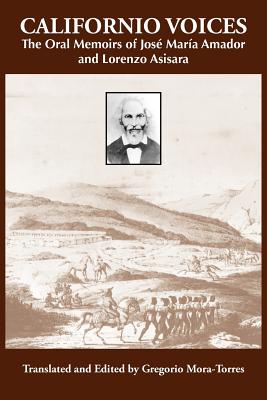 Californio Voices (Paperback)
The Oral Memoirs of José María Amador and Lorenzo Asisara (Al Filo: Mexican American Studies Series #3)
University of North Texas Press, 9781574414387, 272pp.
Publication Date: September 26, 2011
* Individual store prices may vary.
Description
In the early 1870s, Hubert H. Bancroft and his assistants set out to record the memoirs of early Californios, one of them being eighty-three-year-old Don José María Amador, a former "Forty-Niner" during the California Gold Rush and soldado de cuera at the Presidio of San Francisco. Amador tells of reconnoitering expeditions into the interior of California, where he encountered local indigenous populations. He speaks of political events of Mexican California and the widespread confiscation of the Californios' goods, livestock, and properties when the United States took control. A friend from Mission Santa Cruz, Lorenzo Asisara, also describes the harsh life and mistreatment the Indians faced from the priests.

Both the Amador and Asisara narratives were used as sources in Bancroft's writing but never published themselves. Gregorio Mora-Torres has now rescued them from obscurity and presents their voices in English translation (with annotations) and in the original Spanish on facing pages. This bilingual edition will be of great interest to historians of the West, California, and Mexican American studies.
About the Author
GREGORIO MORA-TORRES received his Ph.D. in Latin American history from the University of California at Irvine and teaches in the Department of Mexican American Studies at San Jose State University.
Praise For Californio Voices: The Oral Memoirs of José María Amador and Lorenzo Asisara (Al Filo: Mexican American Studies Series #3)…
"Amador, a true product of the frontier in that he was the son of a Presidio soldier and himself served as a Presidio soldier, provides a lively recounting of his life and that of his extended family, full of revealing details that are valuable in reconstructing the ethnography and language of the time. . . . This extremely rich text is more than a welcome addition to the stock of testimonials for the history of California."—The Americas
"The Amador/Asisara interview is the only document we have which contains the reminiscences of a Californio and of an indigenous Californian side by side. . . . Mora-Torres's excellent volume should become an indispensable source for all interested in the Mexican period of California history."—Journal of San Diego History
"This book presents a very convincing and interesting narrative about Mexican California. Its frankness and honesty are refreshing."—Richard Griswold del Castillo, San Diego State University