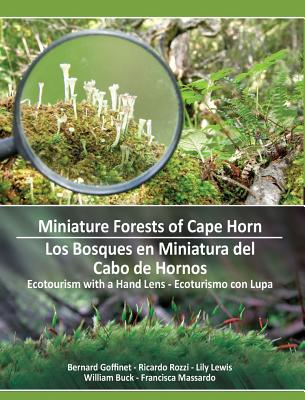 Miniature Forests of Cape Horn
Ecotourism with a Hand Lens
Paperback

* Individual store prices may vary.
Description
  In the humid forests of Cape Horn, a single tree can host more than 100 species of little epiphyte plants. The floor of the forest and the rocks are also covered by numerous species of liverworts, mosses, and lichens. The decision to stop at a tree or rock and explore these "miniature forests" generates an authentic ecotourism experience. In a small area we can spend several minutes or hours with a magnifying glass or camera discovering the colors, shapes, and textures of the most diverse organisms of Cape Horn. This guidebook enhances exploration by providing information to understand the architecture, life cycles, and identification of taxonomic groups of the organisms that form them.
Praise For Miniature Forests of Cape Horn: Ecotourism with a Hand Lens…
"This book is an extremely important contribution that promotes the appreciation of how important bryophytes and lichens are in high latitude ecosystems. The complementary photographs showing a more long-distance habitat shot, plus a close-up more like one might see with a hand lens, are quite nice."—Jon Shaw, professor of biology, Duke University
"The book is lushly illustrated with color photographs that set up a picture of the environment as a person would normally see it, and then reveal individual species and lush mini-ecosystems seen in large scale at close range. It is an appealing way to present groups usually overlooked by hikers and field guides, and gives readers a vivid sense of the importance of mosses, ferns, bryophytes, fungi, and lichens. . . . While some parts of the book will be of interest to those traveling to or studying the Cape Horn, the major portion is a field guide which will be of some general use wherever similar taxa are abundant (e.g. the US Pacific Northwest). Readers interested in unusual plants may value the book simply for the photographs, some of which look like luminous snapshots of life on other worlds."--
Reference-Research Book News
University of North Texas Press, 9781574414486, 400pp.
Publication Date: August 21, 2012
About the Author
 BERNARD GOFFINET is professor of biology at the University of Connecticut, Storrs, and editor-in-chief of the journal The Bryologist. RICARDO ROZZI is professor in philosophy and religion studies at the University of North Texas, and director of the Sub-Antarctic Biocultural Conservation Program. LILY LEWIS is a doctoral student in bryophytes. WILLIAM BUCK is senior curator at the New York Botanical Garden. FRANCISCA MASSARDO is director of the Omora Ethnobotanical Park, Chile.
or
Not Currently Available for Direct Purchase