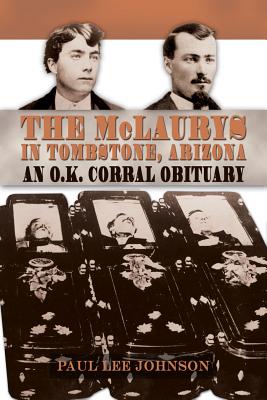 The McLaurys in Tombstone, Arizona (Hardcover)
An O.K. Corral Obituary
University of North Texas Press, 9781574414509, 416pp.
Publication Date: July 30, 2012
* Individual store prices may vary.
Description
On a chilly October afternoon in 1881, two brothers named Tom and Frank McLaury were gunned down on the streets of Tombstone, Arizona, by the Earp brothers and Doc Holliday. The deadly event became known as the gunfight at the O.K. Corral, and in a quirk of fate, the brothers' names became well-known, but only as bad men and outlaws. Did they deserve that reputation?

The McLaurys in Tombstone, Arizona: An O.K. Corral Obituary explores this question, revealing details of their family background and the context of their lives on the frontier. Paul Lee Johnson begins their story with the McLaury brothers' decision to go into the cattle business with an ambition to have their own ranch. When they moved to Arizona, they finally achieved that goal, but along the way they became enmeshed with the cross-border black market that was thriving there. As "honest ranchers" they were in business with both the criminal element as well as the legitimate businesses in Tombstone.
Another principal in this story was an older brother, William, who set aside his law practice in Fort Worth to settle his brothers' affairs, and associated himself with the prosecution of the Earp brothers and Doc Holliday. Despite his efforts, the Earps and Holliday were exonerated, and the "Gunfight at the O.K. Corral" became the opening salvo of a feud that took several more lives.

Johnson has interviewed family descendants and mined their sources, government correspondence, and letters that have never before been published to reveal the human lives behind the storied events. For the first time the events of the O.K. Corral gunfight are presented from the viewpoint of the McLaurys, two brothers who lost their lives and reputations, and a family who tried in vain to find restitution.
About the Author
 PAUL LEE JOHNSON is the author of several articles on the famous gunfight in Tombstone, Arizona, and a featured speaker at the annual Tombstone Territory Rendezvous. He is director of the Nightwatch program at the Cathedral of St. John the Divine in New York City. He and his wife, Mary, have two grown children.
Praise For The McLaurys in Tombstone, Arizona: An O.K. Corral Obituary…
"This important work provides new insight into the two brothers who died on that fateful day, and to the family that carried the scar. This book is essential for any student of Tombstone and the gunfight."—Casey Tefertiller, author of Wyatt Earp: The Life behind the Legend
"A major benefit of this work is the inclusion of previously unpublished letters from within the McLaury family. For the first time we have an inner look at how the McLaurys viewed some of the significant events presented by Paul Lee Johnson."—Roy B. Young, editor of the Wild West History Association Journal
"Given the limited personal material to work with, Johnson has done a masterful job of the lives and times of important figures in the Tombstone story. It comes together as a very human story. Even the unanswered questions are more tantalizing because of the story he tells. Johnson has written a book indispensable to the story of Tombstone and the Cow-Boy troubles."—Gary L. Roberts, author of Doc Holliday
"Until now little reliable has been written on the McLaurys, but this has been substantially remedied with the publication of The McLaurys in Tombstone, Arizona, which attempts to bring their lives, careers and motivations into the light of historical fidelity. Years of patient and extensive research by author Paul Lee Johnson has produced a carefully-crafted volume, replete with much contemporaneous documentation."--True West

"Make no mistake--Paul Lee Johnson is one exceptional researcher. His work on the McLaurys in Tombstone, in addition to providing a meticulous chronicle of these two young men and their family, is the best compendium available of events in that boomtown during the apex of its brief, notorious arc, 1879-1882. . . . Johnson has produced a needed counterweight to bring the Tombstone story into balance, speaking for those who did not survive to speak for themselves."--Wild West History Association Journal

"In piecing together the narrative of the three McLaury brothers, Paul Lee Johnson has filled a major gap in an oft-told tale. He skillfully recounts the familiar background story with clarity and freshness, and he has produced a volume that is a notable addition to the literature of Tombstone's most compelling drama."--Journal of Arizona History
"The Earp brothers and even the dashing Doc Holliday cannot escape the author's attempt at leveling the playing field of historical memory. . . . [T]his entertaining book will serve to remind its readers that victors cannot lay total claim to history."--Southwestern Historical Quarterly
"Paul Lee Johnson's more nuanced approach to the O.K. Corral drama presents a far more complicated picture of the McLaury brothers. The author has painstakingly pieced together the McLaurys' backstory through secondary works and primary sources that include newspaper articles, private letters, unpublished manuscripts, public records, and interviews with McLaury descendants. Johnson shows that Frank and Tom were not the black-hearted desperados that history has made them out to be. In many ways, they were just like other settlers who headed West hoping for a better life."--New Mexico Historical Review