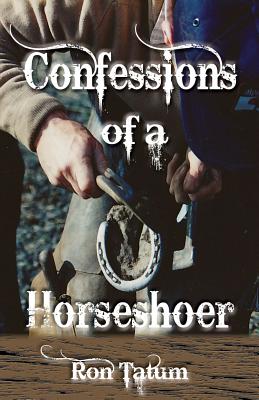 Confessions of a Horseshoer (Western Life #8) (Hardcover)
University of North Texas Press, 9781574414530, 272pp.
Publication Date: April 25, 2012
* Individual store prices may vary.
Description
Confessions of a Horseshoer offers a close and personal look at the mind-set of a professional horseshoer (farrier) who also happens to be a college professor. The book, an ironic and playful view of the many unusual animals (and people) Ron Tatum has encountered over thirty-seven years, is nicely balanced between straightforward presentation, self-effacing humor, and lightly seasoned wisdom. It captures the day-to-day life of a somewhat cantankerous old guy, who has attitude and strong opinions.
Throughout the book, Tatum ponders the causes that led him into the apparently opposing worlds of horseshoeing, with its mud, pain, and danger, and the bookish life of a college professor. He tells the reader that it is his hope that writing the book will help him understand this apparent paradox between the physical and the mental.

Tatum provides a detailed description of the horseshoeing process, its history, and why horses need shoes in the first place. The reader will learn about the dangers of shoeing horses in "Injuries I Have Known," in which Tatum describes one particular self-inflicted injury that he claims no other horseshoer has ever, or will ever, experience. "Eight Week Syndrome" demonstrates the close, often therapeutic, relationship between the horseshoer and his or her customers. Tatum relates the story of an old Wyoming cowboy who could talk with horses, and consistently cure their injuries, lameness, and other physical problems after the veterinarians had given up. The humor in the chapters on chickens and rabbits will entertain any reader, as well as the sections on various dogs, ducks, llamas, goats, flies, and a sexually disoriented pig.

Readers of western life and lovers of horses will find Confessions of a Horseshoer an informative, quirky, and delightful work full of humor, attitude, and off-beat insight.
About the Author
 RON TATUM has been shoeing horses for almost forty years. After graduating from the University of California, Berkeley, he entered the Marine Corps. Somewhere along the way, he became a Presbyterian minister, a juvenile probation officer, a drug/alcohol counselor, a high school wrestling coach, and a college dean and professor.
Praise For Confessions of a Horseshoer (Western Life #8)…
"Here now is the only book about horseshoeing you will ever need. Ron Tatum has created a magic mix of great information and terrific stories—all told with superb writing and fun spice."—Jim Lehrer, executive editor and former news anchor for The MacNeil/Lehrer NewsHour
"As I read of Ron's experiences as a horseshoer, my own personal catastrophes kept popping up. It was such a good story that I filmed it for my television program. The book was great, but Ron never answered the eternal question, 'Why do some people become horseshoers?' For myself, I can only explain it by asking, 'Why do some dogs chase cars?'"—Baxter Black, Cowboy Poet, Former Large Animal Veterinarian, and part-time horseshoer
"It is not often you come across a book where 'spending more time under a horse' strikes you as not only sane but sage. But here is such a book, where a born raconteur horseshoes his way to wisdom with self-deprecating humor, cowboy canniness, and lightly worn professorial erudition. By the evidence of these pages Ron Tatum has lived at least nine lives, each one enriching the others, all of them grounded by the world of horses and the human characters he encounters there. He is a true American original."—Ger Killeen, winner of the 2006 and 2007 Gertrude Stein Awards for Innovative Poetry
"I found Tatum's stories to be compelling and funny, charming and wry. I was caught up in his voice, his attitude about the world. This is very strong stuff."—John Calderazzo, Department of English, Colorado State University
"Life's real meaning tumbles out of each story and envelops the reader with laughter, tears, and peace. A wonderful read for anyone who still cares to reflect."—Denis G. Lawrence, retired vice president for academic affairs, Marylhurst University
or
Not Currently Available for Direct Purchase