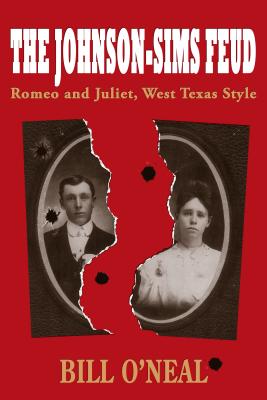 The Johnson-Sims Feud (Paperback)
Romeo and Juliet, West Texas Style (A.C. Greene Series #9)
University of North Texas Press, 9781574414752, 224pp.
Publication Date: July 30, 2012
* Individual store prices may vary.
Description
In the early 1900s, two families in Scurry and Kent counties in West Texas united in a marriage of fourteen-year-old Gladys Johnson to twenty-one-year-old Ed Sims. Billy Johnson, the father, set up Gladys and Ed on a ranch, and the young couple had two daughters. But Gladys was headstrong and willful, and Ed drank too much, and both sought affection outside their marriage. A nasty divorce ensued, and Gladys moved with her girls to her father's luxurious ranch house, where she soon fell in love with famed Texas Ranger Frank Hamer. When Ed tried to take his daughters for a prearranged Christmas visit in 1916, Gladys and her brother Sid shot him dead on the Snyder square teeming with shoppers.

One of the best lawyers in West Texas, Judge Cullen Higgins (son of the old feudist Pink Higgins) managed to win acquittal for both Gladys and Sid. In the tradition of Texas feudists since the 1840s, the Sims family sought revenge. Sims' son-in-law, Gee McMeans, led an attack in Sweetwater and shot Billy Johnson's bodyguard, Frank Hamer, twice, while Gladys—by now Mrs. Hamer—fired at another assassin. Hamer shot back, killed McMeans, and was no-billed on the spot by a grand jury watching the shootout through a window. An attempt against Billy Johnson failed, but a three-man team shotgunned the widely respected Cullen Higgins. Texas Rangers and other lawmen caught one of the assassins, extracted a confession, and then prompted his "suicide" in a Sweetwater jail cell.
Number Nine: A.C. Greene Series
About the Author
BILL O'NEAL is a prolific author of western history, the "Best Living Nonfiction Writer" as selected by True West magazine in 2007. He speaks frequently to historical groups and has appeared in documentaries on TBS, History Channel, Discovery Channel, TNN, and A&E. O'Neal is the author of more than thirty books, including The Johnson County War (2005 NOLA Book of the Year), The Regulator-Moderator War, Historic Ranches of the Old West, Encyclopedia of Western Gunfighters, and Cheyenne, 1867-1903. He is retired from teaching at Panola College.