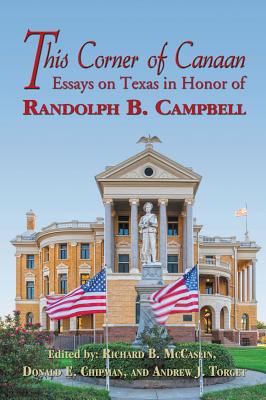 This Corner of Canaan (Hardcover)
Essays on Texas in Honor of Randolph B. Campbell
University of North Texas Press, 9781574415032, 480pp.
Publication Date: February 15, 2013
* Individual store prices may vary.
Description
Randolph B. "Mike" Campbell has spent the better part of the last five decades helping Texans rediscover their history, producing a stream of definitive works on the social, political, and economic structures of the Texas past. Through meticulous research and terrific prose, Campbell's collective work has fundamentally remade how historians understand Texan identity and the state's southern heritage, as well as our understanding of such contentious issues as slavery, westward expansion, and Reconstruction. Campbell's pioneering work in local and county records has defined the model for grassroots research and community studies in the field. More than any other scholar, Campbell has shaped our modern understanding of Texas.
In this collection of seventeen original essays, Campbell's colleagues, friends, and students offer a capacious examination of Texas's history—ranging from the Spanish era through the 1960s War on Poverty—to honor Campbell's deep influence on the field. Focusing on themes and methods that Campbell pioneered, the essays debate Texas identity, the creation of nineteenth-century Texas, the legacies of the Civil War and Reconstruction, and the remaking of the Lone Star State during the twentieth century. Featuring some of the most well-known names in the field—as well as rising stars—the volume offers the latest scholarship on major issues in Texas history, and the enduring influence of the most eminent Texas historian of the last half century.
About the Author
RICHARD B. McCASLIN, chair and professor of history at the University of North Texas, is the author of Tainted Breeze: The Great Hanging at Gainesville, Texas, October 1862. DONALD E. CHIPMAN is Emeritus Professor of History at the University of North Texas and author of Spanish Texas, 1519–1821. ANDREW J. TORGET is Assistant Professor of History at the University of North Texas and co-editor of Crucible of the Civil War.

Praise For This Corner of Canaan: Essays on Texas in Honor of Randolph B. Campbell…
"The editors have assembled an all-star cast of authors, and have organized the introduction and seventeen chapters around some of the central themes of Campbell's career: Texas identity, the remaking of Texas in the early nineteenth century, the legacies of the Civil War and Reconstruction, the painful 'modernization' of Texas which followed, and the increasingly urbanized state which emerged in the twentieth century. It's a fitting tribute not only to Campbell, but to those whose lives he's touched, shaped, and influenced."—Robert Wooster, Texas A&M University-Corpus Christi
 
"A course that includes This Corner of Canaan would be able to introduce students to a broad range of topics, paradigms, and treatments without the problems of an extensive required bibliography. This can serve as a solid, one-volume treatment."—M. Scott Sosebee, Stephen F. Austin State University
"All in all, any true aficionado of Texas history would be well served by this book. Its diverse themes and emphasis on local history most assuredly does honor to the man who has been such an integral part of Texas history for so long, and serves as a testament to the quality of the historians he has influenced down through the years."--East Texas Historical Journal
"[T]hese essays reflect Campbell's profound influence on Texas historical scholarship, especially regarding two dominant aspects of his scholarly approach: his emphasis on Texas's southern identity and his focus on grassroots research in local records to test prevailing generalizations and excise distortions created by popular memory."--Southwestern Historical Quarterly
"The essays on Civil War and Reconstruction Texas make excellent use of Campbellian methods in using local records and statistical analysis to challenge popular or simplistic beliefs. . . . Every historian involved in this project should be proud of the final product. They have done Mike proud."--Journal of Southern History
or
Not Currently Available for Direct Purchase