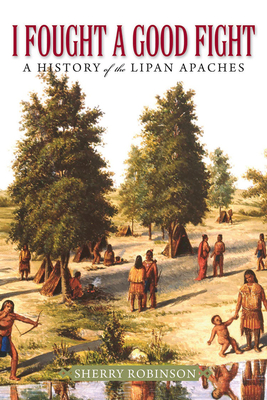 I Fought a Good Fight
A History of the Lipan Apaches
Hardcover

* Individual store prices may vary.
Other Editions of This Title:
Paperback (2/15/2022)
Description
Winner of the New Mexico-Arizona Book Award in History, 2013.
Winner of the Fray Francisco Atanasio Dominguez Award, Historical Society of New Mexico, 2014.
First runner-up for a Zia Award from New Mexico Press Women, 2015.


This history of the Lipan Apaches, from archeological evidence to the present, tells the story of some of the least known, least understood people in the Southwest. These plains buffalo hunters and traders were one of the first groups to acquire horses, and with this advantage they expanded from the Panhandle across Texas and into Coahuila, coming into conflict with the Comanches. With a knack for making friends and forging alliances, they survived against all odds, and were still free long after their worst enemies were corralled on reservations.

In the most thorough account yet published, Sherry Robinson tracks the Lipans from their earliest interactions with Spaniards and kindred Apache groups through later alliances and to their love-hate relationships with Mexicans, Texas colonists, Texas Rangers, and the US Army. For the first time we hear of the Eastern Apache confederacy of allied but autonomous groups that joined for war, defense, and trade. Among their confederates, and led by chiefs with a diplomatic bent, Lipans drew closer to the Spanish, Mexicans, and Texans.

By the 1880s, with their numbers dwindling and ground lost to Mexican campaigns and Mackenzie's raids, the Lipans roamed with Mescalero Apaches, some with Victorio. Many remained in Mexico, some stole back into Texas, and others melted into reservations where they had relatives. They never surrendered.
Praise For I Fought a Good Fight: A History of the Lipan Apaches…
"Robinson sorts out the various groups and assiduously follows their trail over two centuries of movement and their attempts to survive overwhelming odds from powerful enemies such as the Comanches, Spanish, Mexicans, Texans, and American military from Coronado's time through the late nineteenth century. It is hard to imagine a source that Robinson has not seen. This is a major and impressive contribution—it will answer all the questions about the Lipans."—Edwin R. Sweeney, author of From Cochise to Geronimo
 
"This is unquestionably the most thorough historiography of the Lipan Apaches. Robinson covers the widest chronological and geographical scope and relies on the richest and most diverse assortment of primary (including abundant Spanish-language archival documents) and secondary sources. She has done exhaustive and praiseworthy research on the Lipans. She also devotes considerable attention to explore the roles of particular individuals (mostly male leaders) in Lipan history."—Joaquín Rivaya-Martinez, Texas State University, San Marcos
 
"Sherry Robinson is a journalist-historian, which means her book will keep you turning its pages. She masterfully answers a question long clouded by misrepresentation and bias: Who are the Lipan Apache? After nearly twelve years of painstaking research, she presents a first-rate account of the Nde, the People, as they called themselves. Robinson gives us history as it should be written—storytelling enriched by new material with narrative and interpretation enlivened by clear, precise writing." —David Holtby, author of Forty-Seventh Star: New Mexico's Struggle for Statehood

"In a sweeping study that spans four centuries, Sherry Robinson has produced the most concise history of the Lipan Apache tribe to date. . . . Furthermore, the ethnohistorical emphasis and inclusion of oral history and tradition grants agency and voice to Native peoples. . . . [T]he accessible writing style is factually dense and offers the first exhaustive historical account of the Lipan Apaches."--Journal of Arizona History

"It is hard to imagine that anyone will ever write a more thorough and detailed book on the history of the Lipan Apaches than Sherry Robinson. . . . Robinson's detailed examination of Lipan history introduces us to over eighty Lipan chiefs and about twenty Indian agents. . . . Robinson seems to succeed in presenting a balanced and unbiased history of "The People," as they called themselves."--Journal of South Texas

"[Robinson] meticulously covers the Lipans from their interaction with the Spanish to their present-day effort to reclaim their identities (and receive federal recognition). . . . The Lipans had their share of notable chiefs, including two friends of the Texians and the Texas Rangers--Castro, captain of his own Lipan Ranger company, and Flacco, a reliable scout and spy during the Texas Revolution. Later, Lipans and Texans didn't get on so well."--Wild West

"Discussing the social, cultural, political, military, technological, and physical differences that set the Lipans apart from other Apache groups, Robinson constructs a narrative that is detailed and rich. Utilizing an impressive array of primary sources (Spanish, French, Texian, and American) and Lipan oral accounts, Robinson creates a balanced portrait of the Lipan. . . . When compared to other volumes on the Lipan Apaches (Thomas F. Schilz, Thomas A. Britten, Nancy McGowan Minor) Robinson's work adds to scholarship about the Lipan and fills gaps not addresses by other scholars (i.e., relationship with the French, cross-border cultural contact in Mexico, use of Lipan oral tradition in conjunction with non-Lipan sources, and current status of the Lipan)."--New Mexico Historical Review

"This definitive tribal history is all the more important because the Lipan--the most eastern Apache tribe--are historically understudied and underappreciated. Sherry Robinson left no stone unturned to produce her detailed account of the Lipan Apaches from their earliest beginnings to the twenty-first century."--Western Historical Quarterly
University of North Texas Press, 9781574415063, 528pp.
Publication Date: June 3, 2013
About the Author
SHERRY ROBINSON is an award-winning New Mexico journalist and author living in Albuquerque. She graduated from the University of New Mexico and began her career in 1975 on the Navajo Reservation. Robinson is the author of Apache Voices and El Malpais, Mt. Taylor and the Zuni Mountains. 

or
Not Currently Available for Direct Purchase