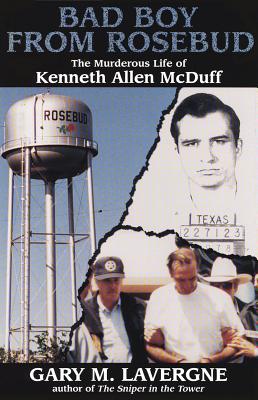 Bad Boy from Rosebud (Paperback)
The Murderous Life of Kenneth Allen McDuff
University of North Texas Press, 9781574415087, 384pp.
Publication Date: March 5, 2013
* Individual store prices may vary.
Description
In October of 1989, the State of Texas set Kenneth Allen McDuff, the Broomstick Murderer, free. It was not a trial error, or a ruling by some judge. McDuff was paroled.

All of a sudden fear returned. Calls came in from housewives afraid to leave their kids by themselves during broad daylight. Schools took precautions, and bus drivers were warned to be on the alert for the Bad Boy from Rosebud. Thirty years after he had dropped out of school, Kenneth McDuff was still scaring school children and giving principals trouble.

By choosing to murder again while on parole, McDuff became the architect of an extraordinarily intolerant atmosphere in Texas. He brought about the restructuring of the third largest criminal justice system in the United States. The spasm of prison construction and parole reforms collectively called the "McDuff Rules," resulted from anenormous display of anger vented towards the system that allowed McDuff to kill, and kill again.

Bad Boy from Rosebud is a chilling account of the life of one of the most heartless and brutal serial killers in American history. Drawing from dozens of interviews, a careful review of primary documents, and recounting his personal involvement with law enforcement officers in efforts to recover victims, Gary M. Lavergne goes beyond horror into an analysis of the unbelievable subculture in which McDuff lived. Equally compelling are the lives of remarkable law enforcement officers determined to bring McDuff to justice, and their seven-year search for his victims.
About the Author
GARY M. LAVERGNE is Director of Admissions Research at the University of Texas at Austin. He is the author of A Sniper in the Tower: The Charles Whitman Murders and Worse Than Death: The Dallas Nightclub Murders and the Texas Multiple Murder Law, both published by the University of North Texas Press.

Praise For Bad Boy from Rosebud: The Murderous Life of Kenneth Allen McDuff…
"Texas still feels the pain inflicted by Kenneth Allen McDuff, despite the relentless efforts of law enforcement officials to solve his crimes and bind up its wounds. Bad Boy from Rosebud is an impeccably researched, compellingly detailed account of the crimes and the long search for justice. Gary Lavergne takes us directly to the scenes of the crimes, deep inside the mind of a killer, and in the process learns not only whom McDuff killed and how—but why. This is classic crime reporting."—Dan Rather, CBS News
"May make even the most hardened true-crime fans sweat. A must for aficionados of the grisly and a thrill ride to hell for more casual crime fans."—Booklist
"Despite the gruesome subject matter, Bad Boy from Rosebud is an excelelnt study of the motivations behind the transformation of the Texas criminal justice system. For those who consider Texas too harsh, the story of Kenneth McDuff goes far in explaining the thinking of Texas politicians and law enforcement."--Southwestern Historical Quarterly