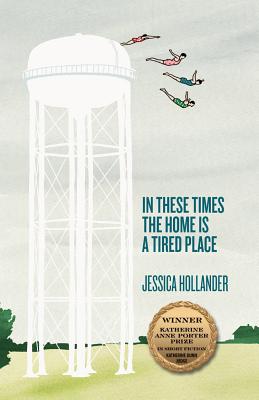 In These Times the Home Is a Tired Place (Katherine Anne Porter Prize in Short Fiction #12)
Paperback

* Individual store prices may vary.
Description
Winner of the Katherine Anne Porter Prize in Short Fiction, 2013.

When an unwed pregnant woman is pressured to get married by her boyfriend, parents, and the entire culture around her, she sees a feverish intensity emanating from the path to domesticity, a "paved path shaded by thick-trunked trees, lined with trim grass and manicured mansions, where miniature houses play mailboxes and animals play lawn ornaments and people play happiness."

Jessica Hollander's debut collection exposes a culture that glorifies and disparages traditional domesticity, where people's confusion, apathy, and anxiety about the institutions of marriage and family often drive them to self-destruction.

The world in Hollander's nineteen stories appears at once familiar and vividly unsettling, with undercurrents of anger and violence attached to everyday objects and spaces: a pink room is "a woman exploded," home smells "of laundered clothes and gas from the grill," and the sun "is so bright the sky fills with over-exposure, wilting the corners to orange, to red, to black." Here people adopt extreme and erratic behavior: hack at furniture, have affairs with high school students, fantasize about sex with "monsters," laden flower bouquets with messages of hate; but these self-destructive acts and fantasies feel strangely like a form of growth or enlightenment, or at least the only form that's available to them.

As characters become girlfriends, wives, husbands, and mothers, they struggle within their roles, either fighting to escape them or struggling to "play" them correctly, but always concerned with the loss of individuality, of being swallowed up by society's expectations and becoming "a mother" or "a wife" instead of remaining themselves.
Praise For In These Times the Home Is a Tired Place (Katherine Anne Porter Prize in Short Fiction #12)…
"Hollander's debut collection effectively fuses the common (childhood adventures, unhappy adults) with the bizarre (a grandmother obsessed with buttons, a gym full of people refusing to wear clothes) to create an intriguing volume. . . . The details in these stories ring true and are recognizable amid the insanity. A potent work from a strong new literary voice."—Publishers Weekly starred review

"Powered by elliptical dialogue and slightly surreal scenarios, the stories manage to convey high states of anxiety within relatively few pages. . . . Striking reading for short story aficionados."--Booklist

"These are human tales of vigorously individual characters living with intensity. The author's ear for revealing dialogue and double-edged humor ground these stories in a reality worth enduring. The characters connect despite suspicion and betrayal, beyond blood, circumstance or embarrassment at their own ridiculous humanity. Each piece is powered by a deep, slow boiling jubilation in the moment-to-moment, line-by-line fact of taking breath."—Katherine Dunn, author of Geek Love and judge

"Jessica Hollander's collection of stories is an unbroken chain of startlingly revelatory moments.  She writes of the secrets of the psyche, and of the domestic drama of our times, with subtlety and grace and with a precision which makes the many moments of shocking clarity that much more powerful.  This is work that gets to the very heart of the human condition, and does so in musical prose at a wildly thrilling pace.  This is an unforgettable collection by an important new writer."—Laura Kasischke, author of If a Stranger Approaches You and In a Perfect World

"Jessica Hollander's debut collection makes heartbreaking comedy out of the vagaries of life in contemporary America.  Her deft and inventive storytelling re-imagines relationships between romantic partners, parents and children, teachers and students, and, perhaps most heartbreaking of all, what makes us happy and what will destroy us. From a high school teacher who finds herself oddly drawn to a female student, to a grandmother who sends frequent postcards warning her family of her imminent death, Hollander orchestrates magnificent collisions between conventional notions of normality and the irreducible strangeness of life as it's actually lived in the 21st century."--Wendy Rawlings, author of The Agnostics and Come Back Irish

"In These Times the Home is a Tired Place is a communiqué to all zygotes with ambitions to please think about what they're about to do. Be careful, these stories warn, the world is going to expect you to wear shoes and know about fish forks. And understand that if you say yes to being born, if you agree to being a member of a family, you will one day be plagued by these questions: What is my fault? For which tragedies am I responsible? If you ask Jessica Hollander, she'll tell you straight: all of it. Life is one unwitting infraction after another. These stories, about, among other things, the endearing apocalypse of childbearing and –rearing, are as funny and fierce and charming and startling in their wisdom as life is tragic, which is to say at least you'll have a good manual for living once you get here. So, zygote, are you up to it?"—Kellie Wells, author of Fat Girl, Terrestrial

"Like the description of one of her characters, Jessica Hollander's senses are "heightened to danger". These incredible stories are razor-sharp with the possibility of disaster, and Hollander is doing something special in transforming domestic spaces into something anxious and unsettling. Simply put, Hollander understands the weirdness of family, of relationships, and she has the language to make it exciting and new."—Kevin Wilson, author of The Family Fang

"If Jane Austen had written short stories, they would have read much like the restlessly domestic, marvelously mannered ones found in Jessica Hollander's debut collection, In These Times the Home Is a Tired Place. Hollander's fictions are hyper-real, saturated with telling timely detail, delivered by attuned and tenaciously scaled and sculpted language. One is up to one's Empire neck in sense and sensibility and pride and prejudice and and and and and so much more."—Michael Martone, author of Michael Martone and Four for a Quarter

"In These Times the Home Is a Tired Place has the potential to bring broader attention to a small market press. . . . Hollander's evocative imagery does a marvelous job of capturing the sort of existential ennui that many young millennials have faced since the start of The Great Recession. . . . Hollander's characters wander into the paralysis and anguish of an entire generation."—Michael Broida, The Rumpus Review

"In These Times the Home Is a Tired Place is a sneak-attack on the conventions of domestic dramas. As Hollander's stories unfold, the rapids undermining peaceful domestic life become apparent, and sweep readers along in their current for a read that has a much wider scope than just suburban homes."—Caitlin Van Horn, Bustle

"The stories in In These Times the Home is a Tired Place brim with tension and little moments of surprise, and I found them exciting to read. The author doesn't shy away from gritty subjects or dark emotions--yet her stories also offer unexpected and touching moments of hope. . . . Recommended for fans of literary short fiction of the more daring sort--Hollander's stories would be nicely at home on the bookshelf alongside collections by Caitlin Horrocks, Holly Goddard Jones, Danielle Evans, Megan Mayhew Bergman, Bonnie Jo Campbell and others."—Jennifer M. Kaufman, Books, Personally

"A fresh and original voice. . . . The stories are far from bleak, seamed as they are with a deadpan black humor, and enlivened by sharp, brisk telling."—Mia Taylor,Mid-American Review

"A delightful, hyperrealistic take on today's suburban landscape. . . . In These Times the Home Is a Tired Place showcases Hollander's incredible eye for finding overlooked moments and inflating them with her astute language. Her work contains a heartfelt intensity not to be missed."--Front Porch Journal

"Most female characters in these stories falter at a perceived crossroad, a moment in their lives when they can choose the path of social expectation or swerve their own way. These conflicts arise in biting, humorous prose--sharp, clipped sentences interrupted by sentences of surprising beauty and length. . . . In these stories, language is Hollander's strength. With it, she excavates the hidden implications and repercussions of social norms with a humor that enlivens and illuminates. Her scenes shine vividly and tensely."--New Letters
University of North Texas Press, 9781574415230, 152pp.
Publication Date: October 10, 2013
About the Author
JESSICA HOLLANDER grew up in Ann Arbor, Michigan, and received her BA from the University of Michigan. She holds an MFA from the University of Alabama. Her stories have appeared in over fifty journals, including The Cincinnati Review, The Journal, Quarterly West, and Web Conjunctions, and she will be anthologized in The Lineup: 25 Provocative Women Writers. She teaches at the University of Alabama.