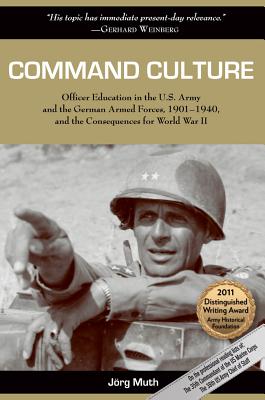 Command Culture
Officer Education in the U.S. Army and the German Armed Forces, 1901-1940, and the Consequences for World War II
Paperback

* Individual store prices may vary.
Description
Selected by General Raymond Odierno, 38th Army Chief of Staff, for the U.S. Army Chief of Staff's Professional Reading List, for "The Army Profession," 2012.
Selected by Lieutenant General David Morrison, Chief of Army (Australia), for the Chief of Army's Reading List, 2012.
Selected by General James F. Amos, Commandant of the U.S. Marine Corps, as required reading for all senior enlisted men and all Majors and Lieutenant-Colonels, 2013.
Selected by Major General H.R. McMaster at the Maneuver Center of Excellence, Fort Benning, for the Leader Development Study Program, 2013.
 
Winner of the Army Historical Foundation Distinguished Writing Award, 2012.
 
In Command Culture, Jörg Muth examines the different paths the United States Army and the German Armed Forces traveled to select, educate, and promote their officers in the crucial time before World War II. Muth demonstrates that the military education system in Germany represented an organized effort where each school and examination provided the stepping stone for the next. But in the United States, there existed no communication about teaching contents or didactical matters among the various schools and academies, and they existed in a self chosen insular environment. American officers who finally made their way through an erratic selection process and past West Point to the important Command and General Staff School at Fort Leavenworth, Kansas, found themselves usually deeply disappointed, because they were faced again with a rather below average faculty who forced them after every exercise to accept the approved "school solution."

Command Culture explores the paradox that in Germany officers came from a closed authoritarian society but received an extremely open minded military education, whereas their counterparts in the United States came from one of the most democratic societies but received an outdated military education that harnessed their minds and limited their initiative. On the other hand, German officer candidates learned that in war everything is possible and a war of extermination acceptable. For American officers, raised in a democracy, certain boundaries could never be crossed.

This work for the first time clearly explains the lack of audacity of many high ranking American officers during World War II, as well as the reason why so many German officers became perpetrators or accomplices of war crimes and atrocities or remained bystanders without speaking up. Those American officers who became outstanding leaders in World War II did so not so much because of their military education, but despite it.
Praise For Command Culture: Officer Education in the U.S. Army and the German Armed Forces, 1901-1940, and the Consequences for World War II…
"To the best of my knowledge there is nothing in print in either English or in German that offers the kind of analytical comparison Muth offers. The text is based on a truly exemplary coverage of published literature and very substantial work in relevant archives. The work is highly original in both its research design and its presentation. The general message, though controversial and certain to lead to arguments, is buttressed by substantial evidence. His topic has immediate present-day relevance and will certainly appeal to those interested in military history and the conflicts in which the United States is currently engaged."--Gerhard Weinberg, author of A World at Arms and Visions of Victory

"Muth has written a fascinating book here. Command Culture is an important and long-lasting contribution to the debate over officer training in the United States. What Muth is able to bring to the debate is a vast knowledge of the archival resources and historiography of the modern German army. The book is at once a study of the U.S. officer corps before World War II, a valuable analysis of U.S. and German officer training and education, and a stinging comparison of the two armies' military cultures."--Robert Citino, author of The German Way of War and Path to Blitzkrieg

"Muth makes a strong case that effective command at all levels has a set of elements that do not depend on wider social, cultural, and political matrices. His challenge to the 'new military history' will generate controversy but cannot be dismissed."--Dennis Showalter, author of Hitler's Panzers and Patton and Rommel

"Jörg Muth's book is about an interesting and significant topic. Although I disagree in some respects with his thesis, I recognize that it is well argued. Based on extensive research in primary and secondary sources, it is also well written."--Edward M. Coffman, author of The Regulars: The American Army, 1898-1941
"Muth's analysis of the U.S. Army is a hard one, but he backs it up with extensive research. This is one of the most important books about the German and American armies in many years."--Major-General (ret) David T. Zabecki, Military History

"Muth's book is a must-read for senior policy makers of the Army making strategic decisions about the philosophy, curriculum, and pedagogical methods in use in the current Army's officer education system."--Army History
"This is a very important book with serious contemporary as well as historical implications. It should be read widely by students of the Second World War and by anyone interested in questions of service culture, institutional learning, doctrine, and officer training."--Journal of Military History

"Muth's book raises important issues, many of which are still being hotly debated today in military circles. . . . Muth's work is valuable to both academics and military professionals alike. In particular, it should be discussed in American PME institutions at all levels."--Richard DiNardo, H-German, H-Net Reviews
"Muth is, or soon will be, a member of that small group of historians whose first major contribution to the field is regarded as a very significant one. Command Culture is an important book in that it confronts a controversial and emotionally charged issue in military history, and does so on the basis of solid research, and without hyperbole. . . . It is a significant work, providing an important new perspective on the 'performance controversy.'"—New York Journal of Books

"A leader of men who is uneducated isn't much of a leader at all. Command Culture analyzes how the U.S. and German armies educated their officers and how the two compare, and what this meant on the battlefield. German officers, while in a controlled society, received a vast education while it could be argued that American officers received the polar opposite of an open society and a dated and limited military education. These comparisons make for a very different and intriguing way to look at the battles of the war, making Command Culture an excellent addition to military history collections."--Midwest Book Review
"This is an important book that disputes the triumphalist literature about officer education in the US Army and recommends a more honest educational approach to achieve an effective command culture, at least at the tactical level. Command Culture has received much critical attention and is shaping an ongoing debate about American officer education."--John T. Kuehn, Michigan War Studies Review

"It should be said at once that this book discharges its task with aplomb. The book is meticulously researched and based on omnivorous reading. It is forcefully written with jargon and cliché-free prose. . . . This is notable work, a substantial contribution to a neglected field. . . . Muth is unsparing in his dissection of what he regards as the professional and moral shortcomings of US officers in World War II--completely at odds with 'the greatest generation' rhetoric of historians such as Stephen E. Ambrose. . . . [H]e has given us much to think and argue about. We should be grateful for books by historians who like to stir things up."--Brian Holden Reid, Journal of Strategic Studies
"What is the modern-day value of Muth's study of early 20th century military officership? Well, he calls considerable attention to what remain problem-areas for our modern-day Army: over-reliance on doctrine; tactical-level commanders hamstrung by senior decision-makers' centralized control of the battlespace; and emphasis on military science at the expense of operational art. For these reasons alone, Command Culture is a compelling work of institutional analysis and a useful reference for today's military leaders."--RealClearBooks.com
University of North Texas Press, 9781574415339, 376pp.
Publication Date: April 7, 2013
About the Author
 JöRG MUTH received his PhD in history from the University of Utah. He is the author of Flucht aus dem militärischen Alltag: Ursachen und individuelle Ausprägung der Desertion in der Armee Friedrichs des Großen, a study of desertion in the Prussian army during the era of Frederick the Great. He lives in Germany.