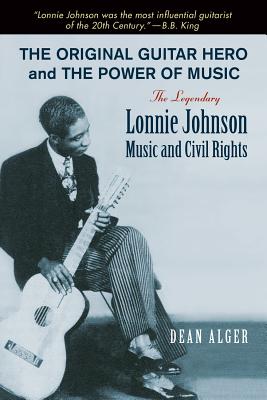 The Original Guitar Hero and the Power of Music
The Legendary Lonnie Johnson, Music, and Civil Rights (North Texas Lives of Musician Series #8)
Hardcover

* Individual store prices may vary.
Description
Lonnie Johnson (1894–1970) was a virtuoso guitarist who influenced generations of musicians from Django Reinhardt to Eric Clapton to Bill Wyman and especially B. B. King. Born in New Orleans, he began playing violin and guitar in his father's band at an early age. When most of his family was wiped out by the 1918 flu epidemic, he and his surviving brother moved to St. Louis, where he won a blues contest that included a recording contract.  His career was launched.

Johnson can be heard on many Duke Ellington and Louis Armstrong records, including the latter's famous "Savoy Blues" with the Hot Five. He is perhaps best known for his 12-string guitar solos and his ground-breaking recordings with the white guitarist Eddie Lang in the late 1920s. After World War II he began playing rhythm and blues and continued to record and tour until his death.

This is the first full-length work on Johnson. Dean Alger answers many biographical mysteries, including how many members of Johnson's large family were left after the epidemic. He also places Johnson and his musical contemporaries in the context of American race relations and argues for the importance of music in the fight for civil rights. Finally, Alger analyzes Johnson's major recordings in terms of technique and style. A new Lonnie Johnson music CD will be released by the author to coordinate with the publication of this book.
Praise For The Original Guitar Hero and the Power of Music: The Legendary Lonnie Johnson, Music, and Civil Rights (North Texas Lives of Musician Series #8)…
"When you mention guitar, the first thing I think of is Lonnie Johnson."—B. B. King
"This book is great! Besides the superb review and assessment of Lonnie Johnson's music and life, the perspectives on development of artistry on the guitar and broader societal impacts make this a profoundly meaningful book. Lonnie Johnson's importance for 20th-century music is monumental; this book is long overdue in spelling out why."— Lawrence Cohn, former Vice President of Columbia/Epic Records, Grammy-winning producer of Robert Johnson: The Complete Recordings, and editor of Nothing but the Blues: The Music and the Musicians
 
"In The Original Guitar Hero and the Power of Music: The Legendary Lonnie Johnson, Music and Civil Rights, Dean Alger offers the long overdue biography of one of the true geniuses of 20th-century music. Alger has woven material from extensive research into a narrative that presents the real Lonnie Johnson in light of an unjustly underrated and neglected superstar.
   "Fascinatingly readable, the book goes even further in that it places Johnson in the broadest context of American culture of the 20th century, seeing him rightly not only as a trailblazer and pervasive influence on a variety of musical genres—jazz, blues, rhythm and blues, country, rock, and folk—but as an important symbol of race relations, racial understanding, and racial progress."—Steven C. Tracy, Professor of Afro-American Studies, University of Massachusetts, author of a series of books on music and culture and a musician.
 
"Dean Alger is obsessed with Lonnie Johnson, and biography is another of those areas (like literature and music) where obsession pays off. Johnson's musical sophistication made him unique among early bluesmen, and his personal story cuts across 20th Century American history, musical and otherwise—segregation, epidemics, folk music, jazz and R&B, the Civil Rights movement, the great blues revival of the '60s…. it's all here in The Original Guitar Hero and The Power of Music."—Francis Davis, author of The History of the Blues

"Though recognized by B. B. King and others for his strong influence, blues- and jazz-guitar pioneer and singer Lonnie Johnson is an underappreciated giant of the music, a precursor not only of King, but also of jazz great Charlie Christian and rockers such as Eric Clapton. . . . By bringing the music back along with this commentary, Alger makes a substantial contribution to the history of early jazz, of the guitar's preeminence in twentieth-century music, and of Johnson's major, but regrettably forgotten, role."--Booklist

"Author Alger comes through with a long-needed biography of the great Lonnie Johnson, firmly cementing his place in jazz and blues history. And as a guitarist as well, Alger is adept at analyzing Johnson's music and contributions to guitar history."--Vintage Guitar
 

"Alger has done thorough research into Lonnie Johnson's life and has uncovered enough new biographical information to satisfy even the best-read fan. . . . There's also plenty of analysis of Johnson's recordings and of techniques he pioneered. . . . Nobody reading Alger's analyses, while listening to the musical examples he cites, could come away from this in any doubt of Lonnie Johnson's genius, his innovation both in guitar technique and vocals, and his contribution to blues lyrics."--Blues & Rhythm

"Avec de nombreuses photos, des notes très informatives, une biblio-discographie et plusieurs index très pratiques, The Legendary Lonnie Johnson se situe certainement parmi les meilleurs biographies de bluesmen."--Soul Bag

"Lonnie Johnson, one of the most important guitarists of the 1920s, was a significant force in music for 45 years. Probably the most fluent of the blues guitarists who matured in the '20s, he appeared on more significant jazz sessions that any other bluesman of the era and was the only musician to record with both Louis Armstrong's Hot Five and the Duke Ellington Orchestra. . . . Alger was the right person for the job, as he put a tremendous amount of research into this book during the 10 years he worked on it. He not only thoroughly discusses Johnson's recordings and travels, but he dug up as much information on Johnson's private life as will probably be found."--Downbeat

"This long overdue, deeply researched biography deals with the roller-coaster life and times of one of the unsung geniuses of 20th century American music.. . . Alger relates an endlessly fascinating as well as a profoundly meaningful tale of the affable Johnson not only as a musical trailblazer (his groundbreaking work with Duke Ellington, Louis Armstrong, and white guitarist Eddie Lang in the 1920s is only one example) and an accomplished tunesmith but also an earnest symbol of racial understanding and social progress."--Sing Out!

"[T]his is a "must-read" book. . . . Up until Johnson had developed his single note style, guitars were considered a rhythm instrument. If you are a serious student of blues or jazz history or just looking to broaden your understanding of either, this is a fascinating read on the life of an incredible musician who forever changed how the world viewed the guitar."--BluesMusicFan.com
 

"This ambitious book sets out to place Lonnie Johnson, a musician known mostly to blues diehards, as a cross-cultural visionary in the vein of Charlie Christian or Jimi Hendrix, and succeeds brilliantly. Johnson is mainly known as an influence on B.B. King, who treasured his smooth delivery and fluid guitar style. . . . With a lucid explanation of Johnson's music, plus many anecdotes both poignant and inspiring, this excellent biography does full justice to an underappreciated musical titan."--MOJO

"[H]is style for years had a great impact on a number of famous guitar players and even singers, namely Robert Johnson, Elvis Presley, Chuck Berry and Bob Dylan, who recorded several of his compositions."--jive-talk.com

"[This] is a comprehensive narrative that reveals a great deal about the blues and jazz virtuoso and the musical millieu of which [Johnson] was a part."--Louisiana History
University of North Texas Press, 9781574415469, 384pp.
Publication Date: March 21, 2014
About the Author
DEAN ALGER's writings and presentations on blues and jazz for the new Grove Dictionary of American Music and others have been widely praised. Also a public affairs consultant, he is the author of five acclaimed books on democracy, elections, and media. He lives in St. Paul where he leads a trio.
or
Not Currently Available for Direct Purchase