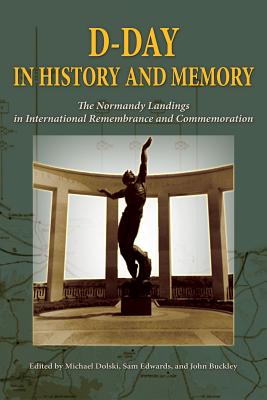 D-Day in History and Memory
The Normandy Landings in International Remembrance and Commemoration
Hardcover

* Individual store prices may vary.
Description
Over the past seventy years, the Allied invasion of Northwestern France in June 1944 has come to stand as something more than a major battle in an increasingly distant war. The assault itself formed a vital component of Allied victory in the Second World War. D-Day, as the initial landing is traditionally termed, has developed into a sign and symbol; as a word it carries with it a series of ideas and associations that have come to symbolize different things to different people and nations. As such, the commemorative activities linked to the battle offer a window for viewing the various belligerents in their postwar years.  From high statesmen down to everyday individuals, people have spent the post-war period interpreting and drawing upon D-Day for a variety of reasons. As with all instances of collective memory, there is a politics at play, for the past serves to help make sense of the ever-changing present.

This book examines the commonalities and differences in national collective memories of D-Day. Chapters cover the main forces on the day of battle, including the United States, Great Britain, Canada, France and Germany. In addition, a chapter on Russian memory of the invasion explores other views of the battle. The overall thrust of the book shows that memories of the past vary over time, link to present-day needs, and, despite the impact of transnational globalization, such memories also still have a clear national and cultural specificity. Simply put, memories of D-Day have diverged according to time, place, and national culture.

These memories arise in a multitude of locations such as film, books, monuments, anniversary celebrations, and news media representations. Rather than simply drawing on a series of "facts" about the past, the attribution of specific meanings and themes to this battle show how individuals, groups, and even nations draw on the past to validate the present and chart a course for the future. As with most expressions of cultural power, though, contests over these meanings abound, and the struggles, changes, and even continuities in memory over time all offer profound insights into these various societies in the decades since the battle itself concluded.
Praise For D-Day in History and Memory: The Normandy Landings in International Remembrance and Commemoration…
"This collection takes readers into how an 'event' becomes many events: central to the canonical American narrative about 'The Great Crusade,' engaged with mixed feelings by the French, and almost completely written out of the Russian narrative of the war, for example. The research is first rate; chapters are articulate, revelatory, and the whole is most impressive."--Edward T. Linenthal, author of Sacred Ground: Americans and Their Battlefields and co-editor of History Wars: The Enola Gay and Other Battles for the American Past
 
"This is a superb volume. Collectively this work underscores the divergent national interpretations given to D-Day and the shifting memories of this conflict over time. The impressive introduction and conclusion tie these essays together, all of which are well-crafted—analytical while still accessible to a general reader and undergraduate student."--G. Kurt Piehler, author of Remembering War the American Way and co-editor of Major Problems in American Military History
 
"This collection of essays brings together entirely new, and vitally important, perspectives on D-Day. The Normandy landings are a much mythologized event which this collection analyzes and deconstructs excellently. Multiple national viewpoints are brought together showing the complexity of the popular memory of D-Day. The editors and contributors are to be congratulated for providing a collection which both deconstructs and challenges fundamentally the dominant Anglophone narrative of D-Day."--Mark Connelly, University of Kent, author of We Can Take It! Britain and the Memory of the Second World War

"Military and political historians have produced a rich literature on the Normandy Invasion, carefully studying and explicating almost all its aspects, from grand strategy to the personal stories of individual soldiers. In a series of highly perceptive and well reasoned essays, D-Day in History and Memory nonetheless opens new avenues of historical inquiry into national interpretations of the Normandy campaign.  It also constitutes a most useful model for future studies of the memory and commemoration of other World War II battles and campaigns."--Michigan War Studies Review

"D-Day in History and Memory brilliantly describes the competing and overlapping narratives that have developed within and among nations directly and tangentially involved in the events of June 6, 1944. . . . Meeting at the transatlantic intersection of comparative and military history and memory studies, this superb book offers incisive analyses of commemoration and memorialization carefully foregrounded by theoretical clarification. The authors evaluate private and public commemorations in monuments, films, books, and anniversary celebrations to describe and juxtapose common themes of sacrifice, redemption, and liberation with resentment and localized, individualized grief. . . . No discussion of World War II's contemporary relevance (and frequent deployment) will be complete without reference to this magnificently crafted compilation."--Journal of American History
University of North Texas Press, 9781574415483, 320pp.
Publication Date: March 20, 2014
About the Author
MICHAEL DOLSKI is a historian with the US Joint Prisoner of War—Missing in Action Accounting Command's Central Identification Laboratory in Hawaii. SAM EDWARDS is a lecturer in American History at Manchester Metropolitan University.  JOHN BUCKLEY is a professor of military history at the University of Wolverhampton.
or
Not Currently Available for Direct Purchase