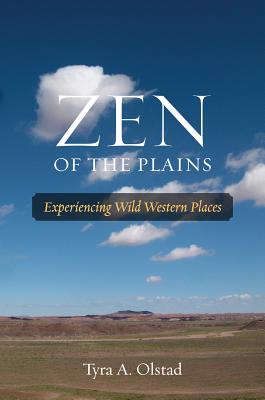 Zen of the Plains (Hardcover)
Experiencing Wild Western Places (Southwestern Nature Writing Series #2)
University of North Texas Press, 9781574415520, 288pp.
Publication Date: May 9, 2014
* Individual store prices may vary.
Description
Although spare, sweeping landscapes may appear "empty," plains and prairies afford a rich, unique aesthetic experience—one of quiet sunrises and dramatic storms, hidden treasures and abundant wildlife, infinite horizons and omnipresent wind, all worthy of contemplation and celebration.  In this series of narratives, photographs, and hand-drawn maps, Tyra Olstad blends scholarly research with first-hand observation to explore topics such as wildness and wilderness, travel and tourism, preservation and conservation, expectations and acceptance, and even dreams and reality in the context of parks, prairies, and wild, open places. In so doing, she invites readers to reconsider the meaning of "emptiness" and ask larger, deeper questions such as: how do people experience the world? How do we shape places and how do places shape us? Above all, what does it mean to experience that exhilarating effect known as Zen of the plains?
About the Author
TYRA A. OLSTAD has worked as a seasonal park ranger, cave guide, and paleontology technician for the National Park Service and US Forest Service in Arizona, South Dakota, Wyoming, Colorado, and Alaska. An alumna of Dartmouth College, the University of Wyoming, and Kansas State University, she currently teaches at SUNY Oneonta.
Praise For Zen of the Plains: Experiencing Wild Western Places (Southwestern Nature Writing Series #2)…
"Olstad speaks not merely to Plains aficionados and devotees of nature writing but also to readers who like to think critically about issues of space, place, and the literary representation thereof."—Kent Ryden, author of Mapping the Invisible Landscape: Folklore, Writing, and the Sense of Place
 
"This young woman has a poetic style and a good eye, she's an excellent writer with a tremendous future. The illustrations are outstanding and add much to the value of this work."—Gary Lantz, author of Morning Comes to Elk Mountain: Dispatches from the Wichita Mountains Wildlife Refuge

"Meditative, philosophical, and evoking breathtaking wonder of nature's mysteries, Zen of the Plains is the next best experience to visiting a thriving prairie in person."--Midwest Book Review
"In this engaging memoir, Tyra Olstad details her quest to understand a deep attraction to the open spaces of North America's western prairies and plains. . . . Many readers will be able to relate to the several attempts it takes Olstad to find the courage to step off a set path into the unmarked wilderness during her first time working at Petrified Forest National Park. Nonetheless, she soon turns into a devoted off-trail walker and observer of the rocks, plants, animals, fossils, weather, and seasons of the wild landscapes of the West, which she describes in vivid prose enhanced with photographs and hand-drawn, illustrated maps."--Great Plains Quarterly
"[Olstad] brings her readers deep into her world, down to the feel of her boots crunching a snow-strewn path and a life-threatening rescue walk through a maze of gullies. Very few will experience the wilderness as Olstad has. It would take years of stamina, endurance, patience, and a willingness to seek enlightenment in any weather, day and night. But through her knowledge readers will surely gain a better understanding of what our natural wilderness can be. And perhaps more than a few people will emulate her joy and explore the land."--Western American Literature
"[T]his book is an excellent contribution to the understanding of the Plains--its uniqueness, deeply emotional character, and, as stated by the author: 'Within that space, pause. Breathe. Feel. Zen of the Plains.'"--The Geographical Review
"Substantially enhanced with supporting facts and opinions pulled from a wide variety of scholarship, Olstad's narrative serves as a wonderful starting point for anyone interested in the growing dialogues surrounding regionalism and ecological preservation."--Panhandle-Plains Historical Review
or
Not Currently Available for Direct Purchase