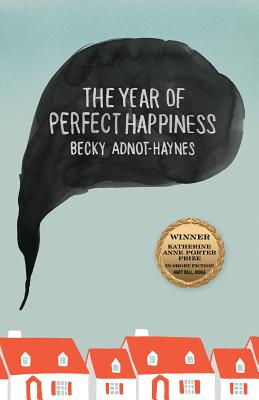 The Year of Perfect Happiness (Katherine Anne Porter Prize in Short Fiction #13)
Paperback

* Individual store prices may vary.
Description
Winner of the Katherine Anne Porter Prize in Short Fiction, 2014.

The sharp-witted stories in Becky Adnot-Haynes's debut collection explore the secret lives of people—how they deal with the parts of themselves that they choose not to share with their closest confidants—and with the world. A pole-vaulter practices his sport only before dawn. A recently divorced woman signs up for a hallucinogenic drug excursion in the Arizona desert. An uncertain girlfriend goes out into the world wearing a false pregnancy belly.

In The Year of Perfect Happiness, the universe is recognizable but slightly askew, a world whose corners can be peeled back to reveal the strange and often comic outcomes of acting out your most self-destructive desires.
Praise For The Year of Perfect Happiness (Katherine Anne Porter Prize in Short Fiction #13)…
"In The Year of Perfect Happiness, Becky Adnot-Haynes puts her smart and funny prose to expert use, patiently delving the radiant mysteries we keep from strangers, from ourselves, from the people we love the most: Our joys and sorrows, our hidden hurts and unforgettable mistakes and untellable secrets, secrets which Adnot-Haynes's excellent stories suggest we want only to be forced to share, craving the moment when we're at last revealed in all our imperfect but stunning humanity."—Matt Bell, author of In the House upon the Dirt between the Lake and the Woods and judge

"This collection is full of people who seek extraordinary cures for their ordinary ills. And their stories are as extraordinary as the cures. I can't wait to read what Adnot-Haynes comes up with next."—Brock Clarke, author of The Happiest People in the World 
 
"The remarkably alive characters in this collection are driven by secretive impulses that are both consuming and dimly understood.  This is a writer who knows how to depict human beings, and I applaud her memorable debut."—Chris Bachelder, author of Abbott Awaits
 
"'Self-destructive urges' is a phrase much tossed about by head-shakers and tongue-cluckers. But who wants to be around people whose selves are so stable that they suffer no such kinks? This is a splendid debut, funny and fizzy and smart."—Michael Griffith author of Trophy and Bibliophilia
 
"The stories in this impressive debut collection detail in pleasurable (and sometimes necessarily painful) ways the pervasive angst of the 20 or 30 something. . . but also the hope for fulfillment and the belief, always, in the people closest to us, the ones we love best."—Keith Lee Morris, author of The Dart League King
 
"I love her sweetly inept and stubbornly misguided characters, and the intelligence and sympathy with which she tells their stories."—Leah Stewart, author of The History of Us

"In this smart collection, awarded the 2014 Katherine Anne Porter prize for short fiction, Adnot-Haynes's dazzles with her wit and insight about the tenuous nature of relationships as a range of characters reveal their innermost thoughts. . . . In this winning collection, each story is a gem."--Publishers Weekly

"Adnot-Haynes mines the iffy world of early adulthood, where the players are constantly looking over their shoulders, about to be found out as imposters. . . . The strength of Adnot-Haynes' details and observations, and her ability to inhabit a character's viewpoint and experience, are two of the true delights of this collection."--Heavy Feather Review

"In The Year of Perfect Happiness, nobody is perfect. Under a veneer of normalcy and seeming perfection lie malice, cunning, chicanery, and evil. . . . The characters stay with you long after you've flipped the page. . . . Through these characters, the author is holding up a mirror to readers, encouraging us to examine the depths of our own consciousness. And sure enough, you begin to relate to many of them. We all have a little evil in us."--NewPages

"Adnot-Haynes doesn't write cartoony, neurotic people, but drills down beneath the surface to expose the perilous fault lines that exist in us all. Cracking her characters open, the stories reveal the raw, disturbed emotion hiding inside and the extreme measures people take to try and piece themselves back together."--The Literary Review

"Adnot-Haynes writing is a pleasure. Her rhythms are sure and her sentences immaculate. I stopped often just to admire how lean they were, trimmed of every extraneous word. She has a knack for the descriptive phrase that lands not just on the mark but dead center, and is at the same time, dryly funny."--Colorado Review
University of North Texas Press, 9781574415650, 192pp.
Publication Date: October 7, 2014
About the Author
BECKY ADNOT-HAYNES grew up in Gainesville, Florida, and holds a PhD in English and creative writing from the University of Cincinnati, where she worked as an editor for The Cincinnati Review. Her stories have appeared in literary journals such as The Missouri Review, The Indiana Review, The Literary Review, West Branch, and PANK, and she was the winner of Hobart's Buffalo Prize for short fiction. She lives in Cincinnati.
or
Not Currently Available for Direct Purchase