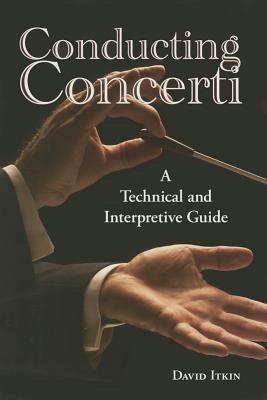 Conducting Concerti (Hardcover)
A Technical and Interpretive Guide
University of North Texas Press, 9781574415704, 416pp.
Publication Date: August 8, 2014
* Individual store prices may vary.
Description
This book examines 43 great concerti and discusses, in detail, the technical, aural, rehearsal, and intra-personal skills that are required for "effortless excellence." Maestro Itkin wrote this book for conductors first encountering the concerto repertoire and for those wishing to improve their skills on this important, and often understudied, literature. Often misunderstood is the fact that both the physical technique and the score study process require a substantially different and more nuanced approach than with the major symphonic repertoire. In short, this is the book that Itkin wished had been available when he was a student and young professional.
About the Author
Born in Portland, Oregon, DAVID ITKIN's conducting career includes more than eight hundred symphonic, operatic, and theatrical performances worldwide and throughout North America. He is currently Music Director and Conductor with the Abilene Philharmonic and Professor of Music and Director of Orchestral Studies at the University of North Texas.
Praise For Conducting Concerti: A Technical and Interpretive Guide…
"There are many books about conducting, some technical, some biographical and some are memoirs. David Itkin's work falls clearly into the first category but with a difference. Whereas most books of this sort focus on the purely orchestral repertoire, Mr. Itkin looks at an important subspecialty: concerti.
"This area is perhaps the most difficult for those who wield a baton. Not only do you have to convey everything to the orchestra, you must also get into the head of the soloist. By concentrating on familiar pieces, David Itkin is offering a valuable textbook for the aspiring maestro. His instructions are clear and to the point. Looking at the difficulties involved, he gets right to the heart of this important facet of the conductor's art.
"Highly recommended."—Leonard Slatkin
 
"This is a 'must own' book for any conductor or conducting student. David Itkin has written a very thoughtful and insightful book concerning the most frequently performed standard concerti. This volume looks at works from many perspectives including problems of accompanying, the conductor/soloist relationship, interpretation and balance problems as well as errata wherever necessary for many of these concerti. This is a book written by a conductor with many years of experience with these works and is an invaluable addition to the world of conducting books."—Samuel Adler, Professor of Composition, the Juilliard School
 
"This book is truly wonderful, lucid and intelligent.  Would that many of Maestro Itkin's colleagues devoted such attention to mere concerti! I'm certain that this will prove very inspirational and helpful to conductors on every level."—Misha Dichter
 
"David Itkin brings a wealth and variety of experience to the subject matter, displaying a firm grasp of both the practical and artistic issues. This is a much-needed book that provides a great deal of important information for any aspiring young conductor."—Paul Rowe, previously an artist of the Waverly Consort; Prof. of Music, University of Wisconsin
"Itkin devotes a chapter each to twenty piano concertos, ten violin concertos, and six cello concertos from the standard repertory that students and young professional conductors are most likely to encounter. . . . Itkin discusses accompanying and the conductor/soloist relationship, preparation (study of the score and solo part), balance and ensemble, and other aspects of interpretation."--The Beethoven Journal
"Each concerto is given detailed attention from one who clearly has had vast experience with these works and thorough knowledge of the scores. Maestro Itkin has carefully gone through each of the concerti in this book in a methodical manner. . . . This book is a valuable addition to the conductor's library."--Podium Notes/The Conductors Guild