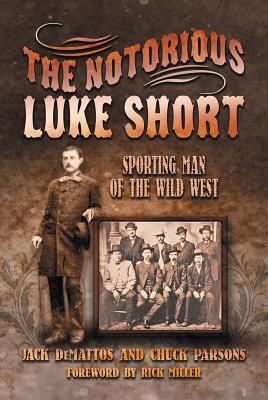 The Notorious Luke Short
Sporting Man of the Wild West (A.C. Greene Series #16)
Hardcover

* Individual store prices may vary.
Description
Winner of the Co-Founders Best Book Award from Westerners International, Sept. 2016

Often times the smaller the man, the harder the punch—this adage was true in the case of diminutive Luke Short, whose brief span of years played out in the Wild West. His adventures began as a teenage cowboy who followed the trail from Texas to the Kansas railheads. He then served as a scout for the U.S. Army during the Indian wars and, finally, he perfected his skills as a gambler in locations that included Leadville, Tombstone, Dodge City, and Fort Worth. In 1883, in what became known as the "Dodge City War," he banded together with Wyatt Earp, Bat Masterson, and others to protect his ownership interests in the Long Branch Saloon—an event commemorated by the famous "Dodge City Peace Commission" photograph.

The irony is that Luke Short is best remembered for being the winning gunfighter in two of the most celebrated showdowns in Old West history: the shootout with Charlie Storms in Tombstone, Arizona, and the showdown against Jim Courtright in Fort Worth, Texas. He would have hated that. During his lifetime, Luke Short became one of the best known sporting men in the United States, and one of the wealthiest. He had been a partner in the Long Branch Saloon in Dodge City, as well as the White Elephant in Fort Worth. He became friends with other wealthy sporting men, such as William H. Harris, Jake Johnson, and Bat Masterson, who helped broaden his gaming interests to include thoroughbred horse racing and boxing.

Before he died he would become a familiar figure in Chicago, Memphis, New Orleans, and Saratoga Springs, where he raced his string of horses. He traveled with other wealthy sporting men in private railroad cars to attend heavyweight championship fights. Luke Short was always a little man dealing in big games. He married the beautiful Hattie Buck, who could turns heads at all the top resorts they visited as man and wife.

Jack DeMattos and Chuck Parsons have researched deeply into all records to produce the first serious biography of Luke Short, revealing in full the epitome of a sporting man of the Wild West.
Praise For The Notorious Luke Short: Sporting Man of the Wild West (A.C. Greene Series #16)…
"The authors have covered in greater detail than any previous book or article the so-called 'Dodge City War' of 1883 in which Luke Short was the central figure. This account alone will make the book noteworthy. Fans of authentic Wild West history will leap at the opportunity to purchase the first authentic account of this legendary character written by two recognized and accomplished writers."—Robert K. DeArment, author of Bat Masterson and editor of Life of the Marlows
 
"The authors provide a fine account of a man who, though small in stature, had the grit expected of a frontiersman, and who, though with flaws, stood up for his principles. In his major physical encounters, in which his life was on the line, he was defending himself and was not the aggressor. Beyond handiness with a six-shooter, Luke Short more correctly was a prominent 'sporting man,' ultimately earning wealth through legitimate gambling activities. This biography gives Luke Short the complete, definitive inspection as a whole man that he deserves and finally sets the record straight."—Rick Miller, author of award-winning Texas Ranger John B. Jones and the Frontier Battalion, 1874-1881
 
"Parsons is an impeccable researcher and DeMattos has an excellent track record as a Western historian. The Notorious Luke Short contains wonderful new information on Luke Short that William Cox did not have when he wrote his Short biography in 1961."—Richard F. Selcer, author of Hell's Half Acre and co-author of Written in Blood

"An impressively written, exceptionally well researched, deftly organized and engagingly presented biography."--Midwest Book Review

"The book is a gem of research. . . . The authors' craftsmanship is solid, presenting Short sans the glitz and drama of something like Unbreakable."--Library Journal

"Short had a fearsome reputation as a gunfighter and did kill two noteworthy opponents--Charlie Storms and Jim Courtright--but truth be told, he spent far more time and enjoyed more success appealing in the courtroom than trading shots on the street. . . . Neither the book nor the man it chronicles should be sold short."--Wild West

"Two biographies of [Short] were written prior to this effort, one by William Cox and the other by Wayne Short. Jack Demattos and Chuck Parsons have written a much more thorough account and it should become the standard text for some time. It is chock-full of interesting information."--Wild West Historical Association Journal

"Short owned, or was part-owner, of a number of saloons and gaming establishments and during his life his name was linked with some of the most famous sporting houses of the West: the Long Branch Saloon in Dodge City, Kansas, the White Elephant Saloon in Fort Worth, Texas, and the Oriental Saloon in Tombstone, Arizona. He was friends with the real men who became part of Western mythology, such as Wyatt Earp and Bat Masterson. . . . In sum, the book offers a fascinating story and makes for gripping reading."--Kansas History
 

"The authors have done a very fine job of research and have cleared up much of previous misinformation that has been published about Luke Short. The book is well organized and is very readable. It is highly recommended for all serious scholars of the Old West and for the general reader as well."--Journal of South Texas

"While Luke Short did not achieve Hollywood fame, he was a vastly interesting personality certainly deserving the recognition of a 'sporting man.' DeMattos and Parsons have given us a unique and memorable treasure for our Old West library."--Chronicle of the Old West

"Jack DeMattos and Chuck Parsons have produced an engaging and exceptionally well-researched book tracking the life of Luke Short, one of the West's lesser-known gunfighters and 'sporting men.'"--New Mexico Historical Review

"Short ran gambling tables over much of the West--Deadwood, Leadville, Tombstone, Dodge City, and Fort Worth. At one time or another, he was part owner of The Long Branch in Dodge City and The White Elephant Saloon in Fort Worth."--Panhandle-Plains Historical Review

"Jack Demattos and Chuck Parsons combined their formidable research skills to present a wealth of new facts about Luke Short, and their version of his exciting life has added a great deal of fascinating material to our fund of knowledge about the diminutive gambler-gunfighter. . . . [A] worthy addition to the collection of any student of western sporting men and shootists."--Southwestern Historical Quarterly

"The book should be required reading for anyone interested in the frontier west as well as those with even a passing interest in the history of gunplay and gamblers in the trans-Mississippi West."--Tombstone Epitaph

"[T]his is the best and most recent biography of Short. . . . [The authors'] own knowledge and exceptionally thorough research combine to make an outstanding book about a man who crossed the bridge between lawlessness and cunning avarice."--East Texas Historical Journal
University of North Texas Press, 9781574415940, 352pp.
Publication Date: May 18, 2015
About the Author
JACK DeMATTOS is the author of six books on western gunfighters, including Mysterious Gunfighter: The Story of Dave Mather.  CHUCK PARSONS is the author of Captain John R. Hughes and The Sutton-Taylor Feud and coauthor of A Lawless Breed, a biography of John Wesley Hardin.