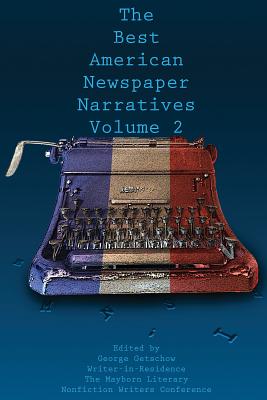 The Best American Newspaper Narratives, Volume 2 (Paperback)
University of North Texas Press, 9781574415957, 512pp.
Publication Date: June 4, 2015
Other Editions of This Title:
Paperback (6/27/2014)
* Individual store prices may vary.
Description
This anthology collects the twelve winners of the 2013 Best American Newspaper Narrative Writing Contest, run by the Mayborn Literary Nonfiction Conference. The event is hosted by the Frank W. Mayborn Graduate Institute of Journalism at the University of North Texas. The contest honors exemplary narrative work and encourages narrative nonfiction storytelling at newspapers across the United States.

First place winner: Eli Saslow, "Into the Lonely Quiet" (Washington Post), follows the family of a 7-year-old victim of the December 2012 mass shooting at Sandy Hook Elementary in Newtown, Connecticut, six months after the shooting.

Second place: Eric Moskowitz, "Marathon Carjacking" (Boston Globe), is the story of "Danny," who was carjacked by the suspects of the Boston Marathon bombing three days after the bombing.

Third place: Mark Johnson, "The Course of Their Lives" (Milwaukee Journal Sentinel), an account of first-year medical students as they take a human dissection course.

Runners-up include Christopher Goffard, "The Manhunt" (Los Angeles Times); Stephanie McCrummen, "Wait—You Described It as a Cloudy Feeling?" (Washington Post); Michael M. Phillips, "The Lobotomy Files" (Wall Street Journal); Aaron Applegate, "Taken Under" (Virginian-Pilot); Meg Kissinger, "A Mother, at Her Wits' End" (Milwaukee Journal Sentinel); Michael Kruse, "The Last Voyage of the Bounty" (Tampa Bay Times); Shaun McKinnon, "Alone on the Hill" (Arizona Republic); Mike Newall, "Almost Justice" (Philadelphia Inquirer); and Sarah Schweitzer, "Together, Despite All" (Boston Globe).
About the Author
GEORGE GETSCHOW teaches in the University of North Texas's Mayborn School of Journalism and is the writer-in-residence for the Mayborn Literary Nonfiction Conference. He was a reporter at the Wall Street Journal bureau in Chicago and also chief of the Dallas and Houston bureaus. Getschow was a finalist for the Pulitzer Prize.
Praise For The Best American Newspaper Narratives, Volume 2…
"Volume Two contains the work of more than a dozen writers, representing newspapers that have been long associated with storytelling and enterprise work:  the Washington Post, the Boston Globe, the Milwaukee Journal Sentinel, the Los Angeles Times, the Wall Street Journal, the Virginian-Pilot, the Arizona Republic, the Philadelphia Inquirer, and Poynter's own Tampa Bay Times. . . . Readers of this book will benefit from a crafty and insightful introduction from Getschow himself.  I tend not to be much inspired by book introductions, but this one gave me intellectual goose bumps. . . . My only criticism of The Best American Newspaper Narratives--I offer it as a compliment in disguise--is that it left me wanting even more."--Roy Peter Clark, The Poynter Institute Mediawire
"The Best American Newspaper Narratives Volume 2 gathers stories with wide-ranging but universal themes: frustration and fear, heroics and hubris, chaos and compassion. . . . The stories pack emotional wallops, delving into the manhunt for a killer in Los Angeles, tagging along as the Boston bombers carjack a young man, and ushering readers aboard the Bounty as the tall ship attempts an ill-fated journey around Hurricane Sandy. . . . This collection calls to mind great American writers of the past--Ernest Hemingway, Mark Twain, Stephen Crane--who were once journalists."--Maria Carrillo, Houston Chronicle
or
Not Currently Available for Direct Purchase