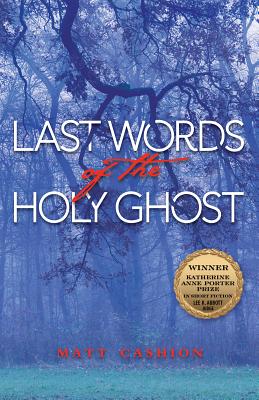 Last Words of the Holy Ghost (Katherine Anne Porter Prize in Short Fiction #14) (Paperback)
University of North Texas Press, 9781574416121, 240pp.
Publication Date: October 5, 2015
* Individual store prices may vary.
Description
Winner of the Katherine Anne Porter Prize in Short Fiction, 2015.

Funny, heartbreaking, and real—these twelve stories showcase a dynamic range of voices belonging to characters who can't stop confessing. They are obsessive storytellers, disturbed professors, depressed auctioneers, gambling clergy. A fourteen-year-old boy gets baptized and speaks in tongues to win the love of a girl who ushers him into adulthood; a troubled insomniac searches the woods behind his mother's house for the "awful pretty" singing that begins each midnight; a school-system employee plans a year-end party at the site of a child's drowning; a burned-out health-care administrator retires from New England to coastal Georgia and stumbles upon a life-changing moment inside Walmart. These big-hearted people—tethered to the places that shape them—survive their daily sorrows and absurdities with well-timed laughter; they slouch toward forgiveness, and they point their ears toward the Holy Ghost's last words.
About the Author
MATT CASHION was born in North Wilkesboro, North Carolina, and grew up in Brunswick and St. Simons Island, Georgia. He earned an MFA at the University of Oregon and now teaches at the University of Wisconsin-LaCrosse. He is the author of two novels, How the Sun Shines on Noise and Our 13th Divorce. He lives in La Crosse, Wisconsin.
Praise For Last Words of the Holy Ghost (Katherine Anne Porter Prize in Short Fiction #14)…
"In its precise prose and spooky intelligence and sharp-eyed examination of the condemned kind we are, Last Words of the Holy Ghost is an original.  Listen: if you can find a collection of stories more cohesive, more ambitious in reach, more generous in its passion, and fancier in its footwork, I will buy it for you and deliver it in person. In the meantime, put some Matt Cashion between your ears and then try to resist the temptation to dash into the street and shout 'hallelujah' at your neighbors."—Lee K. Abbott, author of All Things, All at Once: New and Selected Stories and judge

"Voices—rising, falling, whispering, singing—animate these vivid stories of changelessness and change, as the members of these deeply American communities negotiate the demands of social traditions and the needs of their bodies and souls.  Confession—acknowledgments of failures and dreams of redemption—have rarely sounded so moving, so illuminating of our national predicaments as in Matt Cashion's bracing and splendid collection of stories."—Tracy Daugherty, author of Hiding Man and The Last Love Song

"The way these stories—sentence by sentence and paragraph by paragraph—vacillate between being laugh-out-loud funny and tender and touching, calls to mind the work of George Saunders, but the voice here is all Matt Cashion's. Last Words of the Holy Ghost is populated by characters who are troubled and sometimes troubling, and oh so human in the way they persevere, however damaged or broken they may seem. Intricately designed and powerfully observed, this is a brilliant, masterful, and moving collection."—Chad Simpson, author of Tell Everyone I Said Hi
 
"Only in the wild and witty world of Matt Cashion could multiple divorces, various addictions, and general Loser-dom seem both hilarious and heartbreaking. These stories are compassionate, wacky, and utterly absorbing. Cashion should be recognized for what he is: a new master of dark humor and a major new Southern talent."—Robin Hemley, author of Do-Over
 
"I LOVED Last Words of the Holy Ghost. Plain and simple. Loved it. Matt Cashion's stories took me in, took me home. Took me hostage. The stories are about real humans doing real (and really ridiculous) things, and you can't help but love them for it. In his characters Matt hones the edge of want so fine, so sharp, that you won't even realize you're bleeding until it's too late. Then you'll ask for more."—Steven Sherrill, author of Joy andThe Minotaur Takes a Cigarette Break

"I imagine Flannery O'Connor, from her perch among the Communion of Saints, perusing in happy astonishment Matt Cashion's story collection, Last Words of the Holy Ghost. Cashion's spin on the mysteries of human behavior is nothing short of stunning, and the characters who star in these dozen wholly outrageous parables will travel with you for all your days. Their pedestrian, yet epic, falls from grace are hilarious and heartbreaking at once. Often bandied about—among readers, critics, and writers alike—is the writer'svoice. Whatever that means, you will come away from these stories knowing you've been evangelized by one. Cashion has reckoned the human core at its most volatile and truthful, and had the wit, courage and boundless talent to somehow cast it into words."—Joseph Bathanti, author of The Life of the World to Come
"Cashion offers a nimble yet emotional portrait of rough-and-tumble small-town denizens trapped in prisons of their own making. . . . A sublime collection that uses compassion and subtle humor to capture heavy moments in lives lived on the margins."--Kirkus Reviews
"Cashion, winner of the Katherine Anne Porter Prize, joins the backwoods, Southern Gothic club that includes such eminences as Flannery O'Connor and Erskine Caldwell."--The Booklist Reader
"[This] is solid quality writing from start to finish. . . . Through character behaviors, Cashion masterfully shows just enough for readers to make a good call on the true nature of each character. To say the characters are memorable is an understatement."--Hall Ways
or
Not Currently Available for Direct Purchase