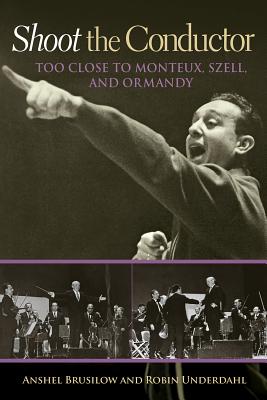 Shoot the Conductor
Too Close to Monteux, Szell, and Ormandy (Mayborn Literary Nonfiction Series #7)
Hardcover

* Individual store prices may vary.
Other Editions of This Title:
Paperback (7/22/2016)
Description
Foreword Reviews 2015 INDIEFAB Book of the Year Award Winner in Performing Arts & Music

Anshel Brusilow started playing violin in 1933 at age five, in a Russian Jewish neighborhood of Philadelphia where practicing your instrument was as ordinary as hanging out the laundry. His playing wasn't ordinary, though. At sixteen, he was soloing with the Philadelphia Orchestra. He was also studying conducting.
    Brusilow's tumultuous relationships with Pierre Monteux, George Szell, and Eugene Ormandy shaped his early career. Under Szell, Brusilow was associate concertmaster at the Cleveland Orchestra until Ormandy snatched him away to make him concertmaster in Philadelphia, where he remained from 1959 to 1966. But he was unsatisfied with the violin. Even as concertmaster of the Philadelphia Orchestra, he felt the violin didn't give him enough of the music. He wanted to conduct. He formed chamber groups on the side; he conducted summer concerts of the Philadelphia Orchestra. The price was high: it ruined his father-son relationship with Ormandy. Brusilow turned in his violin bow for the baton and created his own Philadelphia Chamber Symphony. Next he took on the then-troubled Dallas Symphony Orchestra. Unhappy endings repeat themselves in his memoir—and yet humor dances constantly around the edges. Musicians need it.
    Brusilow played with or conducted many top-tier classical musicians and has something to say about each one. He also made many recordings. Co-written with Robin Underdahl, his memoir is a fascinating view of American classical music as well as an inspiring story of a working-class immigrant child making good in a tough arena.
Praise For Shoot the Conductor: Too Close to Monteux, Szell, and Ormandy (Mayborn Literary Nonfiction Series #7)…
"Hilarious and heartbreaking, this memoir is a real page-turner as well as a remarkably accurate account of one extraordinarily gifted musician's professional ups and (alas!) downs. Anshel Brusilow tells it like it was, con brio and molto vivace."—Gary Graffman, pianist
 
"Don't start reading this memoir by an inspired and inspiring concertmaster, conductor, and teacher too late in the evening, or you may not get much of a night's sleep. I found it unputdownable, and read the whole book in one sitting. I don't know which impressed me more: the profound dedication to music evident from first page to last, or the delightfully light and modest touch with which it's presented. I learned a great deal, too, about the educational process that turns promise into achievement."—Bernard Jacobson, music critic
 
"Leading an orchestra of 60 or more musicians is not a job for the meek. Anshel Brusilow tells how he did it, with good humor, and that makes for entertaining reading."—Bernard Garfield, principal bassoon, Philadelphia Orchestra, retired
 
"I grew up listening to my father's classical record collection. Szell, Monteux, Ormandy… these were our household idols. (My father trimmed his mustache after the style of Toscanini). Thank the gods of music, then, for Anshel Brusilow—for his robust humor, his sharp insight into character, and above all for his love of music and music-makers. In this wonderful memoir, the titans leave the podium and step down to earth, allowing us to observe through the eyes of Maestro Brusilow—seated only a few feet away in the concertmaster's stand—their foibles, pettiness, tantrums, but also their greatness."—Bill Marvel, writer for The Dallas Morning News and co-author of Islands of the Damned

"While carrying us along with information about these celebrities [Ormandy, Szell, and Monteux], Brusilow simultaneously gives us a good hard look at the day-to-day grim reality of the life of a professional musician."—Wayne Gay, music critic, D Magazine
 
"Brusilow has a remarkable way of telling a story that is conversational and easy to read."—Brian A. Shook, author of Last Stop Carnegie Hall: New York Philharmonic Trumpeter William Vacchiano (UNT Press)

"Shoot the Conductor: Too Close to Monteux, Szell, and Ormandy by Anshel Brusilow and Robin Underdahl starts out good and rapidly moves to Great, with a capital "G." Any individual who enjoys classical music will thoroughly enjoy this autobiography. . . . This is a book to be inhaled not just read. Its humor, poignancy, and disappointment crackle through every line in the book. This one belongs on every bookshelf, whether the reader is an aficionado of the classics, or one who enjoys listening just doesn't know why—this book will educate and amuse."--New York Journal of Books

"Brusilow captivates with stories of conductors Leopold Stokowski, Pierre Monteux, George Szell, Eugene Ormandy; composers including Dmitri Shostakovich and Leonard Bernstein; and numerous legendary performers. . . . Page after page, Shoot the Conductor prompts the reader to listen to more classical music, and to go attend concerts by our fabulous orchestras."--Philadelphia Inquirer

"The stories are endless--and fascinating and amusing. . . . Lovers of orchestras, conductors, and violins will love this. It's also very well written, with the assistance of Robin Underdahl."--American Record Guide

"[I]n this book there is a lot more of background information about the life and the role of musicians, concertmasters and conductors. It shows how strings are pulled, how intrigues are spun, and so, at the end, it is most truly a valuable and very interesting autobiography, which any reader will passionately devour."--Luxembourg Music Publishers

"[Brusilow's] cultivated observational sense and rich, poetic inner life may well send you on a rewarding search for his still-available violin recordings. . . . Playing a Mozart concerto with a classical specialist such as Szell was an invitation to be eaten alive. In contrast to the micro-managing Szell, Ormandy invited his players to bring their own ideas to incidental solos but was tyrannical in other ways: though he thought of Brusilow like a son, he was threatened by the violinist's conducting ambitions."--Gramophone

"Shoot the Conductor: Too close to Monteux, Szell, and Ormandy, written by conductor, concertmaster, and music educator Anshel Brusilow with Robin Underdahl, is the single most important book about music you can read."--Wanderingeducators.com

"Brusilow is simply telling the story of a Jewish son of immigrants journeying through life. The fact that his life involved many of our most treasured musicians, composers, and conductors makes the ride all the more pleasurable."--Fort Worth Weekly

"Shoot the Conductor is a terrific read for any music lover. Some of the inside stories about famous musicians, particularly the three conductors noted in the subtitle, will bring a smile to the lips of all who have heard stories of the evil ways of conductors, particularly George Szell and Eugene Ormandy."--Fanfare Magazine

"Brusilow's candid honesty throws a spotlight on how innate musical ability, personal temperament and inner compulsion combine to make us who we are. . . . This book encapsulates the career of an extraordinary musician."--The Strad

"The memoir of conductor and violinist Anshel Brusilow is a fascinating read. . . . Exquisitely told and engaging right from the first page. . . . This book will appeal to teachers and performers alike and is highly recommended."--The Instrumentalist

"This is a hugely entertaining autobiography by an American violinist, concertmaster, conductor, and teacher. Anshell Brusilow was all of those."--Music Times
University of North Texas Press, 9781574416138, 336pp.
Publication Date: June 15, 2015
About the Author
After a long and distinguished career in music, ANSHEL BRUSILOW retired from conducting the Richardson Symphony and lives in Dallas. ROBIN UNDERDAHL holds an MFA in creative writing from Columbia University and writes fiction, nonfiction, and memoir. She also lives in Dallas.
or
Not Currently Available for Direct Purchase