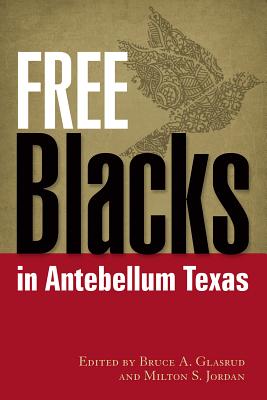 Free Blacks in Antebellum Texas (Hardcover)
University of North Texas Press, 9781574416145, 320pp.
Publication Date: September 15, 2015
* Individual store prices may vary.
Description
Free Blacks in Antebellum Texas collects the essays of Harold R. Schoen and Andrew Forest Muir, early scholars who conducted the most complete studies on the topic, although neither published a book. Schoen published six articles on "The Free Negro in Republic of Texas" and Muir four articles on free blacks in Texas before the Civil War.

Free black Texans experienced the dangers and risks of life on the frontier in Texas. Those experiences, and many others, required of them a strength and fortitude that evidenced the spirit and abilities of free blacks in antebellum Texas. Sometimes with support from a few whites, as well as their own efforts, they struggled and survived. Editors Bruce A. Glasrud and Milton S. Jordan include a thoughtful introduction and a wide-ranging bibliography.

"Schoen and Muir were first-rate historians, and their pioneering work stands today as outstanding scholarship."—Randolph B. Campbell, author of Gone to Texas and An Empire for Slavery
About the Author
BRUCE A. GLASRUD is Professor Emeritus of History, California State University, East Bay, and co-editor of the two-volume Tracking the Texas Rangers and The African American Experience in Texas. He lives in San Antonio.  MILTON S. JORDAN is a graduate of Southwestern University and co-editor of If Not Me, Who? a memoir of East Texas civil rights activist Wendell Baker. Jordan lives in Georgetown, Texas.
Praise For Free Blacks in Antebellum Texas…
"Schoen and Muir were first-rate historians, and their pioneering work stands today as outstanding scholarship. The editors provide a solid overview of the subject, and their bibliography will be useful to anyone interested on free blacks in Texas."—Randolph B. Campbell, author of Gone to Texas and An Empire for Slavery
 
"The essays by Schoen provide virtually complete coverage of major topics about free African Americans for the period of the Texas Revolution and Republic. The Muir essays focus on most of the areas with large free African American populations in the statehood period from 1846 to 1860. Together they offer well organized coverage of the subject. This work is of great significance."—Alwyn Barr, author of Black Texans and Reconstruction to Reform
"By emphasizing the ways in which free African Americans overcame both legal and societal restrictions, Schoen and Muir offer a depiction of free African Americans in Texas that challenges the standard declension narrative that has plagued much of the scholarly literature. . . . [S]hould be a required read for any individual interested in the history of Texas during the antebellum period in American history."--Chronicles of Oklahoma
"This book proves useful to those eager to learn more about blacks who lived outside of slavery's grip. Graduate history students and Texas scholars in particular may find the work enormously useful, if not for the new insights presented but for the rich and varied source materials used."--Southwestern Historical Quarterly
"Free Blacks in Antebellum Texas places Schoen and Muir's pioneering work before a new generation of readers and illuminates the analysis of race, gender, and freedom across the changing political and economic landscape of the American West."--New Mexico Historical Review
or
Not Currently Available for Direct Purchase