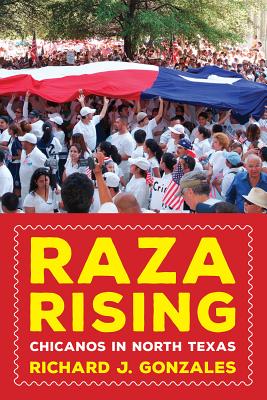 Raza Rising
Chicanos in North Texas (Al Filo: Mexican American Studies Series #10)
Hardcover

* Individual store prices may vary.
Description
Based on articles written for the Fort Worth Star-Telegram, author Richard J. Gonzales draws on his educational, inner-city and professional life experiences to weave eyewitness testimony into issues facing Chicanos, including economic, health, education, criminal justice, politics, immigration, and cultural issues. Raza Rising presents a personal recounting of a Chicano's struggle with and understanding of the socio-economic policies and historical actions that impact their ascendancy. Raza Rising offers first-hand observations, supported by well-documented scholarly research, of Chicanos' growth and subsequent struggles to participate fully in North Texas' political and economic life.

Raza Rising takes the reader to the organization of a Fort Worth immigration reform march, to the actual march with 20,000 people on Main Street on Palm Sunday, to a protest demonstration of the City of Farmers Branch's attempt to prohibit renting to the undocumented immigrant, to the author's awakening in Chicago on the importance of learning, and to his poignant experience as a guest speaker in a Fort Worth public school classroom. Other observations offer insight on how Chicanos struggle with their ethnic identity and understanding of their history. In addition, the book highlights important historical and political events that illustrate Chicanos' attempts to overcome barriers to their rise.

At a time when global economic competition threatens the United States' first world status, this country must nurture academic excellence for all its citizens. Raza Rising provides specific explanations for the Chicano educational lag and workable solutions to accelerate their political, economic and academic achievements. Prophetic state and national demographers have forecasted the steady increase in Chicano populations and decrease in white populations. Raza Rising offers students, instructors, policy makers, politicians and neighbors a deeper understanding of Chicanos, who in the near future will transition from minority to majority status in Texas.
Praise For Raza Rising: Chicanos in North Texas (Al Filo: Mexican American Studies Series #10)…
"Gonzales's account as a history is of great significance because he documents important events and views in the recent history of Mexicans in Dallas and Texas, and he does it with the authority of a first-hand observer. His keen understanding of the Mexican American history that he has lived gives the narrative a high level of originality."—Emilio Zamora, author of The World of the Mexican Worker in Texas
 
"Raza Rising is clearly a passionate discussion of the many complex issues affecting the wellbeing of Chicanos in North Texas. It does not treat Chicanos in North Texas as isolated from the broader historical and political dynamics of the nation, but rather as directly affected by national movements and attitudes. Gonzales does an excellent job of connecting North Texas to the national scene."—David Maldonado, Jr., author of Crossing Guadalupe Street: Growing Up Hispanic and Protestant

"Richard skillfully chronicles who we are, where we have been, and our continued struggles." —Dr. Robert M Munoz, President of the Hispanic Wellness Coalition.

"In Raza Rising, Richard J. Gonzales beautifully weaves together years of research and writing from his years as a columnist for the Fort Worth Star-Telegram. The result is a panoramic portrait of a forgotten but hugely significant community, the Chicanos and Latinos of North Texas. Gonzales meticulously details the many challenges facing young Chicanos and Chicano families in the schools and in the larger region, moving beyond a deficit-based approach (of what Chicanos themselves lack) to also explore the role of white privilege and the dangerous consequences of many Texans' lack of cultural competency. Raza Rising also stays true to its title, examining the forgotten roots of the Chicano community in Texas, a story that spans from indigenous Mexico to recent Chicano heroes in the US. Finally, it demonstrates the significance of the Chicano movement and the post-2006 immigrant rights struggle as key sites in which Mexican-origin residents of North Texas are remaking the region in their image. Raza Rising reminds us gringos that it is past time to get to know and embrace this fast-growing community, because their future will also be our own."—Dr. Max Krochmal, Director, Civil Rights in Black and Brown Oral History Project, Texas Christian University

 

"[An] excellent and welcome contribution to American History and Hispanic Studies shelves."--Midwest Book Review

"Many second- and third- and fourth-generation American Latinos today don't know their own family's history--of an intrepid ancestor leaving a homeland, encountering grief and struggle, and succeeding despite incredible obstacles every step of the way. That's one of the reasons Gonzales wrote his book, Raza Rising."--Dallas Morning News

"From marches on immigration reform to inside a Fort Worth public school classroom, author Richard J. Gonzales takes readers to important historical and political events in recent history that helped shape the Chicano community in North Texas."--Austin American-Statesman

"How can Chicanos reach the American Dream, how can race relations be improved, and how can society address problems vis-a-vis Chicanos? Gonzales recommends that Chicanos vote, acquire an education, and identify able leaders and support them. . . . His pronouncements are bold but instructive. Readers at every level, parents, Chicano leaders, government personnel, and others are certain to benefit from Gonzales's reflections."--Western Historical Quarterly

"Raza Rising represents a significant contribution to the scholarship and public discussions of the subject. . . . It should be required reading for any Texan interested in the state's past and future."--Southwestern Historical Quarterly

"Raza Rising could serve as a supplemental text in any Mexican American, Chicano/a, or Ethnic Studies course that covers history, race and ethnicity, culture, and politics to promote an informed dialogue about the changing nature of race relations in the nation--a conversation that must include the Mexican American/Chicano experience and perspective."--New Mexico Historical Review

"Blending memoir, historical analysis, and journalism, [Gonzales] catalogs failures of the educational, health care, and criminal justice systems to deal equitably with a growing Mexican American population. . . . Gonzales has produced a convincing case for broadening our national identity."--Panhandle Plains Historical Review

"Raza Rising is a quick and easy read for the general public and introductory college students. It is a good starting point to learn about the present condition of Mexican Americans and Mexicans in North Texas."--Pacific Historical Review
University of North Texas Press, 9781574416329, 352pp.
Publication Date: March 8, 2016
About the Author
RICHARD J. GONZALES wrote for six years about Chicanos as a Fort Worth Star-Telegram weekly guest columnist. He has published short stories in The Americas Review, a Hispanic literary journal of the University of Houston, and has worked in, observed, and researched the Chicano community from the 1970s to the present.
or
Not Currently Available for Direct Purchase