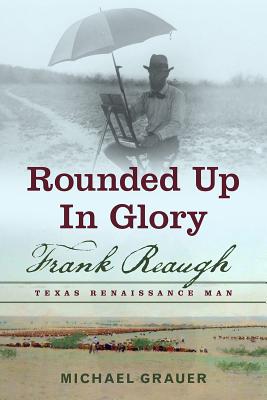 Rounded Up in Glory
Frank Reaugh, Texas Renaissance Man
Hardcover

* Individual store prices may vary.
Description
Frank Reaugh (1860–1945; pronounced "Ray") was called "the Dean of Texas artists" for good reason. His pastels documented the wide-open spaces of the West as they were vanishing in the late nineteenth century, and his plein air techniques influenced generations of artists. His students include a "Who's Who" of twentieth-century Texas painters: Alexandre Hogue, Reveau Bassett, and Lucretia Coke, among others. He was an advocate of painting by observation, and encouraged his students to do the same by organizing legendary sketch trips to West Texas. Reaugh also earned the title of Renaissance man by inventing a portable easel that allowed him to paint in high winds, and developing a formula for pastels, which he marketed. A founder of the Dallas Art Society, which became the Dallas Museum of Art, Reaugh was central to Dallas and Oak Cliff artistic circles for many years until infighting and politics drove him out of fashion. He died isolated and poor in 1945.
The last decade has seen a resurgence of interest in Reaugh, through gallery shows, exhibitions, and a recent documentary. Despite his importance and this growing public profile, however, Rounded Up in Glory is the first full-length biography. Michael Grauer argues for Reaugh's importance as more than just a "longhorn painter." Reaugh's works and far-reaching imagination earned him a prominent place in the Texas art pantheon.
Praise For Rounded Up in Glory: Frank Reaugh, Texas Renaissance Man…
"Leave it to Michael Grauer, the spirited over-seer of all things Reaugh at the Panhandle-Plains Historical Museum, to develop the definitive biography of this Master Texas artist. With passion and poignancy, Grauer lays out the compelling story of a forgotten giant of Texas art. Skillfully charting the ebb and flow of a long and devoted career, Grauer reasserts Reaugh's rightful place in the annals of the Lone Star art."—William Reaves, founder of the Center for the Advancement and Study of Early Texas Art

"In this long awaited biography on an important pioneer Texas artist, Grauer takes on the mantel of personal field guide leading the reader along dusty far-flung trails taken by Frank Reaugh and his loyal student following during annual sketching expeditions. Peppered with colorful facts as layered and richly detailed as his subject's pastel landscapes, Grauer aptly paints the story of Reaugh's long life and career, noting his many cultural contributions to art of the American West, particularly in the Dallas/Fort Worth region."—Peter F. Mears, Curator, Harry Ransom Center, University of Texas at Austin

"Writing with insight and authority, art historian and curator Michael Grauer offers the first truly comprehensive treatment of artist Frank Reaugh's colorful life and legacy. This ample study will be both the starting point and the measure of future inquiries into the subject."—B. Byron Price, Director, Charles M. Russell Center for the Study of Art of the American West, University of Oklahoma

"Michael Grauer's full-length and superbly researched biography of Reaugh is compellingly narrated with compassion for the subject matter and for the culture of the times. The book takes us from Reaugh's early work on the cattle drives of the 1880s to the artist's peak at the turn of the century and the national acclaim that followed. Best of all, Grauer's 'research led journey' to Western sites and collections put him inside Reaugh's life; Grauer walked in his subject's footsteps. As a result, this welcome work tells the story from the inside of the artist's life and lets Reaugh, as much as any biography can, speak for himself. Grauer's book constitutes an invaluable contribution to Reaugh studies as well as to scholarship on art of the American West."—Bonney MacDonald, Professor of English and Western American Literature at West Texas A&M University and series editor of American Wests (Texas A&M University Press)

"Michael R. Grauer wisely situates Reaugh's work within the histories of American landscape painting and nineteenth-century literature. . . . Rounded Up in Glory will be essential reading for anyone interested in Reaugh's work and, more broadly, in strengthening the fragile bridge between the study of nineteenth-century eastern landscape paintings and the often-overlooked but deeply inspiring art of the American West."--H-Environment/H-Net Reviews

"This book belongs in the bookcase of every collector of early Texas art and also in those of art devotees who want to experience the journey that Reaugh took from Terrell, Texas, to Europe to West Texas and back home again."--Legacies

"The arc of Reaugh's life is so compellingly told, his successes and accomplishments so well delineated, that the reader comes away better understanding the author's early declarations that he was 'a genius'; that he was 'Texas's Leonardo [da Vinci]' . . . . The book is the definitive biography of Reaugh."--Southwestern Historical Quarterly

"Collectors, gallery owners, museum professionals, art historians, and critics interested in early Texas art will welcome this new volume."--Journal of Southern History
University of North Texas Press, 9781574416336, 480pp.
Publication Date: July 22, 2016
About the Author
MICHAEL GRAUER is the Associate Director for Curatorial Affairs/Curator of Art of the Panhandle-Plains Historical Museum in Canyon, Texas, which holds the largest public collection of Reaugh's works. His articles on Reaugh have appeared in the American Art Review,The Pastel Journal, and the recently released Windows on the West: The Art of Frank Reaugh, companion to the Harry Ransom Center's current exhibit. He lives in Canyon, Texas.
or
Not Currently Available for Direct Purchase