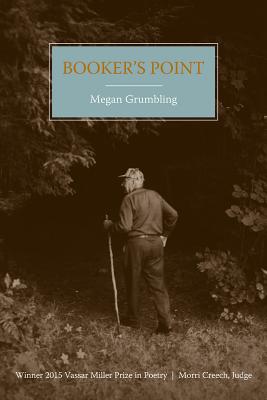 Booker's Point (Vassar Miller Prize in Poetry #23) (Paperback)
University of North Texas Press, 9781574416343, 84pp.
Publication Date: March 25, 2016
* Individual store prices may vary.
Description
Winner of the Vassar Miller Prize in Poetry, 2015.
Winner of the Book Award for Poetry, Maine Literary Awards, 2017.

Bernard A. Booker, old Maine codger and unofficial mayor of Ell Pond, knew the right ways to dig an eight-foot hole, build a maple sugar house out of a water heater, and snatch good white granite from other people's back lots. The wry Yankee woodsman is the subject of Booker's Point, an oral history-inspired portrait-in-verse. Weaving storytelling, natural history, and the poetry of place, this collection evokes the sensibility of rural New England, meditations on home and elders, and, above all, the pleasures of a good story.
 
From "Some Kind of Hunter"
 
He coaxed a pregnant woman right across
the river, and it weren't no easy bridge.
A cousin of an in-law, broke as dirt,
she come up visiting from Vermont too poor
to buy a license. Booker paid it, set
a rifle in her hands, and took her up
to Perkinstown, the brook side, where they come
upon this bridge, just beams and cables, rough.
Full six months big, a borrowed gun; to her,
that span, it looked like one hell of a stunt
About the Author
Raised in Maine, MEGAN GRUMBLING lives by the sea in Portland. Her honors include the Poetry Foundation's Ruth Lilly Fellowship, the Robert Frost Foundation Award, and Scotland's Hawthornden Fellowship; her poems have appeared in Poetry, Crazyhorse, The Iowa Review,Memorious, and elsewhere. She teaches at Southern Maine Community College and the University of New England.
Praise For Booker's Point (Vassar Miller Prize in Poetry #23)…
"Grumbling has a powerful ear for the music and rhythms of colloquial speech. She's subtle, conjures the natural world richly and convincingly, and her subject matter is surprising and intriguing. I also admire how she handles meter. Nobody else that I know of is writing like her."—Morri Creech, judge and author of Sleep of Reason

"In Booker's Point Megan Grumbling introduces us to a man who nurtures his corner of the earth: he reads it, tends it, and is shaped by it in return. Such attention creates a world for the reader that is both grounded and transformative, revealing, as one poem says, how our 'elements transcend us, perfectly immersed in here.' Grumbling writes with such formal agility the poems are at once conversational, taut, and utterly vivid. The dense beauty of her language makes it palpable, makes a reader need to savor, to say the words aloud. She is Hopkins and Frost and completely herself.  In an age of virtual reality, these poems call us back to something crucial."—Betsy Sholl, author of Rough Cradle and former Poet Laureate of Maine

"Megan Grumbling's book of poems is a gift to anyone who appreciates rich, graceful poems that tell an unforgettable story. I loved every word of this gorgeous book!"—Monica Wood, author of Papermaker and When We Were the Kennedys
"With an arresting combination of precise observation and rural language, Booker's Point captures a way of life that is not so common anymore. . . . A careful but seemingly natural meter gives many of the poems a resonance that lasts beyond the first reading."--New York Journal of Books
"With great craft, dialogue and observation, Grumbling's narrative poems paint a portrait of rural Maine through the life of crusty woodsman Bernard Booker."--ShelfAwareness.com
"Equal parts oral biography, meditative local history, and ground-level pastoral ode, Booker's Point, by Megan Grumbling, marks the debut of a distinctive and self-assured poetic voice. . . . Grumbling blends precise descriptions and colloquial speech so deftly that her use of traditional forms (especially blank verse and the sonnet) seems seamless."--New Letters
or
Not Currently Available for Direct Purchase