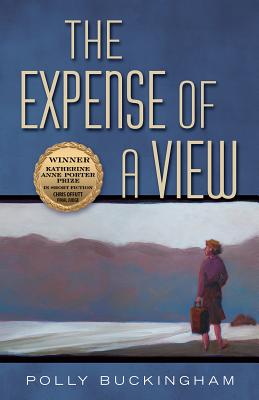 The Expense of a View (Katherine Anne Porter Prize in Short Fiction #15)
Paperback

* Individual store prices may vary.
Description
Winner of the Katherine Anne Porter Prize in Short Fiction, 2016.

The stories in The Expense of a View explore the psyches of characters under extreme duress. In the title story, a woman who has moved across the country in an attempt to leave her past behind dumps an empty suitcase into the Columbia River over and over again. In another story, a woman who wakes up mornings only to discover she's been shooting heroin in a night trance, meets her doppelganger on a rainy Oregon beach.  Most of the characters are displaced and disturbed; they suffer from dissociative disorders, denial, and delusions. The settings—Florida, eastern Washington, Seattle, and the Oregon coast—mirror their lunacies. While refusing to look at what's right in front of themselves might destroy them, it's equally likely to be just what they need.
Praise For The Expense of a View (Katherine Anne Porter Prize in Short Fiction #15)…
"Polly Buckingham's The Expense of a View explores the twisted mangroves of human connection and the oceanic waters of love and loss.
Filled with viridescent landscape, gritty characters, and polished sea-glass prose, The Expense of a View is a poignant, exquisite, and compelling story collection; it reveals Buckingham as a powerful voice in Northwest fiction."—Sharma Shields, author of The Sasquatch Hunter's Almanac

"Slipping through Florida's haze, its mangrove mazes, Buckingham's characters dream of escape, the sort of dreams that create routes into endurance. These beautifully written stories, full of subtle mystery and nuance, convey my kind of sadness—a sadness that conjoins humans to one another in profound ways. Lonely fishermen, travelers adrift, sufferers of the loss of a dog, a lover, a child—such sadnesses resound with the essence of what it is to be human and to exist humanely. With much joy I salute these stories that allow us to measure and forgive one another, and ourselves."—Nance Van Winckel, author of Ever Yrs, Boneland, and Curtain Creek Farm

"The Expense of a View is a carefully rendered examination of memory, loss, and sadness. The emotional reality of the characters is riveting and stayed with me long after finishing each story. These are the people we see every day, strangers suffering, ones we are too busy to worry about, that we ignore. The stories in The Expense of a View are reminders that everyone is important."—Chris Offutt, author of My Father, the Pornographer and Final Judge

"One of the most compelling collections I've read in years. Every story is filled with luminous insights. Every. Single. One. I scribbled down lines and taped them to my fridge. The characters are so finely etched they lifted from the page. Outstanding."—Debra Magpie Earling, author of Perma Red

"Set mostly in the coastal waters off Florida and the Pacific Northwest, this book reads like a series of tales about castaways, people thrown to shore after devastating losses—a child's death, a lover's abandonment, a sister's suicide. Ill-prepared and ill-equipped, the survivors struggle to accept that 'sometimes there really is no one to blame, not even yourself' as they begin to make peace with themselves and their strange new circumstances. These are tender, beautifully written stories, delicate and wise."—Molly Giles, author of All the Wrong Places

"One of the most moving stories, 'Festival,' concerns two teenage parents, Sheila and Nick, attending a music festival with their baby, Michelle. . . . Though the circumstances here are often dismally bleak, at her best Buckingham offers glimmers of pale but definite hope."--Kirkus Reviews

"What ultimately makes The Expense of a View a whole that is greater than the sum of its parts is Buckingham's consistently smart (and slightly sad) narration. Her stories are united by characters—usually talented, young women coping with loss or a difficult relationship—achieving a small measure of peace and grace amid difficult circumstances. . . . For readers of challenging literary fiction, this is a worthwhile and enjoyable collection."--NY Journal of Books

"Our current political conversation often revolves around the financial disparities rampant in American culture. Polly Buckingham's recent story collection, The Expense of a View, hones in on the lives most impacted by the inequalities this gaping imbalance engenders. Buckingham tells the stories of the system's most vulnerable—the ill, the partnerless, the parentless, the addicted, the poor, the isolated—exploring what it means to try to be a 'healthy' adult when life has always lacked a major component of stability.--The Masters Review
University of North Texas Press, 9781574416473, 196pp.
Publication Date: November 7, 2016
About the Author
POLLY BUCKINGHAM teaches at Eastern Washington University. She is founding editor of StringTown Press and Associate Director of EWU's Willow Springs Books. Author of A Year of Silence (Jeanne Leiby Memorial Chapbook Award 2014), her poetry and short stories have appeared in The Gettysburg Review, Threepenny Review, and elsewhere. She lives in Spokane.
or
Not Currently Available for Direct Purchase