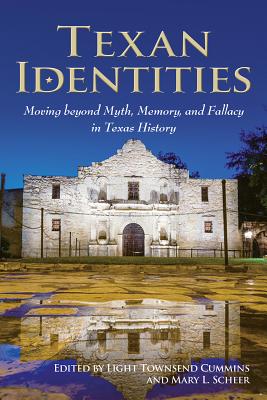 Texan Identities (Hardcover)
Moving beyond Myth, Memory, and Fallacy in Texas History
University of North Texas Press, 9781574416480, 320pp.
Publication Date: August 22, 2016
* Individual store prices may vary.
Description
Texan Identities rests on the assumption that Texas has distinctive identities that define "what it means to be Texan," and that these identities flow from myth and memory. What constitutes a Texas identity and how may such change over time? What myths, memories, and fallacies contribute to making a Texas identity? Are all the myths and memories that define Texas identity true or are some of them fallacious? Is there more than one Texas identity?

The discussion begins with the idealized narrative and icons revolving around the Texas Revolution. The Texas Rangers in myth and memory are also explored. Other essays expand on traditional and increasingly outdated interpretations of the Anglo-American myth of Texas by considering little known roles played by women, racial minorities, and specific stereotypes such as the cattleman.
 
About the Author
LIGHT TOWNSEND CUMMINS is the Guy M. Bryan, Jr. Professor of History at Austin College and the author of Emily Austin of Texas, Spanish Observers and the American Revolution, and co-editor of Discovering Texas History. MARY L. SCHEER is Professor and Chair of History at Lamar University and author of The Foundations of Texan Philanthropy, co-editor of Twentieth-Century Texas, and editor of Women and the Texas Revolution.
Praise For Texan Identities: Moving beyond Myth, Memory, and Fallacy in Texas History…
"This work adds greatly to the literature on Texas identities and the variety of the Texas experience. All of the essays are well done and cover neglected topics. I can see it having some use in the classroom."—Walter L. Buenger, co-editor of Beyond Texas through Time: Breaking Away from Past Interpretations
 
"This makes a contribution to the historiography at a time when identity and the role of myth and memory are topics commanding the attention of scholars."—Ty Cashion, co-editor of The Human Tradition in Texas
"Texan Identities is comprised of seven erudite, informative, thoughtful and insightful essays [and] enhanced with the inclusion of a superbly presented Foreword by Jesus F. de la Teja. . . . [A] seminal work of collective scholarship and highly recommended."--Midwest Book Review
"Combining reexamination of Texas's most enduring touchstones--the Alamo, the Texas Rangers, the cattle rancher--with exploration of aspects of Texas history that have been subject to exclusion or fallacy, this book provides a good starting place for moving beyond myth, memory, and fallacy, and for describing the modern Texas identity."--Southwestern Historical Quarterly
"All the contributing writers are established historians who bring to their essays high expectations in regard to style, documentation, and interpretation. None disappoint. . . . [The book] successfully meets its own goal by offering fresh interpretations that challenge the norm and by profiling individuals who depart meaningfully from the cliched narratives of the past."--New Mexico Historical Review
"Editors Light T. Cummins and Mary L. Scheer have masterfully provided the missing link to understanding the 'Texan identities.' Their introductory chapter offers an excellent--perhaps the best in print--analysis of this topic. . . . [T]his commendable and much needed work should be mandatory reading for all serious students of Texas history."--Central Texas Studies
or
Not Currently Available for Direct Purchase