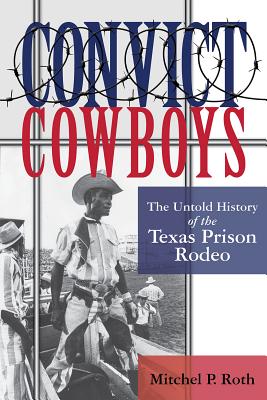 Convict Cowboys (Hardcover)
The Untold History of the Texas Prison Rodeo (North Texas Crime and Criminal Justice Series #10)
University of North Texas Press, 9781574416527, 448pp.
Publication Date: July 28, 2016
* Individual store prices may vary.
Description
Convict Cowboys is the first book on the nation's first prison rodeo, which ran from 1931 to 1986. At its apogee the Texas Prison Rodeo drew 30,000 spectators on October Sundays. Mitchel P. Roth portrays the Texas Prison Rodeo against a backdrop of Texas history, covering the history of rodeo, the prison system, and convict leasing, as well as important figures in Texas penology including Marshall Lee Simmons, O.B. Ellis, and George J. Beto, and the changing prison demimonde.

Over the years the rodeo arena not only boasted death-defying entertainment that would make professional cowboys think twice, but featured a virtual who's who of American popular culture. Readers will be treated to stories about numerous American and Texas folk heroes, including Western film stars ranging from Tom Mix to John Wayne, and music legends such as Johnny Cash and Willie Nelson. Through extensive archival research Roth introduces readers to the convict cowboys in both the rodeo arena and behind prison walls, giving voice to a legion of previously forgotten inmate cowboys who risked life and limb for a few dollars and the applause of free-world crowds.
About the Author
MITCHEL P. ROTH is the author of more than a dozen books including (with Tom Kennedy) Houston Blue: The Story of the Houston Police Department (UNT Press) and An Eye for An Eye: A Global History of Crime and Punishment. He is professor of criminal justice and criminology at Sam Houston State University in Huntsville, Texas. He resides in The Woodlands, Texas.
Praise For Convict Cowboys: The Untold History of the Texas Prison Rodeo (North Texas Crime and Criminal Justice Series #10)…
"Professor Roth finally wrote the book that those interested in the history of Texas generally, and the Texas prison system in specific, have wanted for years."—Chad Trulson, co-author of First Available Cell: Desegregation of the Texas Prison System

"Roth's historical analysis of the Texas Prison Rodeo pulls back the curtain on a popular cultural phenomenon that demonstrated the general public's fascination with prisoners and its willingness to take part in their exploitation.  This is a must read, not just for those who study the United States Criminal Justice System but for all United States citizens." —Dr. Franklin T. Wilson, author of Crime and Media Studies: Diversity of Method, Medium, and Communication

"Mitchel Roth not only places the Texas Prison Rodeo in the broad context of social, political, and criminal-justice history, he also tells a rousing good story of an institution that helped to define Texas in the twentieth century. In doing both, Mitchel Roth shows why he has earned a reputation as Texas's leading criminal justice historian."—Gregg Cantrell, Ralph and Erma Lowe Chair in Texas History, Texas Christian University
 
"At its peak, 30,000 locals would travel to Huntsville on a Sunday afternoon to see the stars (Johnny Cash, John Wayne, Steve McQueen) and watch the death-defying acts by those who had (almost) nothing to lose."--Houston Press
"Some of the events staged in what would become a 30,000-seat stadium were mind-bogglingly dangerous and reflected an extreme prison state of mind."--Austin American-Statesman
"[A]n extraordinary, in-depth history of America's prison rodeo. . . . Researched with the craft of a historian, and succinctly presenting incredible true stories accessible to readers of all backgrounds, Convict Cowboys is highly recommended."--Midwest Book Review
"In this nicely written, thoroughly researched, sometimes humorous, and yet serious account augmented with rare photographs, Mitchel Roth relates the story of the Texas Prison Rodeo and the incarcerated felons who contributed to the event's success."--Southwestern Historical Quarterly
"Roth's narrative is at its best when he is telling the true tales of prisoners who rode wild animals, jumped out of airplanes, risked their lives for money tied to the horns of bulls (an event appropriately called Hard Money), and who also suffered long days and long nights in a lonely, arcane prison."--Texas Books in Review
"Convict Cowboys is a must-read for anyone who is interested in topics ranging from prisons and punishment to Texas history to popular culture to the sociology of sports. . . . [It is] one of the finest academic books I have read within the past several years, and I am delighted to recommend it to others."--Theory in Action
"[T]his impressively-researched, engaging volume belongs in the library of all readers interested in Texas history and myth."--Central Texas Studies

"Convict Cowboys is a captivating read about a little-known aspect of Texas history."--Review of Texas Books
or
Not Currently Available for Direct Purchase