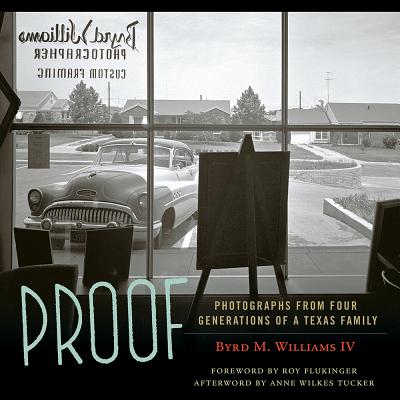 Proof
Photographs from Four Generations of a Texas Family
Hardcover

* Individual store prices may vary.
Description
The Byrd Williams Collection at the University of North Texas contains more than 10,000 prints and 300,000 negatives, accumulated by four generations of Texas photographers, all named Byrd Moore Williams.  Beginning in the 1880s in Gainesville, the four Byrds photographed customers in their studios, urban landscapes, crime scenes, Pancho Villa's soldiers, televangelists, and whatever aroused their unpredictable and wide-ranging curiosity. When Byrd IV sat down to choose a selection from this dizzying array, he came face to face with the nature of mortality and memory, his own and his family's. In some cases these photos are the only evidence remaining that someone lived and breathed on this earth.

The 193 photos selected here are organized into thematic sections such as "Landscapes," "Violence and Religion," and "Darkness." They are significant not just for the range of subjects, but for the inclusion of a variety of examples of the evolving photographic technology from the 1880s to the present. This book is an unprecedented portrait of both photographic history and the history of Texas, as well as a record of one unique family.
Praise For Proof: Photographs from Four Generations of a Texas Family…
"The primary audience for this book will be photographers, historians, genealogists, and those who seriously study the human condition. Byrd Williams IV reveals within four of the Williams' family generations, an interesting dichotomy found in the photographic practices of the commercial and fine arts worlds."—O. Rufus Lovett, photographer, Kilgore Rangerettes

"Byrd M. Williams IV has compiled a fascinating look into 120 years of his family's four generations of photographers in his monograph Proof. He deftly captures the history, personality and individuality of each age, presenting all through the vernacular of photography. Williams time-travels through images that predate the Civil War, beginning with cyanotypes and ambrotypes, to today's world of digital capture and ink jet prints."—Elizabeth Avedon, independent curator and contributor, L'oeil de la Photographie

"Byrd Williams IV is a fourth generation Texan photographer who has the archive of a lifetime in his negatives and his father's, grandfather's, and great-grandfather's. When the works of all four of these Byrd Williams are shown together, there will be more than one family's history on view, but a nation's story as well. It is both moving and revelatory to see these images and the vision of the Williams' lineage."—Ann Jastrab, Gallery Director, RayKo Photo Center

"The Byrd Williams Photographic archive is one of the most important photographic collections in the country. Never before have we had such a complete, multi-generational photographic archive that takes us from the birth of photography to modern time. The Williams photographs will be a treasure to historians for generations to come."—Farris Rookstool, III, Emmy Award-winning historian

"Byrd M. Williams IV knew early on what he was going to do with his life: the same thing that Byrd, Byrd II and Byrd III did — take pictures. Byrd Williams IV is the last member of a Texas photography dynasty, one that spans 120 years and three centuries, as his family's interests went from snapshots and landscapes to studio work and art. . . . The images mirror the use of photography in the larger society and the way it shifted from generation to generation."--New York Times Lens

"Confronting loss and memory alike, Byrd Williams IV has compiled a magnificent window into this impressive collection that at once tells a family story and a story about the evolution of Texas. Indeed, though culled from a family collection, this book can tell us a great deal about the cultural, social, and technological transformation of this state and this country. Not only does Proof function as a trove of historical reference points, but it is a singularly rich documentation of the evolution of photography."--San Antonio Current

"The book is a riveting look both at photographic history and at the history of Texas."--Dallas Morning News

"Proof is an amazing book. It takes us through personal stories told through over a century of photography. It is not only a legacy of imagery shot in the state of Texas but a significant legacy of processes that span the entire history of photography."--Lenscratch

"The book . . . not only reveals a family's extraordinary love for photography, it also captures 120 years of Texas history, from an image of what is proclaimed to be Sam Houston's and Pancho Villa's soldiers to children reenacting the Alamo on a lawn during the post-war era. . . . The images are a reverential window into the lives of Texans otherwise forgotten."--Texas Monthly

"In the section titled 'Violence and Religion,' images that he, his grandfather, and his father made of their sons engaged in gun make-believe, are bookended by Williams's grandfather's photographs of Pancho Villa's bandits from 1915 on one side, and Byrd IV's photos of gunshot victims on the other. The reader can draw their own conclusions from the relationship between these images of violence and the religious healing photographs that follow."--Great Plains Quarterly
University of North Texas Press, 9781574416565, 224pp.
Publication Date: November 28, 2016
About the Author
BYRD M. WILLIAMS IV maintains a studio in Dallas and teaches photography at Collin County Community College. He provided the photographs for Fort Worth's Legendary Landmarks and his work is in the collections of the Amon Carter Museum and the Museum of Fine Arts, Houston.
or
Not Currently Available for Direct Purchase