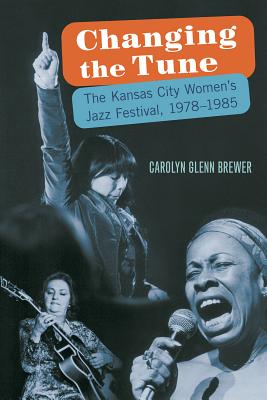 Changing the Tune
The Kansas City Women's Jazz Festival, 1978-1985
Hardcover

* Individual store prices may vary.
Description
Even though the potential passage of the Equal Rights Amendment had cracked glass ceilings across the country, in 1978 jazz remained a boys' club. Two Kansas City women, Carol Comer and Dianne Gregg, challenged that inequitable standard. With the support of jazz luminaries Marian McPartland and Leonard Feather, inaugural performances by Betty Carter, Mary Lou Williams, an unprecedented All-Star band of women, Toshiko Akiyoshi's band, plus dozens of Kansas City musicians and volunteers, a casual conversation between two friends evolved into the annual Kansas City Women's Jazz Festival (WJF).  
But with success came controversy. Anxious to satisfy fans of all jazz styles, WJF alienated some purists. The inclusion of male sidemen brought on protests. The egos of established, seasoned players unexpectedly clashed with those of newcomers. Undaunted, Comer, Gregg, and WJF's ensemble of supporters continued the cause for eight years. They fought for equality not with speeches but with swing, without protest signs but with bebop.
For the first book about this groundbreaking festival, Carolyn Glenn Brewer interviewed dozens of people and dove deeply into the archives. This book is an important testament to the ability of two friends to emphatically prove jazz genderless, thereby changing the course of jazz history.
Praise For Changing the Tune: The Kansas City Women's Jazz Festival, 1978-1985…
"Thank goodness for people like Carol Comer and Dianne Greg who did their part to lift our culture by supporting and sharing with the world powerful music by powerful musicians who happened to be women. And thank goodness for people like Carolyn Glenn Brewer, who wrote so beautifully about them, reminding us that important things come from individuals with bold ideas and a lot of determination."—Maria Schneider, Grammy Award-winning composer and big-band leader

"In Carolyn Glenn Brewer's book, Changing the Tune, we get to experience a well-documented account about the many notable women who lent their voices to the world of jazz. Thank you for helping to erase the stigma women musicians experience by exposing this inspiring organization and its contributions to women in music."—Ellen Johnson, vocalist, producer and author of Jazz Child: A Portrait of Sheila Jordan

"In telling the story of the Kansas City Women's Jazz Festival and the women who made it possible, Ms. Brewer has written a glorious new chapter in jazz history. These jazz women are no longer 'anonymous.'"—Chuck Haddix, author of Kansas City Jazz: From Ragtime to Bebop—A History and Bird: The Life And Music Of Charlie Parker

"Thanks to Carol Comer, Dianne Gregg, and their Women's Jazz Festivals of 1978-1985, a new chapter has been added to the rich history of Kansas City jazz. And thanks to Carolyn Glenn Brewer, that chapter has been captured and documented in the most comprehensive and in-depth way. It is a privilege to know each of these talented ladies and to sing the praises of this outstanding book."—Mike Metheny, trumpet/flugelhorn soloist and author of Old Friends Are the Best Friends

"A wonderfully detailed book that captures the essence and inner workings of the WJF while also providing much more than a glimpse into the Kansas City Jazz scene during those years."—Steve Cardenas, guitarist

"Compiling oral histories documented with facts, Brewer has breathed life into a story that connects gender issues from 40 years ago to the present, immersing the reader in a rich story-telling experience."—Lee Hill Kavanaugh, alumnus bass trombonist for DIVA and award-winning journalist for the Kansas City Star

"This gifted writer draws the reader in like she was chatting over coffee and shares the incomparable, unique stories of seven years of the Women's Jazz Festival in swingin' Kansas City."—Mary Jo Papich, Jazz Education Network co-founder and past president
 

"Changing the Tune . . . records a piece of history that should never be forgotten. . . . [T]hose few short years were yet another proud moment for Kansas City Jazz--making a story that's well deserving of Brewer's time and effort."--The Kansas City Star

"[A] definitive look at the first major women's jazz festival and its lasting impact. . . . Changing the Tune is a fitting tribute to the Kansas City Women's Jazz Festival's achievements and influence, as well as a valuable record of the ongoing struggle of talented female musicians to gain their rightful place in the jazz world."--Downbeat

"I loved this new book. . . . I especially enjoyed the biographical sketches of the artists (and not just the headline stars) that are included in the narrative. . . . I recommend Changing the Tune without reservation."--Jazz Ambassador Magazine

"Covering all the issues that it does, musical and non-musical, this enlightening account provides a fascinating behind-the-scenes picture of the foundation and operation of a jazz festival and will appeal to many jazz lovers."--Jazz Journal

"She takes us to clubs, performances, board meetings and lets us witness the controversies that came with success: purists were alienated; established musicians and emerging artists clashed; male sidemen were not welcome by all. . . . [A] must-read for anyone interested in the history of women in jazz."--New York City Jazz Record

"[T]he book offers ample and well crafted coverage of the significant aspects of the WJF and on related topics about women jazz musicians. The author effectively points up the strikingly large number of professional (or seriously aspiring) women jazz musicians who were active during the time of the WJF. The festival's range of genres and styles was impressive, as was the diversity of the musicians in terms of age, geographical, racial, and cultural background. As it becomes more usual for jazz festivals to include significant numbers of women musicians, a book such as Changing the Tune is a significant contribution to understanding the history and current participation of women in jazz."--Jazz Journalists Association News
University of North Texas Press, 9781574416664, 352pp.
Publication Date: March 10, 2017
About the Author
CAROLYN GLENN BREWER is a longtime music educator who has written for Jam Magazine and published two books on the 1957 tornado in Ruskin Heights, Missouri. She has played clarinet in bands, chamber groups, and orchestras throughout the Kansas City area. She lives in Kansas City.
or
Not Currently Available for Direct Purchase