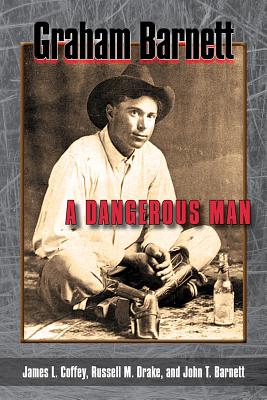 Graham Barnett
A Dangerous Man
Hardcover

* Individual store prices may vary.
Description
Graham Barnett was killed in Rankin, Texas, on December 6, 1931. His death brought an end to a storied career, but not an end to the legends that claimed he was a gunman, a hired pistolero on both sides of the border, a Texas Ranger known for questionable shootings in Company B under Captain Fox, a deputy sheriff, a bootlegger, and a possible "fixer" for both law enforcement and outlaw organizations. In real life he was a good cowboy, who provided for his family the best way he could, and who did so by slipping seamlessly between the law enforcement community and the world of illegal liquor traffickers. Stories say he killed unnumbered men on the border, but he stood trial only twice and was acquitted both times.
Barnett lived in the twentieth century but carried with him many of the attitudes of old frontier Texas. Among those beliefs was that if there were problems, a man dealt with them directly and forcefully—with a gun. His penchant to settle a score with gunplay brought him into confrontation with Sheriff W. C. Fowler, a former friend, who shot Barnett with the latter's own submachine gun on loan. One contemporary summed it up best: "Officers in West Texas got the best sleep they had had in twenty years that Sunday night after Fowler killed Graham."
Praise For Graham Barnett: A Dangerous Man…
"This is one hell of a story. Graham Barnett surveys the storied life of a man who moved back and forth on both sides of the law—and did so with great ease and requisite skill, and with little conscience. This is what makes this biography stand out; it is the story not of an iconic lawman but the account of a notorious gunfighter in the mold of the most legendary 'anti-heroes' of the American Southwest."—Michael L. Collins, author of Texas Devils: Rangers and Regulars on the Lower Rio Grande, 1846–1861
 
"Barnett's story absolutely deserves to be told—he  was a fascinating character. Like most good biographies, this one gives the reader a good feel for the times and the circumstances that affected the people of that era."—Mike Cox, author of The Texas Rangers: Wearing the Cinco Peso, 1821-1900 and Time of the Rangers: Texas Rangers from 1900 to the Present

"A simply riveting, comprehensively detailed, and definitive account. . . . [V]ery highly recommended for community and academic library American Biography collections in general, and the personal reading lists of anyone with an interest in true life stories of real Texas gunfighters."--Midwest Book Review

"Graham Barnett: A Dangerous Man narrates the era and colorful life of a man whose skill with a handgun brought him work as a 'problem solver' for those who lacked the skill or resolve to get their hands dirty. . . . Graham's wife, Annie, feared writers would make him look like an outlaw. But, Coffey insists, 'What she didn't understand was that Texans love outlaws, or the image of them.'"--Southwestern Historical Quarterly

"[T]he book is well-researched and documented, and is a very engaging read about a very colorful character."--Wild West History Association Journal

"At times, the biography of Graham Barnett: A Dangerous Man inspires readers to saddle up a horse and holster a six-shooter and, at other times, invokes a sigh of relief in the readers knowing that the tumultuous Wild West is in the past. . . . [It] achieves its goal of introducing another dynamic character to the list of Wild West renegades like Doc Holliday and Wyatt Earp."--Chronicles of Oklahoma

"This biography is a valuable research tool for those wanting to know the real conditions of the early 20th century life and times in South Texas."--East Texas Historical Journal

"At an early age, Graham was fascinated with guns and spent many hours practicing. When others saw his speed and accuracy his legend began to grow, and he did nothing to dispel it. This reputation allowed him to get many jobs, both within and outside the law."--Denver Westerners Roundup
University of North Texas Press, 9781574416671, 400pp.
Publication Date: May 18, 2017
About the Author
JAMES L. COFFEY is a former education consultant who worked with school districts in West Texas and lives in San Angelo, Texas. RUSSELL M. DRAKE is a newspaper man who worked in Texas and California and lives in Veribest, Texas. JOHN T. BARNETT is Graham Barnett's grandson and lives in southern California.
or
Not Currently Available for Direct Purchase