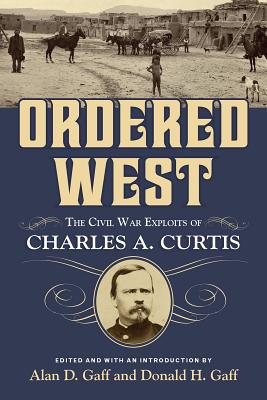 Ordered West
The Civil War Exploits of Charles A. Curtis (War and the Southwest Series #13)
Hardcover

* Individual store prices may vary.
Description
During the Civil War, Charles Curtis served in the 5th United States Infantry on the New Mexico and Arizona frontier. He spent his years from 1862 to 1865 on garrison duty, interacting with Native Americans, both hostile and friendly. Years after his service and while president of Norwich University, Curtis wrote an extensive memoir of his time in the Southwest. This memoir was serialized and published in a New England newspaper and so remained unknown, until now.
      In addition to his keen observations of daily life as a soldier serving in the American Southwest, Curtis's reminiscences include extensive descriptions of Arizona and New Mexico and detail his encounters with Indians, notable military figures, eccentrics, and other characters from the Old West. Among these many stories readers will find Curtis's accounts of meeting Kit Carson, the construction of Fort Whipple, and expeditions against the Navajo and Apache.
      In Ordered West, editors Alan D. Gaff and Donald H. Gaff have pulled together the pieces of Curtis's story and assembled them into a single narrative. Annotated with footnotes identifying people, places, and events, the text is lavishly illustrated throughout with pictures of key figures and maps. A detailed biographical overview of Curtis and how his story came to print is also included.
Praise For Ordered West: The Civil War Exploits of Charles A. Curtis (War and the Southwest Series #13)…
"The recollections of Charles Curtis has to be one of the most significant documents relating to the history of the army in the Southwest to be uncovered in the last several decades. The descriptions of men such as Kit Carson and Manuel Chaves are little less than precious."—Jerry D. Thompson, author of A Civil War History of the New Mexico Volunteers and Militia and editor of Civil War in the Southwest: Recollections of the Sibley Brigade
 
"This is a well-organized, coherent, interesting, and quite lucid memoir. Curtis's experiences at the Camp at Los Valles and Fort Whipple, as well as his non-military encounters, are virtually unique for the period and add much to the value of the memoir."—John P. Wilson, editor of From Western Deserts to Carolina Swamps: A Civil War Soldier's Journals and Letters Home and When the Texans Came: Missing Records from the Civil War in the Southwest, 1861-1862

"Through the efforts of Alan and Donald Gaff, the memoir has been rediscovered and is now available in book form for the first time. . . . The footnotes are explanatory in nature and appear with moderate frequency throughout the text."--Civil War Books and Authors

"Curtis' memoirs present many harrowing and amusing accounts of his life on the frontier. He met many noteworthy frontier characters, Mexican ranchers and mountain men (Kit Carson among others). The two Gaffs do a great job in the footnotes. . . . There are very few people mentioned in the journal on which they were not able to find information."--Civil War News

"The extreme value in these memoirs is that Curtis served in an often-overlooked theater of the Civil War. After the defeat of Confederate forces in New Mexico in 1862, Regular Army units continued to garrison the frontier, protecting settlers and mining operations from roving Apache bands. . . . [H]is accounts of combat against the Apache are vivid and are a prelude to the Army's later actions against the tribe in the 1870s and 1880s."--On Point

"An engaging writer, his descriptions of life in the territories, as well as duties as a junior quartermaster officer, and in camp and field against the Navajo, Apache and other tribes, are entertaining and enlightening."--True West

"Curtis met Kit Carson, powwowed with Navajo survivors of the Long Walk, danced with senoritas in Santa Fe, and chided Elliott Coues for his vanity. Whether describing the rooms of a Pueblo Indian village, leading a ten-man wagon detail to buy potatoes, or dining with Hispanics and native Americans, Curtis writes with compassion."--Southwest Books of the Year

"Charles Curtis takes his place among other chroniclers of the American Southwest, such as fellow army officer and writer John G. Bourke, in bequeathing to later generations of Americans a lively, candid, and personal snapshot of an era gone forever but peopled with individuals whose personalities and foibles are not much different from our own."--Southwestern Historical Quarterly

"Readers of Great Plains Research will find much to enjoy in Ordered West. It fills an important gap in the Civil War literature on New Mexico and Arizona Territory, and it reveals the attitudes of Union officers about the Native peoples of the Southwest in the years before the bloody campaigns of the late 1860s and 1870s."--Great Plains Research
University of North Texas Press, 9781574416695, 704pp.
Publication Date: June 20, 2017
About the Author
ALAN D. GAFF is an independent scholar and President of Historical Investigations. His previous books include Bayonets in the Wilderness, Blood in the Argonne, and On Many a Bloody Field. DONALD H. GAFF is Associate Professor of Anthropology at the University of Northern Iowa, and co-editor with Alan D. Gaff of A Corporal's Story: Civil War Recollections of the Twelfth Massachusetts.
or
Not Currently Available for Direct Purchase