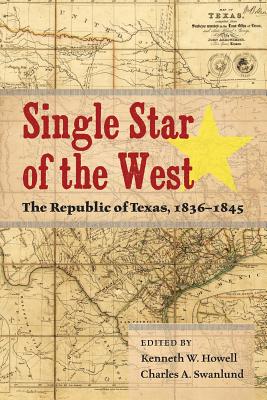 Single Star of the West
The Republic of Texas, 1836-1845
Hardcover

* Individual store prices may vary.
Description
2017 Book of the Year, Alamo Society

Does Texas's experience as a republic make it unique among the other states? In many ways, Texas was an "accidental republic" for nearly ten years, until Texans voted overwhelmingly in favor of annexation to the United States after winning independence from Mexico.

Single Star of the West begins with the Texas Revolution and examines the emergence of a Texas identity. Next, several contributors discuss how the Republic was defended by its army, navy, and the Texas Rangers. Individual chapters focus on the early founders of Texas—Sam Houston, Mirabeau B. Lamar, and Anson Jones. Texas's efforts at diplomacy, and persistence and transformation in its economy, also receive careful analysis. Finally, social and cultural aspects of the Texas Republic receive coverage, with discussions of women, American Indians, African Americans, Tejanos, and religion.
Praise For Single Star of the West: The Republic of Texas, 1836-1845…
"With its distinguished array of authors and impressive array of topics, this volume will be welcomed by readers of Texas history. Buenger's essay alone gives Single Star of the West a raison d'etre—frankly, it is one of the smartest things I've read in quite some time."—Patrick G. Williams, author of Beyond Redemption: Texas Democrats after Reconstruction
 
"The editors have done an excellent job compiling a wide-ranging and comprehensive collection of essays. The book is well-organized, with a good mix of major themes and important political figures. Some articles are certainly stronger than others, but all have something to contribute, making this volume by far the best anthology on the Republic period available."—Sam W. Haynes, author of Soldiers of Misfortune: The Somervell and Mier Expeditions and co-editor of Contested Empire: Rethinking the Texas Revolution

"The collection will serve as a useful resource; it will, I hope, also renew interest in the subject. . . . [It] will direct students toward new questions to ask about the Republic of Texas."--Southwestern Historical Quarterly

"This work will offend those raised on the oft retold myths of the Republic, but is an outstanding effort, laying the foundations for a better understanding of the history of Texas."--NYMAS Review

"This anthology represents an important step for reimagining a new sweep of the Republic period that is capable of informing contemporary Texans."--Central Texas Studies
University of North Texas Press, 9781574416718, 576pp.
Publication Date: March 24, 2017
About the Author
KENNETH W. HOWELL is professor of history at Blinn College in Bryan, Texas. He is the editor of The Seventh Star of the Confederacy and Still the Arena of Civil War, both from UNT Press. CHARLES SWANLUND is professor of history at Blinn College and co-editor of A Lone Star Reader.
or
Not Currently Available for Direct Purchase