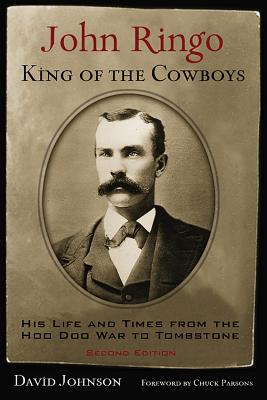 John Ringo, King of the Cowboys
His Life and Times from the Hoo Doo War to Tombstone, Second Edition (A.C. Greene Series #6)
Paperback

* Individual store prices may vary.
Description
Few names in the lore of western gunmen are as recognizable. Few lives of the most notorious are as little known. Romanticized and made legendary, John Ringo fought and killed for what he believed was right. As a teenager, Ringo was rushed into sudden adulthood when his father was killed tragically in the midst of the family's overland trek to California. As a young man he became embroiled in the blood feud turbulence of post-Reconstruction Texas.

The Mason County "Hoo Doo" War in Texas began as a war over range rights, but it swiftly deteriorated into blood vengeance and spiraled out of control as the body count rose. In this charnel house Ringo gained a reputation as a dangerous gunfighter and man killer. He was proclaimed throughout the state as a daring leader, a desperate man, and a champion of the feud. Following incarceration for his role in the feud, Ringo was elected as a lawman in Mason County, the epicenter of the feud's origin.

The reputation he earned in Texas, further inflated by his willingness to shoot it out with Victorio's raiders during a deadly confrontation in New Mexico, preceded him to Tombstone in territorial Arizona. Ringo became immersed in the area's partisan politics and factionalized violence. A champion of the largely Democratic ranchers, Ringo would become known as a leader of one of these elements, the Cowboys. He ran at bloody, tragic odds with the Earp brothers and Doc Holliday, finally being part of the posse that hounded these fugitives from Arizona. In the end, Ringo died mysteriously in the Arizona desert, his death welcomed by some, mourned by others, wrongly claimed by a few. Initially published in 1996, John Ringo has been updated to a second edition with much new information researched and uncovered by David Johnson and other Ringo researchers.
Praise For John Ringo, King of the Cowboys: His Life and Times from the Hoo Doo War to Tombstone, Second Edition (A.C. Greene Series #6)…
"This is the definitive biography of John Ringo, sans mythology and malarkey."—Bob Alexander, award-winning author of Old West history
 
"Historian Dave Johnson sets aside the legends and myths to present here the most complete biography of Ringo to date, from his participation in the Mason County 'Hoo Doo' War of Texas to the violence and feuding with the Earps in Tombstone, 'The Town Too Tough to Die.'"—Chuck Parsons, author of John B. Armstrong, Texas Ranger and Pioneer Rancher
 
"A dogged researcher and rigorous historian, David Johnson sure-handedly brings to light new truths and lays to rest old falsehoods about this misunderstood gunman's life and death."—Scott Zesch, author of The Captured, winner of the TCU Texas Book Award
 
"David Johnson has unsnarled the tangled story of John Ringo, which unfortunately for too long has been the victim of myth and misstatement, almost from the moment of Ringo's death. Johnson's attention to detail and accurate documentation finally gives us the real story and the real man."—Rick Miller, author of Sam Bass & Gang

"An absorbing, skillfully told narrative biography that effectively transports the reader to a rugged and lawless century past."--Midwest Book Review

"It is a pleasure to report that David Johnson's book is a thoroughly reliable account, based upon solid historical research, and is not infused with Wild West myths."--Journal of Arizona History
University of North Texas Press, 9781574416725, 384pp.
Publication Date: March 24, 2017
About the Author
David Johnson has received degrees from Pennsylvania State University and Purdue University. He is the author of The MasonCounty "Hoo Doo" War, 1874-1902, published by the University of North Texas Press. His 1996 edition of John Ringo was a finalist for best biography of the year by the Western Writers of America. Johnson has also edited two editions of The Life of Thomas W. Gamel, with a third revision currently underway.
or
Not Currently Available for Direct Purchase