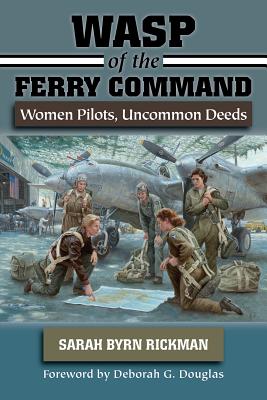 WASP of the Ferry Command
Women Pilots, Uncommon Deeds
Paperback

* Individual store prices may vary.
Other Editions of This Title:
Hardcover (3/11/2016)
Description
WASP of the Ferry Command is the story of the women ferry pilots who flew more than nine million miles in 72 different aircraft—115,000 pilot hours—for the Ferrying Division, Air Transport Command, during World War II. In the spring of 1942, Col. William H. Tunner lacked sufficient male pilots to move vital trainer aircraft from the factory to the training fields. Nancy Love found 28 experienced women pilots who could do the job. They, along with graduates of the army's flight training school for women—established by Jacqueline Cochran—performed this duty until fall 1943, when manufacture of trainers ceased.

In December 1943 the women ferry pilots went back to school to learn to fly high-performance WWII fighters, known as pursuits. By January 1944 they began delivering high performance P-51s, 47s, and 39s. Prior to D-Day and beyond, P-51s were crucial to the air war over Germany. They had the range to escort B-17s and B-24s from England to Berlin and back on bombing raids that ultimately brought down the German Reich. Getting those pursuits to the docks in New Jersey for shipment abroad became these women's primary job. Ultimately, more than one hundred WASP pursuit pilots were engaged in this vital movement of aircraft.
Praise For WASP of the Ferry Command: Women Pilots, Uncommon Deeds…
"A compelling account of the unorthodox women who brilliantly helped sustain the vital flow of military aircraft around the country at the height of World War II. Rickman vividly draws back the curtain on the 'invisible' WASP who, unbeknownst to the public, seamlessly delivered thousands of military aircraft around the U.S."--Dorothy Cochrane, Curator of the National Air and Space Museum

"This is an illuminating and deeply researched book on the role of women during a pivotal time in US military history. Sarah Rickman's passion for this subject is evident in her detailed accounts. I discovered part of my family's history that I had never known."--Suzanne Tunner Hudson, daughter of Gen. W.H. Tunner and Margaret Ann Hamilton (Tunner)

"For the serious researcher and persons interested in WWII history, WASP of the Ferry Command provides an in depth view and evaluation of women's experience in a branch of Army Air Corps service. The personal stories speak to the meaning and value of service and sacrifice for our country, only fully recognized some thirty-three years later."--Colonel Charles McGee, Tuskegee Airman, United States Air Force (retired)

"These courageous women were decades ahead of their time. They served their country when called. Sarah Rickman tells their story through meticulous research and personal interviews with these amazing pilots and their families."--Robert Baker Patterson, grandson of Col. Robert H. Baker, Commanding Officer of the WAFS, New Castle Army Air Base, Wilmington, DE, 1942-1943

"With WASP of the Ferry Command, Sarah Byrn Rickman has gone above and beyond in her quest to document the true-life saga of these visionary and heroic aviators. Thanks to Rickman's devotion to historical accuracy and a gift for storytelling, the adventures, heartaches and triumphs of these inspiring trailblazers will not be forgotten. Get set to ride along with each of these dynamic and patriotic young women as they wing their way into history."--Ron Kaplan, Enshrinement Director, National Aviation Hall of Fame

"Rickman's devotion to the women of the Ferrying Division is obvious once again. Her extensive use of letters, diaries, and oral histories allows the women to tell their own story in their own words. Their personality and love of both flying and their country come across loud and clear."--Katherine Sharp Landdeck, Ph.D., Director of Oral History, Texas Woman's University
"Sarah Byrn Rickman, probably the foremost expert on WASP history, has published WASP of the Ferry Command, a complete overview of the WASP ferry pilots. . . . Highly recommended for history buffs, adventure aficionados, and anyone willing to spend a few hours with some extraordinary real women."--Karavansara.live
"Inasmuch as the WASPs have finally been getting their due, their experience and history are still somewhat obscure for many Americans. These women were trailblazers for the ladies that have come after them in our modern military. Any further recognition, as with this volume, can only help as their ranks dwindle and they face their final flight."--New York Journal of Books
 
University of North Texas Press, 9781574416770, 464pp.
Publication Date: January 4, 2017
About the Author
SARAH BYRN RICKMAN is the author of an award-winning WASP novel, Flight from Fear; as well as The Originals: The Women's Auxiliary Ferrying Squadron of World War II and Nancy Love and the WASP Ferry Pilots of World War II (UNT Press). She is the recipient of the Seventh Annual Combs Gates Award by the National Aviation Hall of Fame for her outstanding work on the women pilots of World War II. She lives in Colorado Springs, Colorado.
or
Not Currently Available for Direct Purchase