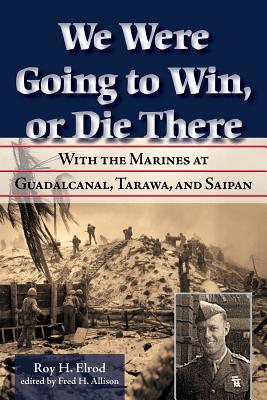 We Were Going to Win, Or Die There
With the Marines at Guadalcanal, Tarawa, and Saipan (North Texas Military Biography and Memoir Series #10)
Hardcover

* Individual store prices may vary.
Description
Winner, Colonel Joseph Alexander Award, Marine Corps Heritage Foundation

In 1940, native West Texan Roy H. Elrod joined the Marine Corps. This placed him on course to experience some of World War II's most savage combat. Entering the Marine Corps as an enlisted man, Elrod rose rapidly. By the time his unit, the 8th Marine Regiment, went into the fight at Guadalcanal, he was commanding a platoon of 37 mm gunners. They endured Japanese attacks, malarial tropical weather, and starvation rations. His combat leadership earned him a Silver Star and a battlefield promotion.

The next fight at Tarawa was much shorter, only four days, but it seemed an eternity. On D-Day his platoon waded their 37 mm cannons ashore, each weighing nearly 1,000 pounds, through half a mile of bullet-laced surf to get to an island where the killing never stopped. His was the only platoon to get its guns ashore and into action that first day. Saipan was not as intense, but just as deadly. Here Elrod commanded a platoon of 75 mm halftracks. Again, he kept his platoon in front-line combat, blasting enemy caves and pillboxes. It was a dangerous place to be—Elrod was riddled with shrapnel from an enemy artillery shell that ended the war for him.
    
These are Elrod's Pacific war experiences: vivid, engaging, humorous, insightful, and authentic. The book is based on more than fifty hours of interviews conducted by Marine Corps historian Fred H. Allison, who also drew upon Elrod's wartime letters home and provided annotations to the narrative. It is a view of the war from the perspective of a young Marine infantry officer, a job that had an extremely low survival potential. The Marines intended to win—if they did not, they would die there.

 
Praise For We Were Going to Win, Or Die There: With the Marines at Guadalcanal, Tarawa, and Saipan (North Texas Military Biography and Memoir Series #10)…
"Now that we've reached the far end of living World War II memory, our chief source of new first-person information will be vignettes, letters, and full-blown war memoirs left behind by the departed.
We Were Going to Win, or Die There
is an excellent way to experience the war through the eyes of one brave man who was there."—
Eric Hammel
, author of
Guadalcanal: Starvation Island
"As an historian and combat veteran, I found that Elrod's description of combat gave me an added appreciation of what the Marines experienced fighting the Japanese. Allison's edit of Elrod's oral history is a pot of gold to be cherished."—
Dick Camp
, author of
Last Man Standing: The 1st Marine Regiment on Peleliu, September 15-21, 1944
"We are indeed indebted to the late Major Roy H. Elrod, USMC for completing his account of a combat Marine during World War II before he passed away. We are also thankful for the foresight of his editor, Dr. Fred H. Allison. This memoir will become required reading for all students of the great Pacific War well into the future."—
Charles P. Neimeyer
, Director of History Division, Marine Corps University  
"The editor has adroitly preserved Elrod's style, letting the Marine's voice shine through. Allison surrounds Elrod's memories of the sanguinary battles of Guadalcanal, Tarawa and Saipan with his detailed history of those battles, giving the reader an even greater appreciation for Elrod's deeds of valor."—
Col. Walter Ford,
Editor,
Leatherneck Magazine
"Filled with drama and feats of bravery, Allison's book provides the reader with one Marine's war on Guadalcanal, Tarawa, and Saipan. This compares favorably to E. B. Sledge's
With the Old Breed
and provides a valuable addition to the literature of the field. What a terrific account of the combat on Tarawa!"—
Ronald E. Marcello
, author of
Small Town America in World War II
and editor of
Remembering Pearl Harbor
"While Elrod's storytelling confirms and augments other horrific recollections of fighting a tenacious Japanese enemy at Guadalcanal, Tarawa, and Saipan, the added bonus is the backstory on how a rural Texan lad comes into the Marine Corps and is prepared for war."—Cdr. David Winkler, Historian, Navy History Foundation

"World War II was a pivotal event in human history, and the U.S. Marines involved in the Pacific Theater played a crucial part in the resulting Allied victory. The story of infantry officer Roy Elrod offers an authentic look into the lives of these men—in Roy's case, from childhood on a small West Texas farm to amphibious landings on the bloody beaches of Guadalcanal, Tarawa, and Saipan. The book is admirably researched and compiled from more than thirty hours of in-depth oral history interviews, supplemented by fine selections from family correspondence, and additional sources. With superb summaries at the beginning of each chapter, followed by actual letters and edited transcripts, the reader receives an overview of events as well as the vivid details of the daily life of a combat infantry officer. This worthy book makes a solid contribution to the study of World War II and U.S. Military History."—Dr. David W. Marshall, Oral Historian and Archivist, Texas Tech University

"Based upon several years of formal interviews, lengthy discussions, diligent research and exemplary editing by Marine Corps Oral Historian Fred Allison, We Were Going to Win, or Die There tells the Roy Elrod story about growing up in the Texas Panhandle and  his life in our Corps during and after the World War II.
    We learn about Roy's growing up and working in rural Texas under the severe economic depression hardships of the 1920s and 1930s.  He also tells us how his  mother taught him how to shoot a rifle and about his time as a student at Texas A&M University.  Roy then decided to join the Marines as war clouds loomed over America.  He then shares his experiences with us to include attending boot camp in the the Old Corps during the early 1940s, plus life as both an enlisted and officer of Marines.  Roy's account continues with actions taken to prepare the 8th Marine Regiment to fight and their defensive operations to protect Samoa and the Southern Lifeline, Next, he reminds us of how the horrendously harsh climate, coupled with the lack of supplies, impacted survival conditions during the fierce fighting on Guadalcanal. The account continues with recovery, reconstitution and preparatory activities in New Zealand and then the bloody battle for Tarawa in the Gilbert Islands.  Details and life in the Hawaiian Islands while preparing for another fight is next.  Roy then suffered near fatal wounds from enemy artillery fire at Saipan.  He details his long recovery period aboard ship, at field medical facilities and in stateside hospitals.  We then follow the rest of Lieutenant Colonel Elrod's career as well as his most interesting life after retirement in 1961.
    Of special note is the opportunity for our readers to learn about the leadership techniques of  his commander throughout his long service with the Eight Marines.  This Marine was the legendary hero Marine Gunner Henry Pierson "Jim" Crowe, who over time,  served as Roy' commander at the platoon, company, and battalion levels.  After heroic exploits at Guadalcanal and Tarawa, "Jim", as he was known to many generals, was very seriously wounded on the first day of the Saipan battle but survived.  He was a long-time mentor and close friend of Roy Elrod and retired in 1960 as a Colonel.  We also come away with a sound understanding of how valuable the 37 mm Anti-Tank Gun was to our infantry in these battles.  We also see as how crucial it  is encourage resourcefulness as well as to develop physical and mental toughness.
    Roy Elrod's  accurate memory, combined with Fred Allison's methodology for giving us an authentic historical account,  makes this book a must read for those who desire to learn about the challenges of growing up during the depression as well as experiences of many Americans who fought in combat against the Japanese."—Gen. Al Gray, 29th Commandant of the Marine Corps
"Editor Fred H. Allison's annotations to Elrod's first-person testimony, including information drawn from wartime letters home, add an analytical perspective to this fascinating, true-life story of duty, service, and battles with a horrifically high mortality rate. Highly recommended."--
Midwest Book Review
"Allison surrounds Elrod's recollections with the detailed history of the time, giving the reader an even grater appreciation for Elrod's deeds of valor. . . . This exceptional work by Dr. Fred Allison ensures Elrod's sacrifices and experiences as a United States Marine will be remembered."--
Leatherneck Magazine
"[T]he still vivid memories of a great veteran like Elrod bring us as close as possible to the actual experience."--
Proceedings
"[A] remarkable story of one marine's combat experience in three of the most iconic Marine Corps operations in World War II. It would make a great addition to E. B. Sledge's
With the Old Breed
and is highly recommended for anyone interested in a true story of courage, heroism, or World War II."--
Military Review
"[A] superb memoir. . . . At least one present-day junior officer in the 8th Marines commented that some of the experiences Elrod describes could have happened yesterday in the Corps. Other experiences, however, highlight the reality that as difficult and miserable as contemporary conditions may be at times in places like Afghanistan or Iraq, the Marines of the Pacific theater during World War Two experienced something worse."--
Air Power History
"There are a number of War in the Pacific oral histories, but this oral history stands tall, one of the best. . . . This is a must read."--
Journal of America's Military Past
"For the Marine veteran or anyone interested in life as an enlisted Marine in the pre-World War II Marine Corps, this book is a boon. . . . Elrod's recollections of combat in three of the bloodiest battles of World War II add significant value. . . . Equally important, oral historian Allison does a superb job of placing all the action in perspective with a fast-paced, concise, and easily read history of each of the battles marking Elrod's service."--
Marine Corps History
"Combat buffs will enjoy this detailed firsthand account of Roy Elrod's eventful life; serious students of military history will appreciate the provision of detailed footnotes; and young people considering careers as marines will learn much about life in the Corps."--
Michigan War Studies Review
University of North Texas Press, 9781574416893, 320pp.
Publication Date: October 3, 2017
About the Author
Editor FRED H. ALLISON has served as the Marine Corps oral historian since 2000. A retired Marine officer, he has written numerous articles and co-produced the Marine Corps books Pathbreakers and The History of Marine Fighter Attack Squadron 232. He lives in Fredericksburg, Virginia.
or
Not Currently Available for Direct Purchase