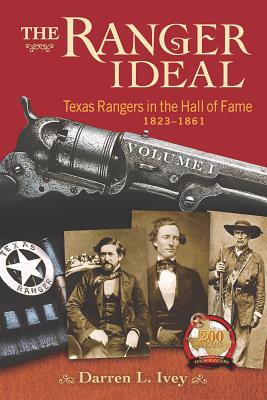 The Ranger Ideal Volume 1
Texas Rangers in the Hall of Fame, 1823-1861
Hardcover

* Individual store prices may vary.
Description
Established in Waco in 1968, the Texas Ranger Hall of Fame and Museum honors the iconic Texas Rangers, a service which has existed, in one form or another, since 1823. They have become legendary symbols of Texas and the American West. Thirty-one Rangers, with lives spanning more than two centuries, have been enshrined in the Hall of Fame.

In The Ranger Ideal Volume 1: Texas Rangers in the Hall of Fame, 1823–1861, Darren L. Ivey presents capsule biographies of the seven inductees who served Texas before the Civil War. He begins with Stephen F. Austin, "the Father of Texas," who laid the foundations of the Ranger service, and then covers John C. Hays, Ben McCulloch, Samuel H. Walker, William A. A. "Bigfoot" Wallace, John S. Ford, and Lawrence Sul Ross.

Using primary records and reliable secondary sources, and rejecting apocryphal tales, The Ranger Ideal presents the true stories of these intrepid men who fought to tame a land with gallantry, grit, and guns. This Volume 1 is the first of a planned three-volume series covering all of the Texas Rangers inducted in the Hall of Fame and Museum in Waco, Texas.
Praise For The Ranger Ideal Volume 1: Texas Rangers in the Hall of Fame, 1823-1861…
"Ivey is well respected for his previous work on the Rangers, and this book benefits from the same thorough research. There are extensive and welcome footnotes. I appreciate the careful handling of topics that cross the line between history and myth, such as Hays at Enchanted Rock/Bandera Pass/Painted Rock, and Ross with Cynthia Ann Parker. I also like the introduction of the Walker Colt, at the right place and time, with the correct context."—Richard B. McCaslin, author of Tainted Breeze: The Great Hanging at Gainesville, Texas, October 1862 and Fighting Stock: John S. "Rip" Ford in Texas
 
"Ivey's work is a well-researched, well-organized, and well-written chronicle of the dramatic events in the military era of the Texas Rangers. The research is impressive—Ivey's citations, explanatory notes, and text will be used by researchers and interested readers for years to come. His encyclopedic presentation of life stories—mini-biographies—is definitive and is the centerpiece of the book."—Harold J. Weiss Jr., author of Yours to Command: The Life and Legends of Texas Ranger Captain Bill McDonald

"Darren Ivey's The Ranger Ideal, Volume 1, covers seven of the most important men to be involved with the early Texas Rangers. In his examination of icons such as Jack Hays, Bigfoot Wallace, and Rip Ford, Ivey has unearthed vast collections of material, carefully examining some of the battles that may be more fable than fact, while also presenting solid biographical sketches on men that extend beyond their more well-known Texas years. Future biographers of any of these Texas Rangers leaders would be well served to examine the source material offered in Ivey's voluminous chapter notes. The Ranger Ideal is a must-have book for any serious Texas Rangers historian."—Stephen L. Moore, author of the Savage Frontier series and Texas Rising: The Epic True Story of the Lone Star Republic and the Rise of the Texas Rangers, 1836-1846
 
"I was greatly impressed with the thorough coverage in each of the biographies of these first seven Hall of Fame Texas Rangers. Those who are interested in learning more about these early leaders will find The Ranger Ideal, Volume I an indispensable and comprehensive source of enjoyable reading."—Donaly E. Brice, former Senior Research Assistant, Texas State Library, and author of The Great Comanche Raid

"A vivid glimpse into a dangerous, bygone era that required men of courage and valor to step forth, The Ranger Ideal Volume 1 is sure to enthrall lay readers and historians alike. Highly recommended."--Midwest Book Review

"Ivey's narration is a compelling blend of people, cultures, and eras. . . . Some were veterans of the war with Mexico and three fought for the Confederacy. One was an empresario, two, surveyors; one, a journalist. The Texas Ranger legacy began with them and Ivey tells it well."--Southwestern Historical Quarterly

"[This] is the literary ammo you want. . . . Read Ivey's well-researched and written character studies and you'll have a solid overview of the beginning of the Ranger story and the legend that followed."--True West

"All considered, the author is to be congratulated on the publication of this book which offers in one volume handy condensed biographies of the seven men chosen, none of whom can be denied Texas hero status."--Wild West History Association Journal

"[An] excellent contribution of short biopics of the earliest names associated with the Ranger Story. . . . [T]his is a must-read for Ranger aficionados as well as even the most casual of Texana readers."--Western Historical Quarterly

"Any person with an interest in Texas's past can benefit from this volume of lore.. . . It is a well-written, logically organized, and meticulous account of early Texas history."--Chronicles of Oklahoma

"For anyone interested in the history of the Texas Rangers, this book is a must-read. . . . Darren L. Ivey is to be commended for his good writing and careful research."--Chronicle of the Old West
University of North Texas Press, 9781574416909, 672pp.
Publication Date: November 9, 2017
About the Author
DARREN L. IVEY is an independent researcher who lives in Manhattan, Kansas. He is the author of The Texas Rangers: A Registry and History and has also written a history of Fort Aubrey, Kansas, for the Chapman Center for Rural Studies.
or
Not Currently Available for Direct Purchase