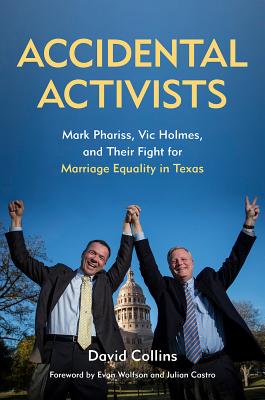 Accidental Activists
Mark Phariss, Vic Holmes, and Their Fight for Marriage Equality in Texas (Mayborn Literary Nonfiction Series #8)
Hardcover

* Individual store prices may vary.
Other Editions of This Title:
Digital Audiobook (9/4/2017)
Compact Disc (9/5/2017)
MP3 CD (9/5/2017)
Description
In early 2013 same-sex marriage was legal in only ten states and the District of Columbia. That year the Supreme Court's decision in United States v. Windsor appeared to open the door to marriage equality. In Texas, Mark Phariss and Vic Holmes, together for sixteen years and deeply in love, wondered why no one had stepped across the threshold to challenge their state's 2005 constitutional amendment prohibiting same-sex marriage. They agreed to join a lawsuit being put together by Akin Gump Strauss Hauer & Feld LLD.

Two years later—after tense battles in the Federal District Court for the Western District of Texas and in the Fifth Circuit Court of Appeals, after sitting through oral arguments at the Supreme Court of the United States in Obergefell v. Hodges—they won the right to marry deep in the heart of Texas. But the road they traveled was never easy. Accidental Activists is the deeply moving story of two men who struggled to achieve the dignity of which Justice Anthony Kennedy spoke in a series of Supreme Court decisions that recognized the "personhood," the essential humanity of gays and lesbians.

Author David Collins tells Mark and Vic's story in the context of legal and social history and explains the complex legal issues and developments surrounding same-sex marriage in layman's terms.
Praise For Accidental Activists: Mark Phariss, Vic Holmes, and Their Fight for Marriage Equality in Texas (Mayborn Literary Nonfiction Series #8)…
"Back in 1997 I was lucky enough to be in San Antonio for an HRC event. Little did I know that Mark and Vic would be on their first date that night—and would come to that event where I would meet them.  Little did I know that years later they would make history by fighting for same-sex marriage to be legal in Texas. This beautiful book by Dave Collins tells the story of their struggle to make that happen. I'm so proud of them, so happy for them—and delighted that their inspirational story has been recorded in a book that will keep you turning the pages late into the night."—Betty DeGeneres (mother of Ellen), the first straight spokeswoman for the Human Rights Campaign's National Coming Out Project, and the author of Love, Ellen: A Mother/Daughter Journey and Just a Mom

"Accidental Activists, Dave Collins's moving story about Mark Phariss and Vic Holmes's fight for marriage equality in Texas is both captivating and heartwarming. Throughout the LGBTQ rights movement, we have seen 'accidental activists'—ordinary Americans who have witnessed injustice under the law and made the decision to fight for their rights in the face of injustice. We must learn from the brave champions of equality whose stories and personal sacrifices have made all the difference—not just in Texas, but for all LGBTQ Americans."—Chad Griffin, President of the Human Rights Campaign

"This is the best book on the hugely important topic of gay marriage that I have encountered. The courtroom scenes—beautifully rendered, stirring, enlivened by the novelistic revelation of character—are simply superb and brilliantly handled. I was riveted by the explanations of precedents, accounts of legal tactics, and descriptions of lawyerly performances. Collins movingly captures the two men's lifelong struggles with shame and self-loathing and, finally, the personal triumph of their confronting the public to claim their right to love in the country they love."—George Hodgman, author of Bettyville

"I am always anxious when I read accounts of events that I have experienced personally. But from the first page, David Collins's Accidental Activists alleviated my fears. The story of Mark Phariss and Vic Holmes, who led the battle for marriage equality in Texas as plaintiffs, remains as true and compelling today as when it happened in real life. And I know since I was there for at least some of it. Reading this book, particularly the description of the court hearing at the Fifth Circuit in New Orleans, was (almost) as much fun as doing the argument myself."—Roberta Kaplan, Paul, Weiss, Rifkind, Wharton & Garrison LLP and author of Then Comes Marriage: United States v. Windsor and the Defeat of DOMA

"Accidental Activists is a well-written and moving book about the deeply personal story behind two of the heroes of the marriage equality movement."—Andy Cohen, host of Watch What Happens Live and author of The Andy Cohen Diaries: A Deep Look at a Shallow Year

"Accidental Activists is the story of two men who did the extraordinary in order to live a life of the ordinary. Their story is a familiar one to many in the marriage equality movement: the pain of growing up gay, the humiliation of the closet, the discovery of the inner strength necessary to come out, the wonder of falling in love, and finally the refusal to acquiesce in their second-class status. Future generations will marvel that the struggle for marriage equality was ever even necessary, but this beautifully written book will memorialize that the struggle was indeed essential in a place like Texas in the early part of the 21st century."—Dale Carpenter, Professor of Law at the Dedman School of Law, Southern Methodist University, and author of Flagrant Conduct: The Story of Lawrence v. Texas
 
"Exceptionally well written, organized and told in the context of legal and social history that explains the complex legal issues and developments surrounding same-sex marriage in layman's terms,
Accidental Activists
is an impressively informed and thought-provoking read."--
Midwest Book Review
"Collins's writing is entertaining, employing a literary-nonfiction style that makes
Accidental Activists
read like a novel. . . . Collins commands empathy as he tells the story of Marc and Vic's eighteen-year relationship, a tale of breathtaking prejudice and dumbfounding ignorance, as well as a tale of passionate love, precious kindness, and enduring commitment."--
Lone Star Literary Life
"David Collins offers a spellbinding book on marriage equality. . . . The book is a compelling read, one that shows the inner workings of key cases, and tells an exceptional human story while illuminating the legal process to the reader."--
Law and Politics Book Review
"All of the snags and triumphs in
Accidental Activists
serve to reinforce a story much broader than marriage equality. It is the story of 'good' vs. 'evil,' and it unfolds on every scale. . . .  Moral and emotional transparency is what made the plaintiffs, in the eyes of a majority of the judges, full 'persons,' and, as such, they should no longer be victimized but treated with dignity under the law."--
The Common Reader
University of North Texas Press, 9781574416923, 480pp.
Publication Date: August 15, 2017
About the Author
DAVID COLLINS taught English for forty years at Westminster College in Missouri. He has had unrestricted access to all materials related to the story of Mark Phariss and Vic Holmes, including legal communications and documents, and conducted extensive interviews with Mark and Vic and others involved in the case. He lives in Pineville, North Carolina.
or
Not Currently Available for Direct Purchase