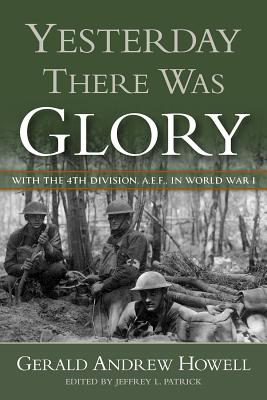 Yesterday There Was Glory
With the 4th Division, A.E.F., in World War I (North Texas Military Biography and Memoir Series #11)
Hardcover

* Individual store prices may vary.
Description
In 1946, World War I veteran Gerald Howell finished a memoir of the experiences of his squad from the 39th Infantry Regiment, 4th Division, but never published it. Jeffrey Patrick discovered the memoir and edited it for publication, providing an introduction and annotations.

Yesterday There Was Glory is an unpretentious account of men at war, from training camp to the occupation of Germany. It includes graphic descriptions of the battlefield, of shell fire, gas attacks, and lice. "Between the attacks the men would lay in their wet holes and pray for relief. But no relief came," Howell remembers. He recalls much more than the horrors of combat, however, chronicling the diverse collection of heroes, professional warriors, shirkers, and braggarts that made up the American Expeditionary Forces.

Howell's account preserves the flavor of army life with conversations and banter in soldier language, including the uncensored doughboy profanity often heard but seldom recorded.
Praise For Yesterday There Was Glory: With the 4th Division, A.E.F., in World War I (North Texas Military Biography and Memoir Series #11)…
"This is a superb memoir of a soldier's experience and has little competition. Patrick has done an excellent job with his editorial notes. The introduction, biographical sketch, and explanations of the AEF and 39th Infantry are extremely well-written."—Mitchell Yockelson, author of Borrowed Soldiers: Americans under British Command, 1918
 
"This memoir helps show why the U.S. mobilization effort was so slow and irregular, offers a critical view of AEF officers and the SOS, shows the effectiveness of propaganda, shows the lack of adequate training prior to deployment and combat, offers some interesting depictions of combat, and provides good coverage of the march to and occupation of Koblenz, Germany."—Mark Grotelueschen, author of The AEF Way of War

"[A]n up-close, personal, and ground level view of Howell's experience, and his squad's training, organization, shipment to France and fighting in the trenches during many of the Army's most important operations and engagements on the Western Front. . . . This is a sometimes humorous, mostly serious personal look at the experience of a doughboy who was 'over there'."--Journal of America's Military Past

"Yesterday There Was Glory is worth reading by history enthusiasts and by casual readers seeking an introduction to the experiences of doughboys in World War I."--On Point

"[P]erhaps the greatest value of Howell's manuscript is his time spent in the occupation army after the Armistice. The occupation of Germany is a subject that is not covered in much depth by historians, often only being discussed as part of the epilogue to soldiers' experiences overseas."--Military History of the West
University of North Texas Press, 9781574416930, 464pp.
Publication Date: September 14, 2017
About the Author
JEFFREY L. PATRICK is the librarian at Wilson's Creek National Battlefield in Republic, Missouri. He holds a master's degree in history from Purdue University and is the editor of Guarding the Border: The Memoirs of Ward Schrantz, U.S. Army, 1912–1917.
or
Not Currently Available for Direct Purchase