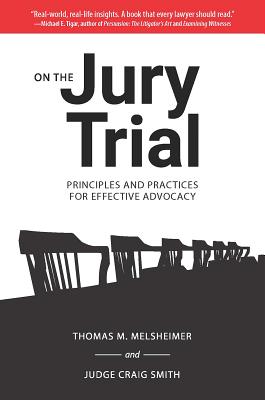 On the Jury Trial (Hardcover)
Principles and Practices for Effective Advocacy
University of North Texas Press, 9781574416992, 288pp.
Publication Date: November 13, 2017
* Individual store prices may vary.
Description
Two outstanding Texas trial lawyers—one now an equally respected district judge—have written On the Jury Trial, a "must have" reference for any trial lawyer aspiring to excellence or seeking to maintain it. Topics include voir dire, opening statement, preparing witnesses, cross examination, using exhibits, closing argument, jury research, and more, with excellent examples and "do's and don'ts" provided throughout. Think of this book as the senior law partner's memo to associates on how to really try a case.

Looking for fly-on-the-wall insight into world-class trial preparation and strategy? Here it is. A behind-the-scenes tour of the inner workings of the judicial process? This book has you covered. Its combination of advice, illustration, and commentary is every bit as valuable as it is unique. Every litigator should have this book on the shelf, no matter the state in which they practice.
About the Author
THOMAS M. MELSHEIMER has tried cases for more than thirty years. He has been named "Trial Lawyer of the Year" by the Texas Chapters of the American Board of Trial Advocates and by the Dallas Bar Association. Before being elected to the 192nd District Court in Dallas County in 2006, JUDGE CRAIG SMITH was an accomplished Texas trial lawyer for more than twenty-five years. As a judge, he was recognized as Trial Judge of the Year by the Dallas Chapter of the American Board of Trial Advocates.
Praise For On the Jury Trial: Principles and Practices for Effective Advocacy…
"Real-world, real-life insights. A book that every lawyer should read."—Michael E. Tigar, author of Persuasion: The Litigator's Art and Examining Witnesses
"You want to try cases? Consider this required reading. This book brings to life actual trial transcripts that are both entertaining and educational…you will grow and improve with each chapter!"—Lisa Blue, PhD, JD
 
"I will definitely order a copy of this book for every associate in my firm and recommend that others do so too."—Steve Susman, Susman Godfrey L.L.P.           
 
"The authors should be commended for their extraordinary effort in producing a book that will be so valuable to up-and-coming trial attorneys."—Dan Webb, Winston & Strawn
 
"Melsheimer and Smith—trial lawyer and judge—have produced a one-of-a-kind, easy-to-read guide that will help any lawyer achieve courtroom mastery."—Mark Lanier, The Lanier Law Firm
                                   
"Virtually every law student strives to learn what great lawyers and judges know about the art of the jury trial. Here the wish is granted: this book allows every student to learn from two masters of the subject."—Ward Farnsworth, Dean of the University of Texas School of Law
 
"I have read scores of 'how to' books and articles on trial advocacy and this one tops the list."—Dick Sayles, Sayles Werbner
"On the Jury Trial will be highly valuable to young attorneys, precisely in part because its brevity makes it so attractive to read. I know and greatly respect both authors; they speak with a voice of well-earned authority. I am thrilled to see the chapter on the Judge's Viewpoint—the advice provided is sterling."—James E. Wren, Professor of Law, Baylor Law School
"The authors draw from a deep well of practical experience to give a fresh and nuanced look at trial and the trial process. I plan to use it as a go-to reference and source as I educate the next generation of trial advocates."—Dustin Benham, Professor of Law, Texas Tech University School of Law
"This is a must-read for every trial lawyer striving to achieve excellence."—Charla Aldous, Trial Lawyer, Aldous \ Walker

"Melsheimer and Smith have done it! On the Jury Trial is an exceptional resource for anyone preparing for trial."—Tracy Walters McCormack, Director of Advocacy, University of Texas School of Law

"We sometimes hear the jury trial is vanishing. However, Mr. Melsheimer and Judge Smith affirm that the art of jury persuasion is alive and well and thriving within the covers of On the Jury Trial."—Mark Werbner, Sayles Werbner

"In one book, receive courtroom mentoring from a great trial lawyer and a great trial judge. This is the newest book on my shortlist for developing the best trial lawyers."—Professor James Wren, Baylor Law School
"Melsheimer and Smith are legal superstars and On the Jury Trial is the best new trial and courtroom handbook."—Alan Albright, Bracewell LLP
"On the Jury Trial combines basic structural instruction and personal analysis by those who have been in the trenches and reads like a kind of fireside chat with two highly experienced trial attorneys imparting their unique insights into trial scenarios and how one can address them effectively. . . . [It] offers concrete, helpful and insightful advice to both young and experienced trial lawyers alike on how to effectively, efficiently and passionately represent their clients before a jury."--Law360
"[T]he authors' credentials are one of the book's biggest draws. . . . For Melsheimer, the motivation was to educate lawyers coming up through the ranks. . . . Judge Smith cautions that lawyers also have to be keenly aware of the importance of civility and integrity, especially given the judge's perspective."--D Magazine
"New trial lawyers may find On the Jury Trial particularly useful. One of the book's strongest assets is its practical discussion of how to prepare a witness for trial, a task that new attorneys frequently face. Other topics such as jury selection, preparing an opening statement, and how best to approach cross-examination--including whether to conduct one at all--are also well covered."--Trial