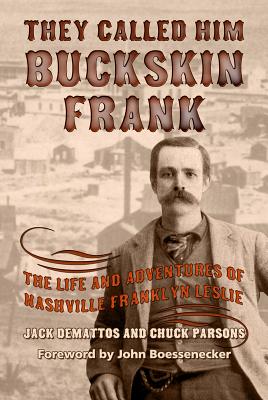 They Called Him Buckskin Frank (Hardcover)
The Life and Adventures of Nashville Franklyn Leslie (A.C. Greene Series #19)
University of North Texas Press, 9781574417128, 272pp.
Publication Date: June 26, 2018
* Individual store prices may vary.
Description
Nashville Franklyn "Buckskin Frank" Leslie was a man of mystery during his lifetime. His reputation has rested on two gunfights—both in storied Tombstone, Arizona—but he was much more than a deadly gunfighter. Jack DeMattos and Chuck Parsons have combined their research efforts to help solve the questions of where Leslie came from and how he died.
Leslie developed a reputation as a man to be left alone. Such notables as the Earps, Doc Holliday, and John Ringo wisely avoided confrontations with him. Leslie was a "lady killer" both figuratively and—in one celebrated incident—literally. Beyond his gunfighting legacy, DeMattos and Parsons also explore Leslie's scouting with General Crook on the Great Plains and his alleged service as a deputy for Wild Bill Hickok in Abilene, Kansas.
About the Author
JACK DeMATTOS is the author of seven books on western gunfighters, including The Notorious Luke Short co-authored with Chuck Parsons. He lives in North Attleboro, Massachusetts.  CHUCK PARSONS is the author of Captain John R. Hughes and The Sutton-Taylor Feud and coauthor of A Lawless Breed, a biography of John Wesley Hardin. He lives in Luling, Texas.
Praise For They Called Him Buckskin Frank: The Life and Adventures of Nashville Franklyn Leslie (A.C. Greene Series #19)…
"Previously published works dealing with Leslie pale in comparison to this joint effort by two well-known and experienced researchers and authors in the field. Leslie's death is shrouded in mystery, but the authors' account reads almost like a closed case file."—Robert K. DeArment, author of Bat Masterson and editor of Life of the Marlows

"In almost every work that in any way relates to southern Arizona in the 1880s, Leslie is present. This book will be the new standard for anyone interested in the life of Buckskin Frank. Not only is it the most complete treatment of Leslie, but also it offers fresh insights into the events, relationships, and mysteries in which he was involved. Both in form and content this book finally gives Frank Leslie a place in the Tombstone story and helps to define him as a person in ways not possible previously."—Gary Roberts, author of Doc Holliday: The Life and Legend
 
"The authors chronicle what is known of Leslie's life, dispel the legends, and have come up with an important and readable bio."--True West
"DeMattos and Parsons offer the most detailed account of Leslie's death, which they label a murder. . . . If you want to buy a book on Leslie this is the one you should get."--
Wild West History Association Journal
"In the 1880s everyone in Arizona knew of Wyatt Earp and Buckskin Frank. They were equally notorious, with their exploits reported regularly in the state's newspapers. . . . In 1881 he did ride in a posse with Wyatt, Virgil, and Morgan Earp and Bat Masterson chasing after stagecoach robbers."--
Southwestern Historical Quarterly
"This book is enchanting, putting some old fictionalized tales regarding Buckskin Frank to rest, but also pointing to some new and tantalizing information about the man."--
Chronicles of the Old West
"This latest effort by two highly regarded researchers of Old West outlaws-and-lawmen history (they teamed up in 2015 to write
The Notorious Luke Short: Sporting Man of the Wild West
) packs enough new info about Leslie's life and death to be considered his definitive biography."--
Wild West Magazine