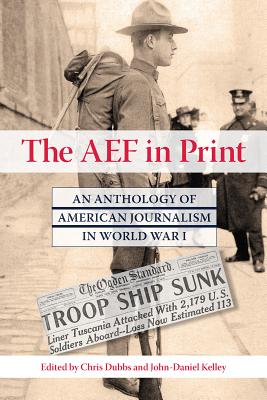 The AEF in Print (Hardcover)
An Anthology of American Journalism in World War I
University of North Texas Press, 9781574417135, 400pp.
Publication Date: May 15, 2018
* Individual store prices may vary.
Description
The AEF in Print is an anthology that tells the story of U.S. involvement in World War I through newspaper and magazine articles—precisely how the American public experienced the Great War. From April 1917 to November 1918, Americans followed the war in their local newspapers and popular magazines. The book's chapters are organized chronologically: Mobilization, Arrival in Europe, Learning to Fight, American Firsts, Battles, and the Armistice. Also included are topical chapters, such as At Sea, In the Air, In the Trenches, Wounded Warriors, and Heroes.

"Some of these stories are real gems. Irving Cobb's account of the sinking of the SS Tuscania, for example, is absolutely riveting, and the same can be said of William Shepherd's description of life aboard US Navy destroyers in the Atlantic, Floyd Gibbons's narration of his wounding at Belleau Wood, and George Pattullo's roll-out of the Sergeant York legend."—Steven Trout, author of On the Battlefield of Memory: The First World War and American Remembrance
About the Author
CHRIS DUBBS is the author of American Journalists in the Great War: Rewriting the Rules of Reporting and America's U-boats: Terror Trophies of World War I. He lives in Edinboro, Pennsylvania. JOHN-DANIEL KELLEY, formerly a research associate at the James Martin Center for Nonproliferation Studies in Washington, D.C., is currently studying law at Cornell University.
Praise For The AEF in Print: An Anthology of American Journalism in World War I…
"Some of these stories are real gems. Irving Cobb's account of the sinking of the SS Tuscania, for example, is absolutely riveting, and the same can be said of William Shepherd's description of life aboard US Navy destroyers in the Atlantic, Floyd Gibbons's narration of his wounding at Belleau Wood, and George Pattullo's roll-out of the Sergeant York legend."—Steven Trout, author of On the Battlefield of Memory: The First World War and American Remembrance
 
"The well-written and evocative articles bring the war to life. The magnitude of the American war effort becomes obvious, along with the public's intense interest in understanding what was happening 'over there.'"—Jennifer Keene, author of Doughboys, the Great War, and the Remaking of America
 
"A fascinating overview of the United States' involvement in World War I, this anthology has all the highlights of American reporting on the First World War."—Ron van Dopperen, co-author of American Cinematographers in the Great War
"The AEF in Print allows the reader to experience this year and a half of war the same way that most of the American public did--by reading riveting articles published in the leading newspapers of the day. . . . [A] captivating anthology, highly recommended."--Midwest Book Review
"The articles in this anthology cover everything from the sinking of the
SS Tuscania
to first-hand accounts of battle and life at sea for members of the U.S. Navy."--
News Media Alliance
"One of the more interesting chapters, "American Firsts,' includes reports on the first American shot, first deaths, first capture of a German soldier, etc. . . . Another extraordinary piece is journalist Floyd Gibbon's description of his wounding at Belleau Wood. Shot three times, including a bullet that put out one eye, Gibbons lay on his gas mask for three hours until darkness allowed his escape."--
Journal of America's Military Past
"Most of the articles cover the men and women who lived the war, black and white, from generals to privates to 'Hello Girls', taking them from recruitment and training into the war zone, and then home for the victory parades."--
NYMAS Review
"These journalistic efforts take us back in a personal way to a time and society none of us were living in but that we can somehow link into. For a fascinating view of wartime America from a different perspective, I strongly recommend
The AEF in Print."--Roads to the Great War