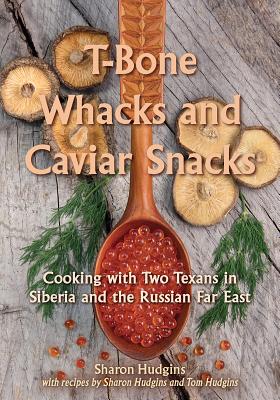 T-Bone Whacks and Caviar Snacks
Cooking with Two Texans in Siberia and the Russian Far East (Great American Cooking Series #5)
Hardcover

* Individual store prices may vary.
Description
Finalist for the 2019 Gourmand World Cookbook Awards, Silk Road Category

You can eat very well in Siberia. That's right. Forget the stereotypes of seal blubber and reindeer balls in Russia's icy north. People living in Siberian cities today have a wide range of food products available—and know how to turn them into delectable dishes, from colorful soups and salads to sophisticated desserts.
 
T-Bone Whacks and Caviar Snacks is the first cookbook in America to focus on the foods of the Asian side of Russia, a vast area covering eight time zones and encompassing both Siberia and Russia's Far East. It's also a land of contrasts—from modern cities to log-cabin villages, from dense forests to treeless tundra, arid steppes to snow-capped mountains, steamy swamps to fuming volcanoes, rugged seacoasts to legendary Lake Baikal.
 
This unique cookbook is filled with fascinating food history, cultural insights, and personal stories about the culinary adventures of two intrepid Texans who lived, worked, traveled in—and ate their way around—the Asian side of Russia. The author vividly describes the memorable meals that she and her husband enjoyed at the apartments of Russian friends in Soviet-era high-rises, at new restaurants and ancient festivals, on boats and on picnics, at remote little dachas in the lush green forests near the Russian-Chinese border, with the Buryat-Mongolians living in southern Siberia, and along thousands of miles of the Trans-Siberian Railroad tracks.
 
Featuring 140 traditional and modern recipes, T-Bone Whacks and Caviar Snacks includes dozens of regional recipes from cooks in Asian Russia, along with recipes for the European and Tex-Mex dishes that the author and her husband cooked on the "Stoves-from-Hell" in their three Russian apartments, for intimate candlelight dinners during the dark Siberian winter and for lavish parties throughout the year.
 
You'll find recipes for classic Russian New Year's fare, spring festival foods, traditional Russian Easter desserts, and the East Asian dishes adopted by Russians living in that part of the world. You'll learn how to make fresh seafood dishes from Russia's Far East, venison-blueberry dumplings from Siberia, "The Captain's Meat" from Vladivostok, pine nut meringues and frozen cranberry cream from Irkutsk, enticing appetizers from the dining car of a Trans-Siberian luxury train, and flaming "Baked Siberia" (the Russian twist on Baked Alaska) from "the land of fire and ice." And here's the bonus: All of these recipes can be made with ingredients from your local supermarket or your nearest delicatessen.
 
So join these two Texans on a culinary adventure through the Asian side of Russia—and discover how well you can eat in Siberia and the Russian Far East.
Praise For T-Bone Whacks and Caviar Snacks: Cooking with Two Texans in Siberia and the Russian Far East (Great American Cooking Series #5)…
"Sharon has recorded an important slice of Russian history and culture. She has produced a treasure of a book that will be referenced by cultural historians and home cooks for decades to come."—Catherine Cheremeteff Jones, author of A Year of Russian Feasts

Sharon Hudgins' charming food memoir about living in Russia is both a fun read and an excellent cookbook….the moving story of life in a foreign land and a comprehensive collection of Russian recipes you will find nowhere else."— James Oseland, Editor-in-Chief of World Food and judge on Bravo's Top Chef Masters
 
"Combining personal memoir, adventurous travel, food history, and mouthwatering recipes, this unique book captures the mysterious culinary spirit of Siberia…and invites you to dine at tables crowded with delicacies from salmon caviar to sweetened cranberry cream."— Anya von Bremzen, author of Mastering the Art of Soviet Cooking
 
"Friendly people, elaborate celebrations, and a surprising culinary richness drawn from the land and sea and influenced by the region's complex cultural history made Sharon and her husband fall in love with this distant corner of the world. These engaging recollections and clearly written recipes eloquently explain its attractions."—Colman Andrews, Editorial Director, TheDailyMeal.com

"Sharon Hudgins' tales of Siberia and the foodways there are a surprise. Her inviting recipes and many stories of people and feasting will banish any images of grim scarcity that the name Siberia is apt to conjure up in the minds of outsiders."— Naomi Duguid, author of Taste of Persia: A Cook's Travels in Armenia, Georgia, Iran, and Kurdistan 

"Highly original and a fun read. Cooks, travelers, and lovers of food history will embrace this book."— Dave DeWitt, author of Precious Cargo: How Foods from the Americas Changed the World

"Part culinary memoir, part travelogue, T-Bone Whacks . . . vividly observes how Siberians cook, celebrate holidays, forage, garden, and preserve traditional foods. Chapters are capped with numerous recipes cajoled from the Hudginses' friends and neighbors and from their extensive travels. Sidebar discussions of cultural tidbits and photographs of markets, vernacular architecture, and cooks at work in their tiny kitchens evoke even more imagery of this distinct region."--Foreword Magazine

"This culinary compendium of recipes for classic Russian New Year's fare, spring festival foods, traditional Russian Easter desserts, and the East Asian dishes adopted by Russians living in that part of the world will prove to be a unique and immensely popular addition to personal, family, professional, and community library cookbook collections."--Midwest Book Review

"Throughout the book, Hudgins shares the details of daily culinary life that only an expat would note—meat sold from the trunks of cars, the small kvas trucks that trundled around the city selling a glass at a time of fermented grain drink. . . . The book's recipes are an eclectic mix. Some are authentic, gathered from Russian friends and neighbors. Some, like Scottish gingerbread, are picked up on their travels and adapted to Russian ingredients."--Chow Line, Culinary Historians of Washington, D.C.

"Hudgins' writing style is down to earth, warm and engaging, and beyond the recipes, the book is packed with fascinating anecdotes of life in the former Soviet Union during a crucial time in its history. . . . The book offers 140 traditional and modern recipes, both American recipes they brought with them to their home in Siberia and Russian recipes they learned during their sojourn. Hudgins also shares her extensive knowledge of Russian history and culture which makes this more than a cookbook, but also an interesting, hard-to-put-down travelogue about a fascinating region."--Heimburger's European Traveler

"The author has written a travelogue, a cultural and historical guide and a food reference with delicious recipes mixed in. . . . Reading this book is like having friends recount stories about their stay in Russia and all the delectable meals they tasted, experienced and cooked with limited resources while having a wonderful time with new friends and neighbours who shared their hospitality and food with them. It is an excellent example of how food is the universal way of bringing people together!"--Digestible Bits and Bites, Culinary Historians of Canada

"The book contains 140 recipes that are paired with entertaining stories about preparing the dishes in the frequently challenging conditions experienced in Siberia and the Russian Far East. . . . [T]he book also contains commentary on Russian culinary customs, such as how to serve Russian appetizers (zakuski) and, of course, how to properly toast your guests when drinking vodka."--Repast

"[A] delightful narrative cookbook. . . . [W]e need more cookbooks like this and less of the kind of whatever-is-the-latest fad-mass-produced-Keto-InstantPot-celebrity-inspired tomes. . . . Plenty of juicy asides permeate the pages, with histories and facts and stories about this Russian food ("Versatile Kasha," 78) or that one ("A Radish to Root For," 105)."--Food, Culture, and Society

"My test for a good cookbook asks three questions: Can you find the ingredients locally? Are the recipes easy to follow? Does the food taste good? The answer to all three here was yes, yes, and yes."--Sibirica: Interdisciplinary Journal of Siberian Studies

"This book is perfect for the armchair traveler who is interested in far-flung locations but unable to visit them at present. If you're an adventurous cook who likes discovering new cuisines (but not necessarily complex or difficult to replicate) then this will be just the ticket for you."--Petits Propos Culinaires
University of North Texas Press, 9781574417142, 448pp.
Publication Date: May 15, 2018
About the Author
SHARON HUDGINS is the author of five books, including an award-winning cookbook about the regional cuisines of Spain and a travel memoir, The Other Side of Russia. A former professor with the University of Maryland's program in Russia, she has also been a National Geographic Expert on Trans-Siberian Railroad tours. TOM HUDGINS is an economics professor and accomplished cook. They live in north Texas.
or
Not Currently Available for Direct Purchase