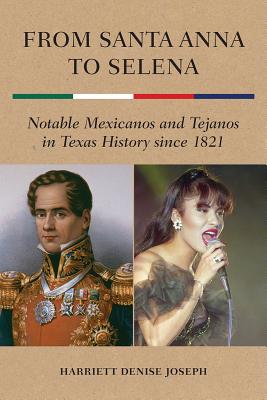 From Santa Anna to Selena (Hardcover)
Notable Mexicanos and Tejanos in Texas History since 1821
University of North Texas Press, 9781574417159, 400pp.
Publication Date: April 5, 2018
* Individual store prices may vary.
Description
Clotilde P. Garcia Tejano Book Prize Award, Tejano Genealogy Society of Austin, 2018.
Ottis Locke Best Book from the East Texas Historical Association, 2018.

Author Harriett Denise Joseph relates biographies of eleven notable Mexicanos and Tejanos, beginning with Santa Anna and the impact his actions had on Texas. She discusses the myriad contributions of Erasmo and Juan Seguín to Texas history, as well as the factors that led a hero of the Texas Revolution (Juan) to be viewed later as a traitor by his fellow Texans. Admired by many but despised by others, folk hero Juan Nepomuceno Cortina is one of the most controversial figures in the history of nineteenth-century South Texas. Preservationist and historian Adina De Zavala fought to save part of the Alamo site and other significant structures. Labor activist Emma Tenayuca's youth, passion, courage, and sacrifice merit attention for her efforts to help the working class.

Joseph reveals the individual and collective accomplishments of a powerhouse couple, bilingual educator Edmundo Mireles and folklorist-author Jovita González. She recognizes the military and personal battles of Medal of Honor recipient Raul "Roy" Benavidez. Irma Rangel, the first Latina to serve in the Texas House of Representatives, is known for the many "firsts" she achieved during her lifetime. Finally, we read about Selena's life and career, as well as her tragic death and her continuing marketability.
About the Author
HARRIETT DENISE JOSEPH is professor of history at the University of Texas Rio Grande Valley. She has co-authored three books with Donald E. Chipman, including the award-winning Notable Men and Women of Spanish Texas; Explorers and Settlers of Spanish Texas; and the revised edition of Spanish Texas, 1519–1821. She lives in Brownsville, Texas.
Praise For From Santa Anna to Selena: Notable Mexicanos and Tejanos in Texas History since 1821…
Clotilde P. Garcia Tejano Book Prize Award, Tejano Genealogy Society of Austin, 2018.
Ottis Lock Best Book from the East Texas Historical Association, 2018.

"Joseph's writing is clear and engaging with a rich background historical context—she does a good job of inserting a biographical character in the times and place. The gender balance is one of its strengths; balance of two centuries is also good."—Cynthia E. Orozco, author of No Mexicans, Women, or Dogs Allowed: The Rise of the Mexican American Civil Rights Movement and co-editor of Mexican Americans in Texas History
 
"Joseph's book includes influential Mexican Texans and examines their lives and impact on the Lone Star State. She accomplishes this precisely and efficiently."—Alexander Mendoza, author of Confederate Struggle for Command and co-editor of Texans and War

"This work is a 'must read' for all Texans, both of Anglo and Hispanic heritage. The fascinating biographies of six Mexican and Mexican-American men and five women covers the history of Texas from 1821 to the present. Easy to read, the stories are inspirational for modern audiences as they focus on the successes of these Mexicans and Tejanos in overcoming the many challenges in their lives."—Caroline Castillo Crimm, author of DeLeón, a Tejano Family History
 
"From Santa Anna to Selena offers readers a handy guide to some of the most important individuals who shaped Texas. Whether it is teachers looking to enhance their classes or readers wishing to learn more about Mexicans in Texas history, Denise Joseph's timely book has much to offer."—George T. Díaz, author of Border Contraband: A History of Smuggling Across the Rio Grande
"Joseph has penned a brilliant and well-documented book about people she feels have made a lasting contribution to the character and culture of Texas."--Corpus Christi Caller Times
"[A]n extraordinary and deftly written work of impeccable scholarship showcasing nine truly extraordinary people."--Midwest Book Review
"Students of Texas history, particularly those interested in the Mexican and Tejano heritage, should read this admirable publication, a collection of biographical essays examining eleven important figures. Dr. Joseph provides thoroughly researched, clearly written, and discerning discussions."--Central Texas Studies
"
From Santa Anna to Selena
is an extremely informative, easy-to-read work that is best suited for use as a supplementary reader for lower-level college students and the general public. . . . Each biography examines important themes, culminating in a fresh and interesting read."--
H-Texas
"[T]he contents are commendable by virtue of an editorial decision to appeal to a wider audience of readers. . . . [T]he cameo of Adina De Zavala was the most instructive in terms of the author's prodigious research."--
Catholic Southwest
"Readers will appreciate this book for its organization, content, and the sheer fact that both men and women are represented equally for their actions that have changed Texas and the United States over the course of one hundred and ninety-seven years."--
Panhandle-Plains Historical Review