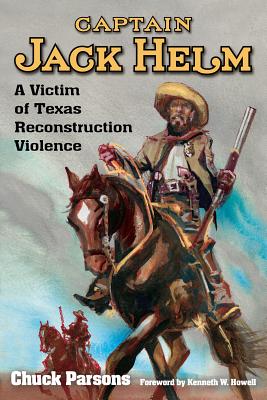 Captain Jack Helm
A Victim of Texas Reconstruction Violence (A.C. Greene Series #18)
Hardcover

* Individual store prices may vary.
Description
In Captain Jack Helm, Chuck Parsons explores the life of a lawman in post-Civil War Texas, John Jackson "Jack" Helm. Previous biographers have neglected this man, whose main claim to fame has been that he was a victim of man-killer John Wesley Hardin. That he was, but he was much more in his violence-filled lifetime during Reconstruction Texas.

Beginning as a Confederate soldier, he soon changed allegiance and became a fervent Unionist.  With a quasi-legal hanging in his background, Helm focused on establishing law and order in Central and South Texas. At first a deputy sheriff, he quickly assumed the role of a Regulator and soon was recognized as the leader of a group of vigilantes. During this period as deputy sheriff, then county sheriff, and finally captain of the notorious Texas State Police, he developed a reputation as a violent and ruthless man-hunter. He arrested many suspected lawbreakers, but often his prisoner was killed before reaching a jail for "attempting to escape." This horrific tendency ultimately brought about his downfall. Helm's aggressive enforcement of his version of "law and order" resulted in a deadly confrontation with two of his enemies in the midst of the Sutton-Taylor Feud.

Jack Helm's name is on several memorials honoring lawmen having fallen in the line of duty. Helm may never gain prominence as John Wesley Hardin or Bill Longley have, but this biography restores his rightful place among the noteworthy personalities of not only Texas but the entire Southwest.
Praise For Captain Jack Helm: A Victim of Texas Reconstruction Violence (A.C. Greene Series #18)…
"A biography of Jack Helm is long overdue. Captain Jack Helm is more than a fine gunfighter biography: it is a vivid statement about the murderous violence of Reconstruction in Texas. Chuck's use of the old term 'Helmized' is both amusing and a revelation of Helm's character and merciless behavior."—Bill O'Neal, State Historian of Texas and author of The Johnson-Sims Feud
 
"Helm played a significant role in the events that unfurled during Reconstruction in Texas. Parsons's use of primary and secondary sources is extraordinary, and his attention to detail is meticulous."—Donaly E. Brice, co-author of The Governor's Hounds: The Texas State Police, 1870-1873

 

"[An] in-depth biography that reads like a Western! Highly recommended."--Midwest Book Review

"[Helm] left a trail of victims--and was a victim himself, of a violent time and place. His story is worth the telling, and Chuck Parsons has done it well."--Tombstone Epitaph

"Parsons' biography aptly demonstrates the skillful hand of a true historian and points out the very irony of Helm's own death."--Plum Creek Almanac

"Parsons's research has gathered many loose threads to weave as complete a tapestry of a controversial man as we will likely ever have."--Southwestern Historical Quarterly

"Parsons' study provides readers with a much-needed biography of an important Reconstruction figure previously neglected by scholars."--Central Texas Studies Journal

""Parsons uses census records, materials from the Texas State Archives, county records, and newspapers to trace the life of a violent man who lived in violent times. . . . [T]he book succeeds in leaving any reader with a sobering impression of life in Reconstruction Texas."--Journal of Southern History

"[V]iolence was almost circular in Reconstruction-era Texas. Helm, who was accused of being a murderer himself, was murdered by someone who could have been one of his own victims. Thus, Helm becomes a victim of the violence he helped, in part, generate."--West Texas Historical Review
University of North Texas Press, 9781574417180, 336pp.
Publication Date: February 13, 2018
About the Author
CHUCK PARSONS is the author of Captain John R. Hughes and The Sutton-Taylor Feud and coauthor of A Lawless Breed, a biography of John Wesley Hardin, and The Notorious Luke Short. He lives in Luling, Texas.
or
Not Currently Available for Direct Purchase