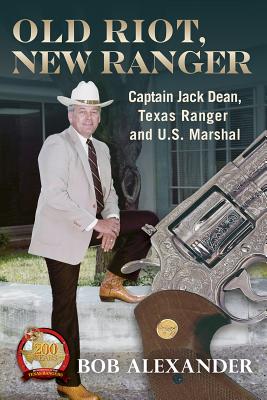 Old Riot, New Ranger (Hardcover)
Captain Jack Dean, Texas Ranger and U.S. Marshal (Frances B. Vick Series #17)
University of North Texas Press, 9781574417296, 544pp.
Publication Date: June 20, 2018
* Individual store prices may vary.
Description
Award-winning author Bob Alexander presents a biography of 20th-century Ranger Captain Jack Dean, who holds the distinction of being one of only five men to serve in both the Officer's Corps of the Rangers and also as a President-appointed United States Marshal.

Jack Dean's service in Texas Ranger history occurred at a time when the institution was undergoing a philosophical revamping and restructuring, all hastened by America's Civil Rights Movement, landmark decisions handed down by the United States Supreme Court, zooming advances in forensic technology, and focused efforts designed to diversify and professionalize the Rangers. His job choice caused him to circulate in the duplicitous underworld of dishonesty and criminality where twisted self interest overrode compliance with societal norms. His biography is packed with true-crime calamities: double murders, single murders, negligent homicides, suicides, jailbreaks, manhunts, armed robberies and home invasions, kidnappings, public corruption, sexual assaults, illicit gambling, car-theft rings, dope smuggling, and arms trafficking.
About the Author
BOB ALEXANDER is the co-author of Texas Rangers and author of Rawhide Ranger, Ira Aten; Whiskey River Ranger; Six-Shooters and Shifting Sands; Bad Company and Burnt Powder; Riding Lucifer's Line; and Winchester Warriors, all published by UNT Press. He lives in Maypearl, Texas.
Praise For Old Riot, New Ranger: Captain Jack Dean, Texas Ranger and U.S. Marshal (Frances B. Vick Series #17)…
"Bob Alexander personally interviewed Jack Dean, a renowned Texas lawman who wore a badge for forty-three years. These conversations form the core of a well-researched and fascinating account of Lone Star justice from the mid-twentieth century into the new millennium."—Darren L. Ivey, author of The Ranger Ideal, Volumes 1 and 2

"At once memorable and eye-opening, historian Bob Alexander's recount of the life and service of famed Texas Ranger Captain and U.S. Marshal Jack Dean inspires great appreciation for both the man and the legendary law enforcement agencies for which he worked. Alexander is no stranger when it comes to authoring well-researched biographies, and Old Riot, New Ranger shines as yet another example of his penchant for storytelling."—Casey Eichhorn, Education Programs Manager, Texas Ranger Hall of Fame and Museum

"Texas Ranger Captain Jack Dean is fortunate in having award-winning author and historian Bob Alexander, himself a former lawman, as his biographer. This is a book worthy of more than one reading. Jack Dean is a Texas Ranger's Ranger who is worthy of taking his rightful place alongside the four great captains."— David Johnson, author of John Ringo, King of the Cowboys: His Life and Times from the Hoo Doo War to Tombstone
"Impressively well written, organized and presented, Old Riot, New Ranger is an exceptionally informative and engaging study that is unreservedly recommended."--Midwest Book Review