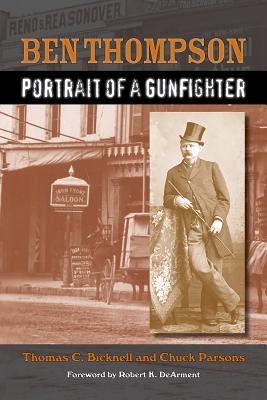 Ben Thompson (Hardcover)
Portrait of a Gunfighter (A.C. Greene Series #20)
University of North Texas Press, 9781574417302, 688pp.
Publication Date: August 6, 2018
* Individual store prices may vary.
Description
Ben Thompson was a remarkable man, and few Texans can claim to have crowded more excitement, danger, drama, and tragedy into their lives than he did. He was an Indian fighter, Texas Ranger, Confederate cavalryman, mercenary for a foreign emperor, hired gun for a railroad, an elected lawman, professional gambler, and the victor of numerous gunfights.

As a leading member of the Wild West's sporting element, Ben Thompson spent most of his life moving in the unsavory underbelly of the West: saloons, dance-houses, billiard halls, bordellos, and gambling dens. During these travels many of the Wild West's most famous icons—Wyatt Earp, Doc Holliday, Bat Masterson, Wild Bill Hickok, John Wesley Hardin, John Ringo, and Buffalo Bill Cody—became acquainted with Ben Thompson. Some of these men called him a friend; others considered him a deadly enemy.
In life and in death no one ever doubted Ben Thompson's courage; one Texas newspaperman asserted he was "perfectly fearless, a perfect lion in nature when aroused." This willingness to trust his life to his expertise with a pistol placed Thompson prominently among the western frontier's most flamboyant breed of men: gunfighters.
About the Author
THOMAS C. BICKNELL a native Chicagoan, has been studying the life of Ben Thompson for decades. His research and articles have appeared in various periodicals including True West and Wild West. CHUCK PARSONS is the author of Captain John R. Hughes and The Sutton-Taylor Feud and coauthor of A Lawless Breed, a biography of John Wesley Hardin. He lives in Luling, Texas.
Praise For Ben Thompson: Portrait of a Gunfighter (A.C. Greene Series #20)…
"It is about time! Ben Thompson deserves a biography—his life was filled with adventure and tragedy from beginning to end, and over a surprisingly broad range of territories and states. The authors have done exhaustive research on the subject. The documentation is impressive and even the notes are filled with useful information. This book is a winner."—Gary L. Roberts, author of Doc Holliday: The Life and Legend
 
"This book will likely stand as the definitive biography of Thompson. It is very well researched with heavy reliance on primary sources."—Mike Cox, author of The Texas Rangers: Wearing the Cinco Peso, 1821-1900 and Time of the Rangers: Texas Rangers from 1900 to the Present
"A solid work of impeccable scholarship. . . . [O]f immense interest to both academia and non-specialist general readers with an interest in the famous gunfighters of the Old West."--Midwest Book Review
'[T]he ultimate Thompson book.
Ben Thompson: Portrait of a Gunfighter
is a remarkable work--especially considering the various stories surrounding the death of Thompson and King Fisher in San Antonio in 1884. This portrait is complex, compelling and complete."--
True West
"This is a fine book into which the authors have poured a truly great effort and portrayed all of Thompson: the good, the bad and the ugly. . . . While the word definitive tends to be overused, this book is just that--an exhaustive and complete study of a complex man."--
English Westerners' Society Tally Sheet
"
Ben Thompson: Portrait of a Gunfighter
works well as a biography and as a history of Old West towns and frontier justice. While Thompson's career ended in San Antonio, he lived in Austin, for which the book could work as a historical tourist guide; the old city map on page 394 is keyed to incidents in this book."--
Southwestern Historical Quarterly
"While noting what positive characteristics Thompson had, the authors offer a blunt assessment regarding his violence. Rather than mythologizing or whitewashing Thompson, Parsons and Bicknell offer a real story of America's frontier, warts and all, that tops Hollywood cinema in terms of being an interesting and a must read for any Texan.--
Texas Books in Review