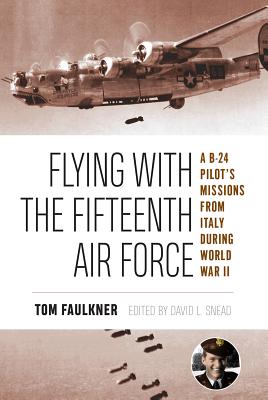 Flying with the Fifteenth Air Force
A B-24 Pilot's Missions from Italy during World War II (North Texas Military Biography and Memoir Series #13)
Hardcover

* Individual store prices may vary.
Description
In 1944 and 1945, Tom Faulkner was a B-24 pilot flying out of San Giovanni airfield in Italy as a member of the 15th Air Force of the U.S. Army Air Forces. Only 19 years old when he completed his 28th and last mission, Tom was one of the youngest bomber pilots to serve in the U.S. Army Air Forces during World War II. Between September 1944 and the end of February 1945, he flew against targets in Hungary, Germany, Italy, Austria, and Yugoslavia. On Tom's last mission against the marshalling yards at Augsburg, Germany, his plane was severely damaged and, while attempting to fly to safety, he was forced down in Switzerland where he and his crew were interned.

The 15th Air Force generally has been overshadowed by works on the 8th Air Force based in England. Faulkner's memoir helps fill an important void by providing a first-hand account of a pilot and his crew during the waning months of the war, as well as a description of his experiences before his military service. David L. Snead has edited the memoir and provided annotations and corroboration for the various missions.
Praise For Flying with the Fifteenth Air Force: A B-24 Pilot's Missions from Italy during World War II (North Texas Military Biography and Memoir Series #13)…
"The author is open and honest, dealing frankly with the military's inevitable personality conflicts and with postwar adjustment to 'home.' Snead's research is extensive and well prepared. The many footnotes offer serious readers an excellent set of references for further investigation."—Barrett Tillman, author of Forgotten Fifteenth and D-Day Encyclopedia
 
"The overwhelming majority of reminiscences by bomber aircrew are about 8th Air Force, so this work is refreshing. It is very readable, engaging, and educational. The author is candid about the physical and psychological toll that his Switzerland internment caused him for many years."—Robert S. Ehlers Jr., author of The Mediterranean Air War and Targeting the Third Reich

 "David Snead adroitly lends a delicate editorial touch to provide context for Tom Faulkner's gripping memoir of flying B-24 Liberators over German targets during the last years of World War II. From his first combat sortie to his internment in Switzerland, Faulkner's missions combined equal parts courage, skill, and luck—a compelling story that puts the reader in the pilot's seat amid flak and fighters, told with passion and candor by one of the 'Greatest Generation.'" —Dr. Robert S. Hopkins III, author of Spyflights and Overflights: US Strategic Aerial Reconnaissance, 1945-1960
 

"Flying with the Fifteenth Air Force is an entertaining and insightful look at what it means to fly combat missions. It will be interesting to those who have a solid understanding of the air war over Germany on the southern front and wish to gain a deeper appreciation of personal experiences of the war. Overall, it is a well-written and thoughtful memoir set within the broader historical context that illuminates a somewhat neglected section of the air campaign in the Second World War."--H-WAR

"In this first-hand account of Faulkner's missions, which required a complex combination of skill, science, courage, and luck, we get a sense of the comradeship among the air crew, their reactions to the loss of friends, and then some idea of Faulkner's postwar return to civilian life. . . . [A] good read for anyone interested in the experience of bomber crews in the war, and a pretty good introduction to the bomber offensive for the novice reader."--NYMAS Review

"Faulkner's memoir contains fascinating details about Fifteenth Air Force operations, about life in the Army Air Forces in the States and in Italy, and about the B-24 bomber. Editor Snead's expert hand has strengthened the narrative, as well as adding professional research. . . . All of this adds up to a tale interesting, fast-paced, and easy to read."--Journal of America's Military Past

"This account distinctively blends flight diaries written by Faulkner after each mission with more detailed sections of a memoir-style narrative influenced by the hindsight and reflection that comes with the passing of time. . . . Snead's historical expertise complements Faulkner's perspective, which he sprinkles throughout footnotes on almost every page."--Strategic Studies Quarterly
University of North Texas Press, 9781574417319, 336pp.
Publication Date: December 28, 2018
About the Author
TOM FAULKNER piloted a B-24 bomber in World War II as part of the 15th Air Force and received the Distinguished Flying Cross. He lives in Dallas, Texas. DAVID L. SNEAD is a professor of history at Liberty University in Lynchburg, Virginia, and the editor of In Hostile Skies: An American B-24 Pilot in World War II (UNT Press).
or
Not Currently Available for Direct Purchase