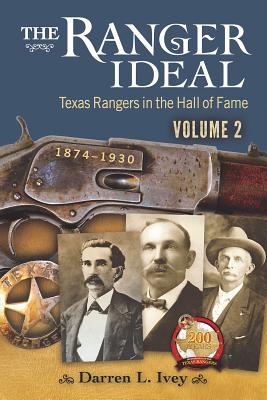 The Ranger Ideal Volume 2
Texas Rangers in the Hall of Fame, 1874-1930
Hardcover

* Individual store prices may vary.
Description
Established in Waco in 1968, the Texas Ranger Hall of Fame and Museum honors the iconic Texas Rangers, a service that has existed, in one form or another, since 1823. They have become legendary symbols of Texas and the American West.

In The Ranger Ideal Volume 2: Texas Rangers in the Hall of Fame, 1874-1930, Darren L. Ivey presents the twelve inductees who served Texas in the latter half of the nineteenth century. Ivey begins with John B. Jones, who directed his Rangers from state troops to professional lawmen; then covers Leander H. McNelly, John B. Armstrong, James B. Gillett, Jesse Lee Hall, George W. Baylor, Bryan Marsh, and Ira Aten—the men who were responsible for some of the Rangers' most legendary feats. Ivey concludes with James A. Brooks, William J. McDonald, John R. Hughes, and John H. Rogers, the "Four Great Captains" who guided the Texas Rangers into the twentieth century.

The Ranger Ideal presents the true stories of these intrepid men who fought to tame a land with gallantry, grit, and guns.
Praise For The Ranger Ideal Volume 2: Texas Rangers in the Hall of Fame, 1874-1930…
"There is new material in each chapter reflecting Ivey's ability to dig deeper in primary source material and find new information, or a different way of looking at something. I have authored biographies of three of the subjects and Ivey has uncovered material I missed.'"—Chuck Parsons, author of Captain John R. Hughes; John B. Armstrong: Texas Ranger, Pioneer Rancher; and Captain L. H. McNelly
 
"Ivey has followed his excellent first volume on The Ranger Ideal with an equally readable and informative sequel that will surely receive the same accolades that he richly deserved the first time around."—Paul N. Spellman, author of Captain John H. Rogers, Texas Ranger and Captain J. A. Brooks, Texas Ranger
 
"Once again Darren Ivey clearly demonstrates his knowledge of the individuals who established the Texas Rangers into the amazing law enforcement agency that they are. This is a book that should be on everyone's shelf."—David Johnson, author of John Ringo, King of the Cowboys
 
"Ivey offers a meticulously researched study that is at once broad in scope and rich in detail. He chronicles not only the lives and exploits of the Rangers but also the social, cultural, and political forces that shaped the times in which they lived."—Charles W. Sanders, Jr., author of While in the Hands of the Enemy: Military Prisons of the American Civil War

"Volume 2 continues this series of scholarly, capsule biographies of individuals who earned lasting recognition in the Texas Ranger Hall of Fame. Profiling twelve inductees who served during the second half of the 1800s, The Ranger Ideal is thoroughly detailed yet accessible to readers of all backgrounds."--Midwest Book Review

"Ivey we learn traveled over much of the same ground as previous researchers and discovered new material which has been included."--Wild West History Association Journal

"Factual, informative, and entertaining, Ivey's latest Ranger book hits a home run."--True West

"Ivey has found new material and, in some instances, presented a different view of the incident described. This is what makes this book exciting (and history fascinating): the material will be familiar to many readers, but there will be new material as well! Obviously, these two volumes of biographies are highly recommended."--Plum Creek Almanac

"The Ranger Ideal Volume 2 is a compilation of twelve well-written, succinct biographies of heroic and flawed men upon whom the state depended to enforce a stern brand of law enforcement. . . . As Ivey details in this volume, each of these rangers embodied Texas's difficult transformation from rural to urban society, and sometimes that evolution took its toll."--Southwestern Historical Quarterly

"Even though there are biographies of nine of these men, historian Ivey has done extensive research and there is new material on each one. For any Ranger buff this is a necessary addition to the library."--Tombstone Epitaph
University of North Texas Press, 9781574417333, 816pp.
Publication Date: October 31, 2018
About the Author
DARREN L. IVEY is an independent researcher who lives in Manhattan, Kansas. He is the author of The Ranger Ideal Volume 1: Texas Rangers in the Hall of Fame, 1823-1861 (UNT Press 2017) and The Texas Rangers: A Registry and History.
or
Not Currently Available for Direct Purchase