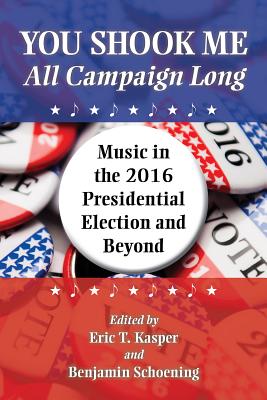 You Shook Me All Campaign Long (Hardcover)
Music in the 2016 Presidential Election and Beyond
University of North Texas Press, 9781574417340, 352pp.
Publication Date: November 26, 2018
* Individual store prices may vary.
Description
Music has long played a role in American presidential campaigns as a mode of both expressing candidates' messages and criticizing the opposition. The 2016 campaign was no exception and was a game changer similar to the development of music in the 1840 campaign, when "Tippecanoe and Tyler Too" helped sing William Harrison into the White House.

The ten chapters in this collection place music use in 2016 in historical perspective before examining musical messaging, strategy, and parody. The book ultimately explores causality: how do music and musicians affect presidential elections, and how do politicians and campaigns affect music and musicians? The authors explain this interaction from various perspectives, with methodological approaches from several fields, including political science, legal studies, musicology, cultural studies, rhetorical studies, and communications and journalism. These chapters will help the reader understand music in the 2016 election to realize how music will be relevant in 2020 and beyond.
About the Author
ERIC T. KASPER is an associate professor of political science at the University of Wisconsin-Eau Claire. BENJAMIN S. SCHOENING is an associate professor of music at the University of North Georgia.
Praise For You Shook Me All Campaign Long: Music in the 2016 Presidential Election and Beyond…
"The cumulative effect of the authors' expertise on campaign music makes this book a tour-de-force."—Nancy S. Love, author of Musical Democracy
 
"Eric Kasper and Benjamin Schoening have put together a wonderful collection of essays that use the 2016 presidential campaign season to highlight music's acute ability to move, motivate, and even distract the American public. Anyone interested in current affairs, political history, or American popular culture should enjoy reading about the importance of the campaign 'soundtrack,' and the manner in which music, mass communication technology, and political ideology can blend to promote a candidate's image and message."—Ben Wynne, author of The Man Who Punched Jefferson Davis: The Political Life of Henry Stuart Foote, Southern Unionist
 
"An excellent follow up to their previous book, Don't Stop Thinking About the Music. You Shook Me All Campaign Long is an enlightening and insightful collection of essays that bring the role of music in our culture to the forefront of the 2016 presidential election."—Craig Hurst, Professor Emeritus of Music, University of Wisconsin-Waukesha
"Comprised of ten erudite and insightful contributions by experts in their fields . . . Impressively informative, expertly organized and presented."--
Midwest Book Review