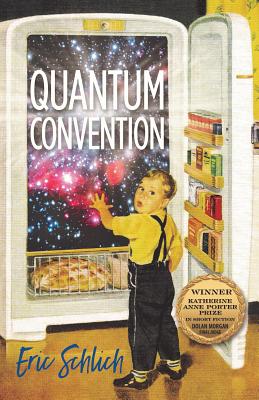 Quantum Convention (Katherine Anne Porter Prize in Short Fiction #17) (Paperback)
University of North Texas Press, 9781574417364, 192pp.
Publication Date: November 20, 2018
* Individual store prices may vary.
Description
Quantum Convention's eight genre-bending stories balance precariously between reality and fantasy, the suburban and the magical, the quotidian and the strange. Caught at a crossroads in his marriage, a high school teacher attends a parallel universe convention, where he meets his multiple selves and explores the alternate paths of life's what-ifs.

The story of Margaret Hamilton, the actress who played the Wicked Witch of the West, parallels the coming of age of a cross-dressing boy whose crisis of identity is tied to The Wizard of Oz. Other stories feature characters labeled as "outcasts" by society—whether physically, morally, or fantastically: an alcoholic lucid dreamer, a closeted bisexual, a bachelor time-epileptic, orphans-turned-keeners, a vengeful banshee, a nerdy cyclops, and more. Many struggle to find what Dorothy and her entourage searched for: the wisdom to trust or discount their faith; the ability of the emotionally detached to love; the courage to speak up for oneself; a place to belong.
About the Author
ERIC SCHLICH's stories have won prizes from Crazyhorse, Fairy Tale Review, Hayden's Ferry Review, Electric Literature, and New South. His fiction has also appeared in Gulf Coast, Mississippi Review, and Redivider, among other journals. He received his PhD in English from Florida State University and his MFA in fiction from Bowling Green State University. He lives in Dunkirk, New York, and teaches at SUNY Fredonia.
Praise For Quantum Convention (Katherine Anne Porter Prize in Short Fiction #17)…
 
"No matter their bizarre circumstances, these characters remain intensely human, with deep and often humorous stores of self-irony . . . Quantum Convention is that rare collection that delights, expands horizons, and leaves a mark."—Foreword Reviews
 
"Eric Schlich's stories are clever and moving and disarmingly precise."—Dolan Morgan, author of That's When the Knives Come Down and Insignificana, and judge
 
"From a conference of one's various selves across the multiverse to the movie set for The Wizard of Oz, each of Quantum Convention's eight stories feels like opening a funhouse door on a new adventure. This is a kaleidoscope of dazzling fiction, and an excellent book." —Anne Valente, author of Our Hearts Will Burn Us Down
 
"In one spellbinding story after another, debut author Eric Schlich melds the surreal and the all-too real in wondrous ways. I absolutely loved these stories." —Elizabeth Stuckey-French, author of The Revenge of the Radioactive Lady
 
"Reading Quantum Convention is like bathing in the uncanny. Merlin ages backwards, a man goes to a convention to meet all his other dimensional selves, and a young orphan girl becomes a professional mourner at funerals. These stories walk the line between comic and tragic, resulting in a collection that crams an admirable amount of heartbreak and laughter between its pages." —SJ Sindu, author of Marriage of a Thousand Lies
 
"In Quantum Convention, the familiar is made strange and the strange is celebrated gleefully. These unexpected and brilliant stories introduce an author as skillful with a daring speculative twist as he is at rendering the subtleties of marriage, loss, and growing up."—CJ Hauser, author of The From-Aways
 
Schlich's first solo short story collection showcases a formidable ability to walk the emotional tightrope between uncanny setups and deeply relatable characters. . . . [T]he stories are consistently enjoyable and thought-provoking. They share an aesthetic, but they're different enough that the book seems almost too short, leaving the reader hungry for more."--
Publishers Weekly
"[E]ight richly imagined, humanity-affirming tales lay new turf for short stories. . . . Eric Schlich's
Quantum Convention
is that rare collection that delights, expands horizons, and leaves a mark."--
Foreword Reviews